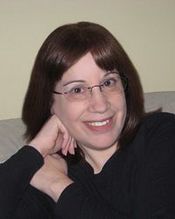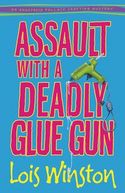 Hi, everyone (sending a big cyber-wave!) I'm thrilled to be here and want to thank the Fresh Fiction gang for inviting me. Some of you might recognize me from the romance community. These days you'll find my keyboard planted in the mystery world, thanks to a reluctant amateur sleuth named Anastasia Pollack. Anastasia took over my life and my writing and hasn't let go, so I had no other choice but to write about her. ASSAULT WITH A DEADLY GLUE GUN, which debuted in January, is Anastasia's story, but because there's so much to tell, it's also the first book in my new Anastasia Pollack Crafting Mysteries series.
When I made the move from romance to mystery, I found I had to switch up my writing style. Romance readers and mystery readers have different expectations when it comes to their preferred genres. In a romance the story centers around the hero and heroine, but mysteries don't have heroes and heroines. They have protagonists, whether amateur sleuths or law-enforcement professionals, and those protagonists may or may not have a love interest. If there is a love interest, the love story is subordinate to the mystery. Usually way subordinate, often only a tertiary plot. Sometimes the love interest is mostly off-camera, only referred to occasionally by the protagonist. A mystery is first and foremost all about the protagonist finding out whodunit.
Another difference between romances and mysteries is that mysteries are plot driven stories; romances are character driven. Of course, that doesn't mean that the characters aren't fully developed. No one wants to read about cardboard characters, no matter what genre. It means that the focus of the story is the plot, not the relationship between the characters.
And boy is there plot in Anastasia's world! But there's also a host of very unique characters.
When Anastasia's husband permanently cashes in his chips at a roulette table in Las Vegas, her comfortable middle-class life craps out. Suddenly, she's juggling two teenage sons, a mountain of debt, a communist mother-in-law, AND her dead husband's loan shark. Add to that a mother who claims she descends from Russian royalty; Mephisto, the French bulldog from Hades; Catherine the Great Persian cat; and Ralph, the Shakespeare quoting parrot. Toss them all into one small suburban ranch house, and you've got chaos galore. And that's before Anastasia becomes the prime suspect in the murder of a coworker she discovers hot glued to her office chair.
Did I mention this was a humorous amateur sleuth mystery?
I haven't completely forsaken my romance roots, though. There is this guy who enters Anastasia's life. His name is Zachary Barnes, and he looks like someone dumped the genetic components of Pierce Brosnan, George Clooney, Patrick Dempsey, and Antonio Banderas into a pan and baked up the epitome of male perfection. Do sparks eventually fly between Anastasia and Zack? You'll have to wait until January 2012 when MOP DOLL MURDERS, the second book in the series, comes out to learn the answer to that.
Meanwhile, if you like characters "as deadpan droll as Tina Fey's Liz Lemon" (Publishers Weekly) or ones that are a "more mature answer to Stephanie Plum" (Kirkus Reviews), please consider a visit with Anastasia.
And now for my questions to all of you…for those of you who read mysteries, how do you feel about a romantic element in your mysteries?
Thanks for stopping by!
ASSAULT WITH A DEADLY GLUE GUN available now
MOP DOLL MURDERS, available January 2012
THE CRAFTY CORPSE (working title), available January 2013
website:
http://www.loiswinston.com
Killer Crafts & Crafty Killers (Anastasia's blog)
Twitter: @anasleuth
ASSAULT WITH A DEADLY GLUE GUN video
To comment on Lois Winston's blog please click here.