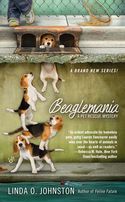 I last blogged at Fresh Fiction last September–about Animals, Novels and Me. I'm back. And I'm still at it–obsessing and writing about animals, that is.
March 1 is the debut date for BEAGLEMANIA, the first in my new Pet Rescue Mystery series from Berkley Prime Crime. It's a spinoff series from my Kendra Ballantyne, Pet-Sitter mystery series.
Yes, both series contain animals. So do my Harlequin Nocturnes about Alpha Force, a covert military unit of shapeshifters.
The protagonist of my new Pet Rescue series is Lauren Vancouver. She was introduced in the eighth Kendra book, HOWL DEADLY, and she also appears in the ninth, FELINE FATALE. She is the head administrator of HotRescues, a no-kill private animal shelter in L.A.'s San Fernando Valley. She doesn't have to worry about funding, since HotRescues is under the auspices of Kendra's new guy friend Dante DeFrancisco, who's really rich. But she has plenty of other things to worry about. Worrying, and doing something about it, is at the heart of pet rescue. It's also at the heart of being a protagonist in a cozy mystery series. When I tell you that, in the Pet Rescue Mysteries, "no-kill" means pets, not people… well, I'm sure you get it.
The first Pet Rescue Mystery, BEAGLEMANIA, begins with a rescue from a puppy mill. Some of Lauren's later adventures will involve an animal hoarder and a shelter that takes in unadoptable pets.
I have to say that researching and writing BEAGLEMANIA fed my own obsession with animals and modified it somewhat. I now volunteer at a local animal shelter, where I'm a dog adoption counselor. I'm also the new L.A. Pet Rescue Examiner for Examiner.com.
Plus, as part of my research for my Pet Rescue Mystery series, I visited a lot of shelters, talked with a lot of people who also love animals, and even observed training sessions with the wonderful Small Animal Rescue Team of Los Angeles Animal Services.
I've researched a lot of books since I started writing, but I admit that the research I'm doing now, and the pet rescue volunteering that I'm doing partly in the name of research, is the most fun and productive research I've ever conducted.
I spend a lot of time at home writing, and being at the bark and call of my own dogs, two adorable Cavalier King Charles Spaniels. I keep telling them that they don't know how good they have it–after I've seen so many dogs in shelters just waiting for the right person to take them home. And, yes, those dogs do seem to understand that the people I bring through the shelter in my capacity as dog adoption counselor may be looking for the right pup to adopt, judging by their bright yet sad eyes and eagerness to please.
Okay, that's a bit of anthropomorphism, but I still think it's true. Pets understand a lot. And I'm pleased to rescue them from peril even fictionally in my new Pet Rescue Mystery series… along with putting Lauren into situations where she has to solve a good murder or two.
Come visit me at my website: www.LindaOJohnston.com You can also friend me on Facebook. I additionally blog weekly on KillerHobbies.blogspot.com on Thursdays, where my Killer Hobby is supposed to be pets–but we all know that pets aren't hobbies. They're family!
To comment on Linda O. Johnston's blog please click here.