"A new J.D. Robb book is out." It's the words that all we J.D. Robb fans want to hear and excitedly wait for twice a year. I can still remember the first time I read a J.D. Robb book. A friend and bookstore owner placed a copy of the first In Death book in my hands and insisted I had to read it. I protested initially as I already had so many other series I was reading. Little did I realize at that time that J.D. Robb was actually Nora Roberts, an author I already loved and one of the first romance authors I'd had the pleasure of reading. My friend gave me the ultimate bookstore guarantee: read it and return it if I didn't like it. Today that copy of NAKED IN DEATH, along with 41 other J.D. Robb books, happily sits on my shelves.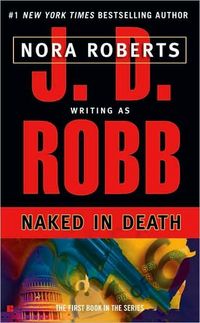 Originally Published June 1995
The relationship between Roarke and Eve is the cornerstone of the In Death series. Roarke and Eve are an unlikely duo on the surface. Eve is a cop with a penchant for following the law while Roarke disdains both cops and rules. When we first meet Roarke and Eve in NAKED IN DEATH, Roarke is a potential suspect. The sparks between the two of them ignite immediately and it's the passion between them that attracts romance readers to the In Death series. However, J.D. Robb doesn't sugarcoat their romance. Instead, we see them love, soothe, caress, argue, fight, and forgive one another, just as real couples do. Eve has adopted a rigid lifestyle to cope and I love watching her learn to be flexible, particularly as her character begins to grow past the damage the past inflicted on her. BROTHERHOOD IN DEATH has one of my favorite scenes of Eve and Roarke's relationship as it shows they've become close enough to disagree and still love one another.
Over the course of the now 42 book series, Eve has accumulated a plethora of friends. We've watched her grow from a lone cop in a small apartment, fighting the nightmares of her past, to a woman fully confident in herself, her relationships, and willing to battle those demons of the past when they pop back out. Eve has faced the horrors from her past, both head on such as in NEW YORK TO DALLAS, and more indirectly in BROTHERHOOD IN DEATH. We've seen Eve change from a wariness at entering Testing and speaking with Dr. Charlotte Mira in NAKED IN DEATH to depending on her for both a psychological profile as well as friendship. In fact, Eve has so many friends that when they are put at potential risk, such as in OBSESSION IN DEATH, Eve has a hard time remembering the names of all the people that have come to matter to her.
And yes, that's another part of the fun of reading the In Death series, as the past is always lurking right around the corner and you're sure to get some surprise revelations or touching scenes with beloved characters. Some of the books, such as ORIGIN IN DEATH, have ramifications that echo throughout the series. The Icove murder and the subsequent fictional bestseller and movie make Eve well known to the general public. We see this case resurface, time and time again, although never quite as obviously as in CELEBRITY IN DEATH when an actual actress from the movie (who looks like Peabody) is murdered. Some of the moments are far sweeter, however, such as the touching Thanksgiving dinner in THANKLESS IN DEATH.
The secondary characters are just as important as the primary characters in the In Death series. Everyone has their favorites, whether it's the rumpled but oh-so-loyal Captain Ryan Feeney or the former grifter turned singer and Eve's best friend, Mavis Freestone. Delia Peabody, however, is my favorite secondary character. We first meet her in GLORY IN DEATH where she's a traffic officer who assists Eve with securing a murder scene and later uncovers a secret hidey hole that helps solve the case. I love Peabody because she softens Eve, always looking at the brighter side while still remaining sobered by the reality of murder. Peabody, affectionately called She-Body by Ian McNab, worries about her weight, her food intake, and isn't afraid to show her appreciation for the finer things in life- and yet she maintains the peace you would expect from the child of Free-Agers.
J.D. Robb's world is futuristic as the very first book is set in the year 2058. We get to see a variety of fascinating technology, from cars that can levitate (Eve uses this feature for parking in downtown New York quite a bit) to the AutoChef, one of my favorite features. If Eve and Roarke want spaghetti and meatballs, they simply program the AutoChef and voila, they have their food ready to eat. There are downsides, however, as we see how Roarke's expensive coffee and Mr. Mira's homemade hot chocolate become treasured treats. However, the futuristic setting and technology are not off-putting for readers who like their stories more contemporary. Much like the cartoon tv show "The Jetsons," the technology in the In Death series is both cutting age but also believable as some of the innovations are already in progress.
J.D. Robb has become a mainstay for many readers as we look forward to our twice a year daily visits with old friends. I love each and every aspect of the In Death series, whether it's the mysteries themselves or the wisecracks made to lighten the heaviness of the deaths they encounter. However, what I love most about any J.D. Robb In Death book is the sense of love and family, no matter the blood ties. If you haven't read a J. D. Robb book, then hesitate no further but jump right into the In Death series where you're sure to make some lasting fictional friends.
In Death
In a near-future New York City, technology and humanity (still) fight for their place in the world, but for NYPSD Lieutenant Eve Dallas, survival depends on instinct. A troubled past haunts her memories, and relationships are casualties of necessity…until she meets and marries a mysterious billionaire who defines the very nature of passion. Working together, Eve and her husband, Roarke, must solve some of the most baffling, gruesome, and dangerous cases the city has ever seen. Despite threats and danger, no one is more determined than Eve to find justice for the dead, even if it kills her.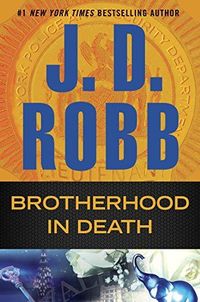 The new novel featuring homicide detective Eve Dallas from the #1 New York Times bestselling author of Devoted in Death.
Sometimes brotherhood can be another word for conspiracy. . . .
Dennis Mira just had two unpleasant surprises. First he learned that his cousin Edward was secretly meeting with a real estate agent about their late grandfather's magnificent West Village brownstone, despite the promise they both made to keep it in the family. Then, when he went to the house to confront Edward about it, he got a blunt object to the back of the head.
Luckily Dennis is married to Charlotte Mira, the NYPSD's top profiler and a good friend of Lieutenant Eve Dallas. When the two arrive on the scene, he explains that the last thing he saw was Edward in a chair, bruised and bloody. When he came to, his cousin was gone. With the mess cleaned up and the security disks removed, there's nothing left behind but a few traces for forensics to analyze.
As a former lawyer, judge, and senator, Edward Mira mingled with the elite and crossed paths with criminals, making enemies on a regular basis. Like so many politicians, he also made some very close friends behind closed—and locked—doors. But a badge and a billionaire husband can get you into places others can't go, and Eve intends to shine some light on the dirty deals and dark motives behind the disappearance of a powerful man, the family discord over a multimillion-dollar piece of real estate . . . and a new case that no one saw coming.
Debbie Wiley