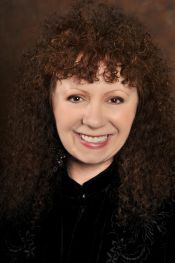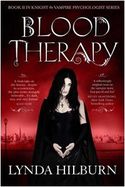 I guess it's not surprising that a vampire series would claw its way out of the grave. Lucky for me!
This February, 2013, the new second book in the Kismet Knight, Vampire Psychologist series, BLOOD THERAPY will be released in the USA. The UK print and e-book versions came out September 13, 2012. I've heard a rumor that the USA Kindle edition might be out in time for Halloween!
The first book THE VAMPIRE SHRINK and a novel that will now be the rewritten/expanded book #3, CRIMSON PSYCHE were first released in 2007 and 2008 by a small publisher. After those two books came out, that company and I parted ways. I flailed around for a year, trying to figure out how to remove the stake from the heart of my series, and then in early 2010 I self-published the e-book versions myself [I had retained the digital rights] at Amazon and other digital outlets.
Within a month, my two books were best sellers. Nobody was more surprised than me!
That situation caused me to come to the attention of my current agent, who arranged for my bloodsuckers to be published all over the world.
So, thanks to a union between Quercus/Jo Fletcher Books, UK and Sterling Publishing (Barnes & Noble), USA, my vampire books have reincarnated again! Long live the undead!
BLOOD THERAPY
Dr. Kismet Knight and the dark world of vampires are back in this sexy sequel to the wicked romp THE VAMPIRE SHRINK. Still reeling from her earlier adventures, the spunky, smart, and tough heroine tries to adjust to her new reality–and new undead clientele. Then she discovers a frightening secret about these powerful immortals that further warps her world. Needing to escape, she flees to New York for the American Psychological Association's conference, where she meets up with hottie FBI Agent Alan Stevens. Unfortunately, he's not the only blast from the past in the Big Apple: so is Lucifer, the demented tormentor who nearly killed her. As the maniac closes in, everyone is rounded up for a shocking finale that no one will survive unscathed.
Lynda is giving away a tote bag with the cover of BLOOD THERAPY printed on it and a signed copy of THE VAMPIRE SHRINK. Comment to win!
To comment on Lynda Hilburn's blog please click here.