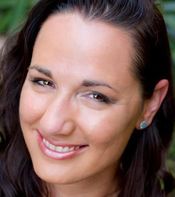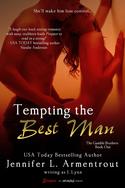 There's a fine line between an alpha male and a complete, controlling jerk. With the alpha male, you pretty much want to jump his bones and with the jerk, you want to throw your book in his face. There is a difference between the two and nowadays you'd be hard pressed to find an adult book that didn't feature an alpha male. Young adult is a bit different, but as one blogger coined, "baby alpha males" are started to make an appearance. So why are they so popular?
An alpha male does tend to be controlling, but usually when it comes to keeping the heroine safe or when it involves the smexy stuff. They know what they like and aren't afraid to be very descriptive about it. They tend to be dominant in the bedroom. In Tempting the Player, Chad Gamble is this kind of alpha male. He's uber protective and likes to be in control when it gets down to the fun stuff, but that's the extent of what he seeks to control. Otherwise, he's playful. He's not the brooding alpha male. He's the 'let's have some fun' alpha male. Alpha males tend to be territorial, which Chad shows right off the bat. When they have the sights on someone, they don't think sharing is caring. Alphas can be dangerous when provoked, but never with the heroine. They'll take a bullet to protect them or risk their career. They have all the elements of the bad boy, but have a sweeter, softer side that is shown to the heroine.
But what makes the alpha male so appealing? Is it really the sexy bad boy with a heart of gold? I don't think so. Alpha males are addictive when they're paired with a female that can hold their own against them—a female that isn't so easily wooed or submits to their every whim, wish, and desire. When you see that kind of interaction in a book, you see a couple that is truly on the same level and are equally passionate in and out of the bedroom.
Do you find alpha males addictive? One commenter will win one copy of TEMPTING THE BEST MAN and TEMPTING THE PLAYER (book releases 10/23/12).
TEMPTING THE PLAYER
Chad Gamble, all-star pitcher for the Nationals, is one of the best players on—and off—the field. And right now, the notorious bad boy wants Bridget Rodgers. But with her lush curves and snappy comebacks, the feisty redhead is the kind of woman a man wants to settle down with…and that's the last thing Chad needs.
When the paparazzi catch them in a compromising position, Chad's manager issues an ultimatum: clean up his act or kiss his multi-million dollar contract goodbye. To save his career, his meddling publicist says he'll have to convince everyone Bridget isn't just his flavor of the week, but his girlfriend.
Being blackmailed into a fake relationship with Chad Gamble isn't easy, especially when the sizzling physical attraction between them is undeniable. With a month to go on their arranged pretense, it's going to take every ounce of willpower they have not to fall into bed together…or in love.
Madison Daniels has worshipped her brother's best friend since they were kids. Everyone thinks she and Chase Gamble would make the perfect couple, but there are two major flaws in their logic. 1) Chase has sworn off relationships of any kind, and 2) after blurring the line between friends and lovers for one night four years ago, they can't stop bickering.
Forced together for her brother's wedding getaway, Chase and Madison decide to call a truce for the happy couple. Except all bets are off when they're forced to shack up in a tacky 70's honeymoon suite and survive a multitude of "accidents" as the family tries to prove their "spark" can be used than for more than fighting. That is, if they don't strangle each other first…
USA TODAY Bestselling author, Jennifer L. Armentrout (writing under the pseudonym, J. Lynn), lives in Martinsburg, West Virginia. All the rumors you've heard about her state aren't true. When she's not hard at work writing, she spends her time reading, working out, watching really bad zombie movies, pretending to write, and hanging out with her husband and her Jack Russell, Loki. Her dreams of becoming an author started in algebra class where she spent most of her time writing short stories….which explains her dismal grades in math. Jennifer writes young adult and adult paranormal, science fiction, fantasy, and contemporary romance.
To comment on J. Lynn's blog please click here.