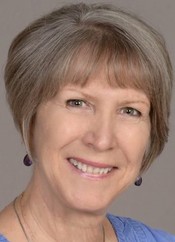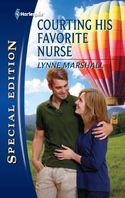 One of the challenging parts of writing a book is the research you unwittingly thrust upon yourself.  When I began writing COURTING HIS FAVORITE NURSE for Harlequin Special Edition, I saw a pivotal scene play out in a hot air balloon.  For someone who has a fear of heights and who once gave her husband a hot air balloon ride as a birthday present, but who stayed behind, feet firmly planted on the ground, I needed to do research!
Thank goodness a lady can sit in her office chair and through her browser, research hot air balloon rides and how those big, colorful balloons with baskets work.  Without dumping too much research into the scene – I wrote it something like this:
COURTING HIS FAVORITE NURSE – Excerpt:
Suspended in the sky beneath a blimp-sized rainbow-colored balloon, Anne gripped the thick wicker and concentrated on looking out, not down. Lush farmland divided into neat squares, patches of orchards and rows of newly developed vineyards passed in the distance. Once again, she'd forgotten the humble beauty of her hometown. Oregon was so much greener, but the yellow and brown hills of Whispering Oaks held their own special charm, and the farmland, well, it was the salt of the earth.
Jack skillfully fired up the propane burners whenever needed, and by ascending or descending into the air flow, he controlled their direction. His summer of apprenticeship had paid off as he piloted their balloon as if second nature.
"This is so fantastic," Anne said.
"It's relaxing, isn't it? Just what you need."
"Our nighttime skate was great, but this…"
"Yeah, nothing quite like it."
"It's the same feeling I get when I float in water." She opened her arms, taking in the entire valley vista. "Except the view is much better from here."
They smiled at each other, there gazes met and held. A spark in Jack's eyes communicated he was happy to be here with her. Heck, he'd gone out of his way to make this happen and she was flattered. She'd been aware of a small adrenaline pop in her chest when he'd picked her up earlier, and ever since something hummed nonstop through her veins. He'd brought fresh pastry and more coffee, and she'd loved the warm raspberry jam in the Danish on the drive over to Marshfield. He'd thought of everything.
Like the hot air balloon, Anne decided to go with the flow for the next hour as they drifted like a behemoth birthday ball across the Whispering Oaks horizon.
Later when Jack kisses Anne, and they're definitely distracted by their first kiss since high school, they come dangerously close to the lovely strawberry fields below.  I had fun writing this scene, and having the hot air balloon depicted on the book cover made me grin for an entire day.
Have you ever been on a hot air balloon ride?  If not, would you like to go for one, or are you a foot-on-the-ground kind of girl like me?
Since this is my debut Harlequin Special Edition, I'd like to give one commenter a print copy of the book.
To comment on Lynne Marshall's blog please click here.