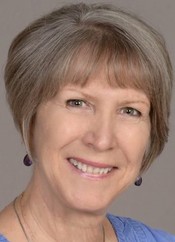 I have a friend who used to cut right to the chase whenever we saw each other after a long absence.  "New?" she'd say instead of "Hey, how are you, what's new?"  Put on the spot, my mind always went blank.  "Not much.  You?" Things constantly happen, there's always something new to share, yet we often don't think our "stuff" is interesting enough—well, at least that's how I feel—to tell the other person about.  My friend, Linda, must have thought I was the most boring person on the planet, when I was actually being humble. And considerate.
On the other extreme—raise a hand if this rings a bell—how many have friends who think every little detail of their lives is worth sharing?  Admit it, you've made excuses to avoid them.  Ever seen someone like that in a store and pretended you didn't notice them?  Who's willing to admit that?  I'll go first – YES. Is it human nature, or am I just weird? (Fingers crossed I'm not the only person in the world who does this.)
When Fresh Fiction offered me the guest blog spot for today, I jumped at the chance, because there does happen to be something "new" going on in my life right now.  So thanks for the opportunity to share a little something about my NEW BOOK – A DOCTOR FOR KEEPS from Harlequin Special Edition.
A DOCTOR FOR KEEPS is the first book in a three-book series set in the fictional small town of Heartlandia, Oregon – a Scandinavian enclave along the gorgeous Columbia River.  Now, if this sounds suspiciously similar to Astoria, it is.  The beauty of creating fictional towns is you can pick and choose what you want to use from real places and those tucked away places in the head–I like to call that my creativity spot—to make the setting exactly the way it was envisioned in the mind.  Some details stay and others get tossed, making the spot seem similar but not exactly like the real place.
Here's a story board I made to keep the three books straight.  Book one is the upper left hand corner.
Desi is the long lost granddaughter of Heartlandia's Mayor pro tem, and she makes her way home at a crucial time in the city's history.  There's a town secret that just might blow the lid off "the way things have always been" and only a handful of people know about it.  No this book isn't a mystery, the secret is only a subplot, but I had a ball making it up and threading it throughout the three books.
Of course Desdemona's story is a romance, one that involves the tall "Viking" type next door to her grandmother…and his son.
Sound interesting?  I hope so!  I also hope you'll read the blurb on my book page here at Fresh Fiction and maybe give A DOCTOR FOR KEEPS a try.  If you do, fingers crossed you'll want to read the next two books due out in 2015.
Isn't the book cover beautiful?
So – if you're willing to admit you've avoided people in markets and stores (pretended you didn't see them) by leaving a comment, I'd like to give either a print copy or an e-book copy of A DOCTOR FOR KEEPS to one lucky commenter.  Who's game?
Or, for the sake of conversation, have you ever suspected a friend has purposely avoided you in a public place?  What did you do about it? Do tell!!! 
Thanks for reading,
Lynne
Visit Lynne's website