Hi, Lyssa Kay! Welcome to Fresh Fiction. Please tell us about yourself and your new book, CRAZY STUPID BROMANCE:
Thank you so much for having me! I'm sitting in my home office in Michigan, where I write full-time with a very spoiled Maltese at my feet (when he's not sleeping ON MY DESK). He has been at my side through every Bromance book, including this one. I'm so excited for readers to get their hands on Noah and Alexis's story in CRAZY STUPID BROMANCE. Both are characters that readers have met in previous Bromance books, and now they will really get to know them on a deeper level. Both are very wounded characters from things that happened in their pasts, but they have helped each other heal as friends. But when Alexis is confronted by a woman claiming to be her long-lost sister, her friendship with Noah begins to blossom into something more as she leans on him to navigate this touchy family situation. There is a subplot in the book about a kidney donation among family members, which is very personal to me. My husband donated a kidney to his sister shortly after we got married, and I poured a lot of our personal experience into this book. It's important to note that every donation story is different, so our story won't look like everyone else's. But I was happy to finally have a character in Alexis whom I could trust with such an emotional storyline. And Noah is basically a dream book boyfriend. He's thoughtful, kind, smart, sexy, and gives amazing hugs. You're going to fall in love with him!
First of all, I LOVE the titles of your books, THE BROMANCE BOOK CLUB, UNDERCOVER BROMANCE, and now, CRAZY STUPID BROMANCE. Did you (and/or your publisher) go through a ton of titles before you landed on the "bromance" angle?  
No, we landed on that pretty quickly! But when my agent originally pitched the book to my editor, Kristine E. Swartz at Berkley, I had a different title on it with a subtitle of, "A Bromance Book Club Novel." Kristine had the genius idea of just calling the first book, "The Bromance Book Club" and to put the word "bromance" in every title after that. It has worked out so well!
Your main characters, Alexis and Noah, are best friends at the start of CRAZY STUPID BROMANCE. Friends-to-lovers is a wonderful romance trope! What are some of your favorite romance tropes to read? And to write?  
This was the first time I had attempted to write a friends-to-lovers trope! All of my characters begin as equals, but what I especially loved about Noah and Alexis was that they had such a strong bond of mutual respect from the first page. There was a gentleness and a shared dorkiness to their relationship that was fun to play with. I also love to write (and read) second-chance romances, marriage in trouble, and enemies-to-lovers.
The Today Show recently aired a segment on a real-life bromance book club, inspired by your book! What do you think about real male/male-identifying romance book clubs popping up in real life? 
 I am so thrilled to see it happening! The group that was featured on the Today show was founded by an Olympic medalist named Jason Rogers, and he interviewed me for an article in Men's Health Magazine that ran over the summer. He was so open-minded and honest, and I loved seeing how his friends reacted to his idea of reading romance novels, how they grew into it, and how many other cis-het men have now decided to give romance a try. Some of my favorite comments from readers are from cis-het men who picked up "The Bromance Book Club" and moved on to other romances after that!
Major congratulations are in order–THE BROMANCE BOOK CLUB is headed to Netflix! Obviously, things are still in early stages, but what was it like hearing this news? And if you have any tidbits to share (that you can), please do! 
It is such a thrill to think about seeing my characters and my story translated onto the screen! It was a long process between getting the first hints of interest from film agents to actually getting the deal from Netflix, so it was almost anti-climactic when it actually happened. But there was a very fun moment that I will always remember when I got to run upstairs from my basement office and tell my husband and daughter to come to the living room so I could tell them that IT WAS OFFICIAL!!!! My daughter is so excited. And yes, it is definitely still early, so I don't have any details to share yet. A question I often get asked is whether I'll have any say on casting. Sadly, no. But if anyone at Netflix is listening, I have an entire Pinterest board of actors who influenced my character descriptions!
I think romance authors give the best book recs! What are a few recent reads you'd like to recommend to our readers?  
I always recommend authors, not just specific books, and the authors I'm always recommending right now are Cara Bastone, Alexa Martin, Sonali Dev, and Meika Usher. All write contemporary romance and have vastly different styles, but I adore each of them.
What can readers expect from you next?
I'm so excited to say. . . THE RUSSIAN'S BOOK! We just revealed the cover for ISN'T IT BROMANTIC?, which will be released in June 2021. I'm finishing revisions on the book right now! It's funny because I never expected to write a book for the Russian when I first created his character in The Bromance Book Club, but readers kept asking for it, so I finally started envisioning a story for him. I'm so excited for readers to learn more about this gentle giant of a man!
Rapid Fire Random Questions
Favorite animal:  Capybaras. And dogs. And red pandas.
Coffee or tea: Coffee with a ton of cream and sugar.
Favorite book to re-read:  Natural Born Charmer by Susan Elizabeth Phillips
Beach or mountains:  Mountains
When you were younger, what did you want to be when you grew up?: Exactly what I am. . . an author!
Dream vacation:  A winter wolf-watching trip in Yellowstone.
Aside from reading and writing, what are your hobbies?: Driving my daughter to sporting events. Also, coloring.
Five people you'd invite to your book club (dead, alive, fictional, etc.!):  Ida B. Wells, Chasten Buttigieg, Jimmy Carter, Ruth Bader Ginsburg, and my grandma.
Favorite movie:  While You Were Sleeping
You have a totally free afternoon – no deadlines, no obligations, no Twitter notifications!  What do you do?: Watch bad end-of-the-world movies at my mom's house.
Bromance Book Club #3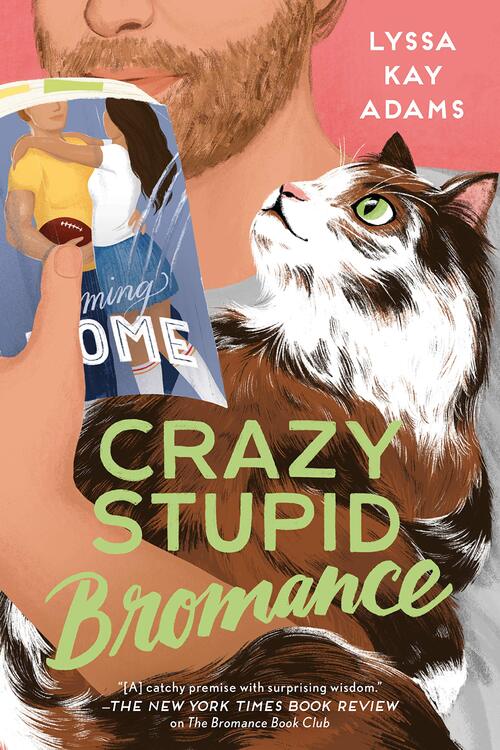 A hacktivist and a cat cafe owner decode the friend zone in this romantic comedy from the author of Undercover Bromance.
 
Alexis Carlisle and her cat cafe, ToeBeans, have shot to fame after she came forward as a victim of a celebrity chef's sexual harassment. When a new customer approaches to confide in her, the last thing Alexis expects is for the woman to claim they're sisters. Unsure what to do, Alexis turns to the only man she trusts—her best friend, Noah Logan.
Computer genius Noah left his rebellious teenage hacker past behind to become a computer security expert. Now he only uses his old skills for the right cause. But Noah's got a secret: He's madly in love with Alexis. When she asks for his help, he wonders if the timing will ever be right to confess his crush.
Noah's pals in The Bromance Book Club are more than willing to share their beloved "manuals" to help him go from bud to boyfriend. But he must decide if telling the truth is worth risking the best friendship he's ever had.
Romance Comedy [Berkley, On Sale: October 27, 2020, Trade Size / e-Book, ISBN: 9781984806130 / eISBN: 9781984806147]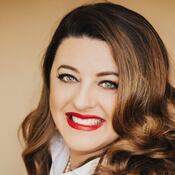 Lyssa Kay Adams read her first romance novel in eighth grade after swiping one from her grandmother's bookshelf and was hooked forever. After a nearly 20-year career as a journalist, her dreams of writing and publishing her own HEAs came true in 2015 with the release of her first novel, Seventh Inning Heat, followed by the RITA-nominated novella, Wild in Rio. Today, she writes full-time from her home in Michigan with a pesky, fluffy K9 assistant named Domino who spends most of his day snoring on her desk (that is, when he's not burying things around the house).