1–What is the title of your latest release?
2–What is it about?
A young woman is attending her sister's royal wedding–sans a date who broke up with her after she dropped out of college for him–so she takes a date with a Scottish man she meets on the train who happens to be the outcast of the royal family.
3–What do you love about the setting of your book? 
I love the Cotswold feel of an English country town with rolling hills and the historical aspects of the castle that I built in my head in Heired Lines from watching a lot of Secrets of Great British Castles
4–How did your heroine surprise you? 
She wasn't supposed to be this dang persistent. In my head originally she was spunky, but I kept having to tell my brain one thing and she wanted to do another.
5–Why will readers love your hero? 
That he's genuine. His story could have been very different and he could have been a villain or an anti-hero.
6–What was one of your biggest challenges while writing this book (spoiler-free, of course!)? 
To make Lord Jacob a real hero and not an anti-hero.
7–Do you look forward to or do you dread the revision process? 
I have a love/hate relationship, lol. I love the feeling of getting the help the book needs from the ugly first drafts but then I'm like "Oh gosh, tearing apart my babies"
8–What's your favorite snack to have on hand while writing? 
Blueberries. They're pretty healthy and if I eat them right, not TOO messy.
9–Where would you go for an ideal writer's retreat? 
Somewhere I could sit on a balcony and watch beautiful scenery with my coffee but NOT have a glare on the screen.
10–What's the best piece of writing advice you've received? 
Write what you love and don't force it.
11–Who is the fictional character you want to hang out with the most? (anyone in literature!)
Jessica Darling from the Jessica Darling series was my first big foray into falling in love with characters (Marcus Flutie is still my number one book boyfriend) but it's tough to say if I'd rather hang out with Jessica or Marcus.
12–What's one of your earliest book memories? 
In middle school, I got detention for passing around the sex scene of a book during science class. Sorry, mom.
13–If you had to write in a different genre, what would it be and why? 
I'm working on a cozy mystery series currently and it's fun to try something different. Murder and comedy with a little bit of romance have always intrigued me.
14–What song will automatically put you in a good mood? 
The Good Morning Song (Look up the Singing Walrus Good Morning song on Youtube. Yes it's a PreK song but it makes me smile).
15–What is your favorite way to practice self-care?
A cup of coffee and walking around Target.
16–What can you eat and never get sick of? 
Ice cream.
17–Will you share a favorite, recent-ish book you recommend? 
I tell everyone I know to read Kiss Kiss Fang Fang by Penelope Bloom. It's such a fun vampire rom-com!
18–Do you have any hobbies? 
Besides reading, writing, fostering dogs, and sitting on the bleachers about six days a week to watch my kids play softball, I've also recently gotten into infusing alcohol (Thanks to Mariah Ankenman) and I'm a big crafter. When I'm not sitting on the bleachers or writing that is.
19–Are you an early bird or a night owl?
Early bird. If you ever email or text me past eight, usually I'm in bed.
20–What can readers expect from you next? 
Right now, I'm working on a cozy mystery series under a new pen name. Release date coming soon!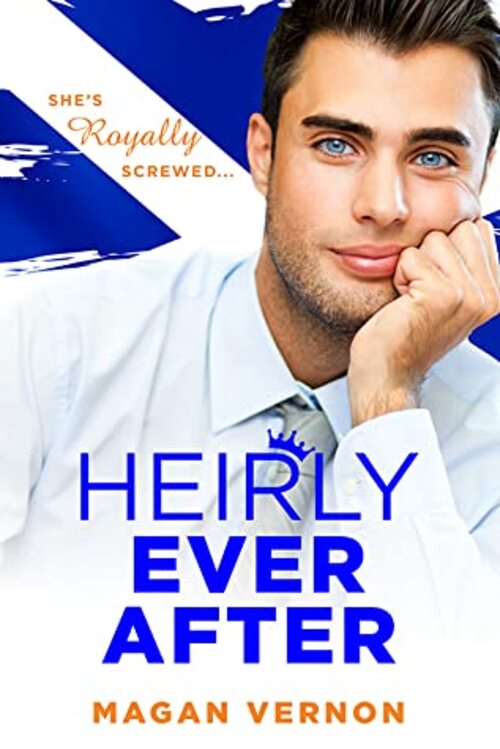 Sometimes, you've got to take a fake date to your sister's royal wedding…
After pumping the breaks on my college degree and being dumped at the last minute, I'm looking forward to skipping off to a whole new country for the week-long event. But I'll need the perfect distraction to keep both my sister and mother from finding out about my epic disaster life. So when I meet a charming Scottish stunner on the train, whose chivalry and humor have me swooning, a quick coin toss seals the deal on my hot date.
It's the perfect plan, until he reveals he is Lord Jacob MacWebley, odd duckling and long-lost cousin of the family my sister is about to marry into. Thanks for the full disclosure. Oh, and apparently no one wants him there because he might have a claim to the inheritance. Wedding week is going to suck, but it's too late for other options—luckily, I'm a pro at dealing with a little family drama.
But between a gentle countryside horse ride that turns into a chase, and the baking class that ends in a food fight we forget to keep up the lies and start blurring the lines instead… against any available surface. Jacob brings me out of my shell and makes me want to break all etiquette rules, but he's keeping secrets and if I'm not careful, I might end up royally screwed…
Romance Contemporary | Romance Comedy [Entangled Embrace, On Sale: May 10, 2021, e-Book, ISBN: 9781682815595 / eISBN: 9781682815595]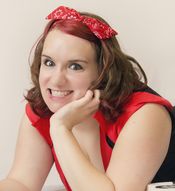 Magan Vernon has been living off of reader tears since she wrote her first short story in 2004. She now spends her time killing off fictional characters, pretending to plot while she really just watches Netflix, and she tries to do this all while her two young children run amok around her Texas ranch.