The sign in the window of a hardware store on the Main Street of Dubois, Wyoming, stopped me in my tracks. Butch Cassidy? Here? I opened the heavy oak door and stepped into a treasure/junk hunters' dream. Everything you can imagine had been jammed onto sagging shelves and hung from hooks: shovels, axes, pitchforks, hammers, screws, nails, hinges, brackets, chains, knobs, saddles, tack, chaps, ropes, gun racks, guns, oilcans, generators. Smells of dust and grease and dried leather clogged the air. Yes, I could imagine Butch Cassidy browsing through all this stuff.
Tacked on the wall was a poster of Butch himself with his wide grin and cowboy hat and the story of how he used to shop here in 1890 to buy supplies for his ranch just outside of town.
Just outside of town? That meant Butch Cassidy had ranched next to the Wind River Reservation which lies south of Dubois. I couldn't believe my luck. I had been writing crime novels set among the Arapahos on the reservation for almost twenty years. Before that I wrote history, and I will forever remain a history nut. Even though my novels are contemporary, with two modern-day sleuths, Vicky Holden, Arapaho attorney, and Father John O'Malley, Jesuit priest, the stories always dive into the past. I am fascinated by old crimes, frauds and injustices and by the larger-than-life western characters whose lives intersected with the Arapahos. I stared at Butch's grinning face knowing I had just found another novel.
Writing about the past requires doing a lot of fun research. I read all the books on Butch Cassidy that I could lay my hands on. I crossed the reservation and spoke with Arapaho friends who were generous enough to pass on family stories about Butch. Everybody knew him, it seemed, and everybody liked him. He never missed a get-together on the rez or the chance to dance with the girls. If you needed help, Butch was your man. Once, when a neighboring rancher took sick, Butch pitched in and kept his ranch going until the neighbor was well.
For Butch, ranching was an attempt to go straight, but it didn't last long. After a couple years, he was back on the outlaw trail, rustling horses and robbing banks and trains. There simply was more money in it than in ranching. But Butch never forgot his friends on the reservation. He visited many times over the years—sometimes hiding out from posses and sheriffs in hot pursuit. None of his friends ever gave him up. Still generous, Butch would share his loot. He helped ranchers pay off mortgages before the banks could foreclose, and I suspect he enjoyed the irony that the banks were paid off with the money he had liberated.
Before I could start writing the novel, I had to find a way to connect Butch Cassidy to the present. I found the connection in an old rumor that Butch had buried treasure on the rez. It made sense. After all, he was on the run, and if the posses ever caught up with him—they never did—they would help themselves to the loot. Why wouldn't he bury it somewhere to be reclaimed later?
I started asking the "what if?" questions I always ask when thinking through a novel. What if someone today found the treasure Butch left behind? And what if someone else wanted that treasure badly enough to commit murder?
With the connection made, the novel took off. Vicky and Father John swung into action. Other characters stepped onto the stage to play their roles: Cutter, who may or may not be who he seems, Ruth, the air-headed widow desperate for a better life. Butch himself appeared in several chapters, hiding out on a former girlfriend's ranch in the 1890s and leaving behind a map to buried treasure. Once the pieces were in place, The Man Who Fell From the Sky, like all of my novels, seemed to pretty much write itself. All I had to do was type the words into my computer.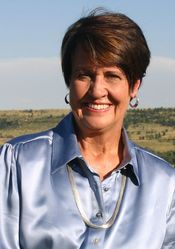 Margaret Coel is the New York Times best-selling author of the acclaimed Wind River mystery series set among the Arapahos on Wyoming's Wind River Reservation and featuring Jesuit priest Father John O'Malley and Arapaho attorney Vicky Holden.
She is a native Coloradan who hails from a pioneer Colorado family. The West — the mountains, plains, and vast spaces — are in her bones, she says. She moved out of Colorado on two occasions — to attend Marquette University and to spend a couple of years in Alaska. Both times she couldn't wait to get back.
She writes in a small study in her home on a hillside in Boulder. The window frames a view of the Rocky Mountains and the almost-always blue sky. A herd of deer are usually grazing just outside, and one summer a couple of years ago, a mountain lion made its home closeby.
"Every day,"she says, "I drink in the West."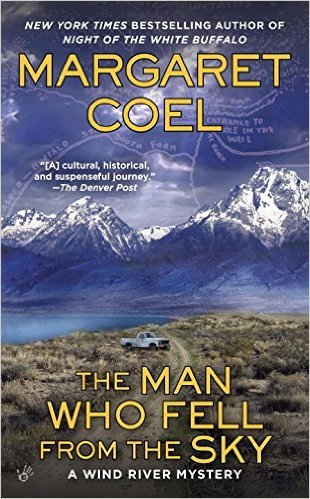 New York Times bestselling author Margaret Coel returns to Wind River with Arapaho attorney Vicky Holden and Father John O'Malley investigating a lethal link between legendary outlaw Butch Cassidy and a present-day murder…
When Robert Walking Bear's body is found in the Wind River mountains, his death appears to be accidental—except for the fact that he had been hunting for Butch Cassidy's buried loot with a map he had gotten from his grandfather, a map believed to have been drawn by the leader of the Hole in the Wall gang himself.
It isn't long before rumors circulate that Robert was murdered by his own cousins to get the map and find the treasure themselves. Despite there being no evidence of foul play, the gossip gains credibility when both Arapaho attorney Vicky Holden and Father John O'Malley are contacted by an anonymous Arapaho claiming to have witnessed Robert's killing.
When one of Robert's cousins falls prey to another deadly accident, Vicky and Father John are convinced the victim is the witness who confided in them, and the hunt for the killer is on in earnest—before more die in search of Cassidy's cache.
Mystery Woman Sleuth [Berkley, On Sale: August 2, 2016, Paperback / e-Book (reprint), ISBN: 9780425280317 / eISBN: 9780698191280]