Sometimes it's good to be bad.
I know in romances, there has to be core of honor and integrity in the hero. I completely agree. But I differ in opinion when it comes to issues of life and death. Some people are just bad guys, and I honestly can't see their value on the planet. But since I'm a law abiding citizen with no Ninja or assassination skills, I leave the contractors of Triggerman Incorporated to do the cleanup.
Ice, Shadow, and Hammer work for The Business, a company that contracts its employment out to various governmental and non-governmental agencies in a discreet manner. In the Triggerman Inc. world, my contractors pick and choose their assignments.
The three heroes—Ice, Shadow, and Hammer—have a few things in common:
Their handler is Big Joe
They're all tall, dark, and handsome
They all might be the father of a small bundle of joy dropped anonymously on Ice's front porch
And so begins the story in CONTRACT SIGNED, the first in the series, which released January 17th. Though each book is a stand-alone, to find out who actually gave birth to the mystery baby (as well as who's the father), you need to read all three.
CONTRACT SIGNED is Noel's story. Noel is known as Ice in professional circles. He's a man with boundaries he never crosses. He's firm, precise, and cold. And he always gets the job done. But he's tired, and he thinks it may be time to hang up his guns. Which of course, is when his sexy neighbor ends up on his doorstep holding a baby that some woman claims is his.
In order to get to the bottom of the baby's mystery, he's left with a note and a locket, neither of which make sense. Except that Noel thinks the baby's father might be one of two other contractors he's worked with in the past. Enter Shadow and Hammer.
As he works to untangle the knot of who and why and how, danger is closing in. On him and his sexy neighbor, who's come to mean much more than she should. Time to clean up and solve the mystery while avoiding being shot, stabbed, and killed.
Just another day in the life…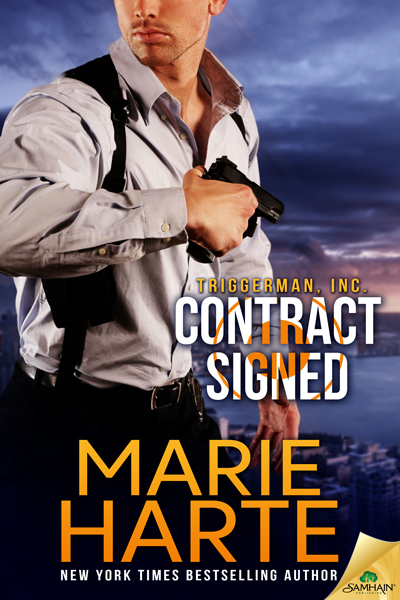 Three assassins and a… baby?
Noel "Ice" Cavanaugh's method is foolproof. Get in, do the job, get out, melt away without a trace. Chill out until his next mark is assigned. Neat. Tidy. No mistakes.
This time, though, something isn't right. Two somethings. First a random attack that feels not-so-random. Then he discovers someone's left a baby on his doorstep with a note claiming it's his. And the sexy neighbor who found the boy first has too many questions in her eyes to ignore.
When her handsome, mysterious neighbor suddenly asks her out on a date, Adeline Rose has suspicions he's fishing for "help" with his bundle of…joy? By date's end, she's convinced Noel's just as distant as he seems—until a scorching goodnight kiss ends with sex against the nearest wall, the heat between them burning away all thoughts of careful.
Now Noel has more than one problem on his hands. Splitting baby duty between three badass assassins, figuring out how to fit more time with Addy into his no-room-for-error schedule…and keeping both of them safe from the danger he's increasingly sure has followed him home.
Warning: Beware a killer with a heart of gold, a baby who needs constant changing, and unrequited love that's actually quite…requited.
Romance Contemporary [Samhain, On Sale: January 17, 2017, e-Book, ISBN: 9781619236394 / eISBN: 9781619236394]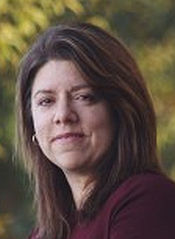 Award-winning author Marie Harte has been writing professionally since 2005. She's both a NY Times and USA Today bestselling author and has written over 100 books and counting. Marie writes books with heat, humor, and character. She writes independently and for several publishers, to include Sourcebooks and Samhain. Though currently writing contemporary romance, she also writes paranormal and romantic suspense. Before turning to writing full-time, she earned a B.A. in English from Pennsylvania State University and spent several years in the United States Marine Corps as a communications officer. Marie currently lives in Central Oregon with her family. There's nothing she likes more than finding a good book to read and a great cup of coffee to drink.