Welcome back to Fresh Fiction, LSA! This may be a loaded question, but how are things going? 
Marissa Backlin, co-owner of LSA:  It's going, haha. It hasn't been easy, but every month we can pay the bills, we breathe a sigh of relief. I keep saying, if we can hang on until the holiday season and stay healthy, we'll have some wiggle room. Of course, now that schools are starting to go hybrid and in-person (I'm also a kindergarten teacher), the risk level goes up, but we're trying to pack up anticipated holiday trope boxes in advance and we're doing a preorder campaign for them so we can get as many as possible boxed up before Thanksgiving.
What are some of the ways you've adapted your bookstore to the pandemic?
Definitely focusing on online sales and pushing preorders. Before March, aside from November/December, most of our sales were in person. Now, most of our sales are online, which does benefit us because we can sell books we don't have in store. Now that the store is open to the public, we're very strict on mask-wearing and we have hand sanitizer at the door, and we have changed our checkout process to be entirely hands-free. I definitely miss having our in-person book clubs and I know Mom (Roseann) does too. I'm a homebody and the book clubs were my consistent social events of the month with fellow readers. I'm hoping we can start those up again sometime next year.
What has been the most surprising thing about having a bookstore during a worldwide pandemic? 
A wonderfully surprising thing has been how romancereaders have worked hard to keep us going! I was honestly scared we wouldn't make it throughthe summer, and I had no idea what we were going to do. Plenty of small businesses have closed that were open for decades and here we were, not even a year old! We get tagged on Twitter and Instagram with book hauls from us and the best part for me is how these readers will also post pictures of books they've bought from The Ripped Bodice, too. They are using their money to support both of us during a very unstable time and to me, that's the beauty of romance readers!
There has been a slew of virtual author events online, including your own! What have been a few of your favorites, and can you tell us about anything you have in the works? 
Oh, that's so hard to choose. I can say, I've really enjoyed all of them, but one of the ones I laughed out loud through most of was our Olivia Dade release event! It's a good thing I was muted, otherwise, I would have interrupted it a few times! You can see replays of all of our events on our YouTube page, and also follow us on Eventbrite to hear about new events as soon as we make them live.
 How can readers best support you and other independent booksellers during this time?
If money is tight, an easy way to support us is by retweeting and spreading the word via social media. We have a Patreon, which just launched a monthly video series featuring authors and industry professionals! Any level of sponsorship gets you these great videos! And purchasing books from us is always a great option, haha. We do have gift cards, but those have to be purchased either in-store or over the phone. 
Do you have any fun holiday-themed products coming soon? 
Yes, we do! We're selling Holiday Trope Boxes again! This year, we are offering an Old School Romance Starter Kit, worth $20, filled with the oldies. We are also including a used book by a diverse author in each box, so those books might not be as old as the others, but we think it's important to include them in any romance starter kit.
We also have All I Want For Christmas Is a Fake Relationship and There's No Trope Like Friends to Lovers for the Holidays, each at three price levels: Mini at $25, Full Size at $50, and Treat Yourself Size at $75!
Each trope box is filled with goodies and romances with that specific trope and we stepped it up with the boxes (we got festive ribbon and designed tags!). We're hoping that this helps us during the winter when sales are slower.
Be sure to check out our Holiday Shopping Guide with info about the boxes and other fun merch!
What are some books you are looking forward to reading in early 2020? 
Wild Rain by Beverly Jenkins, for sure! Mia Sosa also talked about her new book coming out next year at the Olivia Dade event and I'm super excited about that as well! And Joanna Shupe's new series has me very excited!
It's almost Thanksgiving in the US, what are you thankful for this year? 
It's been a difficult year mental health-wise, plus we lost one of my aunts to brain cancer a month into the pandemic so that's been hard. I would say that I'm extremely grateful for my dogs, my mom/business partner, and the romance community for keeping us going. I feel like the store is a driving force some days for me to get out of bed because I don't want to let any of you down, so I'm grateful for that.
Anything else you'd like to share with our readers? 
I know times are tough for everyone right now and we are struggling with everything too. We will do our best to hang in there and be there when this pandemic is over (whenever that might be). Romance is all about the happily ever after and we're determined to hang in there and get to the end of this dark moment. If you can afford to financially help us via book purchases, Patreon, etc, we greatly appreciate it. If not, social media support is super important as well!
***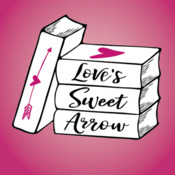 LOVE'S SWEET ARROW is a romance-focused independent bookstore in Tinley Park, IL. LSA has been featured in Forbes, the Chicago Tribune, BTW, Love In Panels, and more. You can find out more about the store (and their adorable bookseller dogs) on Facebook, Twitter, and Instagram. You can also shop their online store, sign up for their newsletter, and check out their Patreon. For more information, please visit http://lovessweetarrow.com.