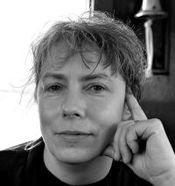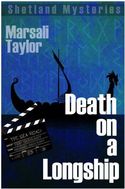 They always say, "Write about what you know', so I made the heroine of DEATH ON A LONGSHIP, Cass Lynch, a keen sailor. Well, more like obsessive – she ran away from home and education to join a three-masted sailing ship, and pursue a career on the water: teaching children in dinghies on the beaches of the Mediterranean, going to night school to learn navigation, sailing across the Atlantic, and living aboard her own boat.
I've not quite done all of those. I grew up with boats, in holidays on the glorious west coast of Scotland, in a cottage three miles by sea from the end of the road. There were badgers, foxes, otters, seals, weird spiky caterpillars and double-winged dragonflies, a blow-up canoe for pottering round the rocks and our family's twelve-foot wooden rowing boat. I still have her, and I can hardly believe two adults, three children and a Siamese cat really went for miles in anything so small. According to my mum, she was my first playpen: 'I put you in the boat with a book, and you were perfectly happy.' As the child starts, so she'll grow!
The first time I was in a sailing dinghy was on a school trip when I was fifteen. I took the helm and went 'Wow! This is it.' It was the most successful falling-in-love of my teenage years. Two years later, when I got my first job, I spent the money on Lady Blue, and devoted the summer to learning to handle her, in races at the local club, with a rescue boat in attendance, and a more experienced sailor to crew for me. (A tip here, girls – since sailing is a 90% male sport, it wasn't a bad move romance-wise, either.) When I got my first teaching job here in Aith, Shetland, I moved with three bookcases, a rocking chair, my painted head-bed, several boxes of books … and Lady Blue.
It felt strange at first, being alone out on the water, but gradually I widened my 'back garden': first, past the narrows in the middle of our 'voe', or sea loch, then to the end of the voe, where I could surf down the big Atlantic swell, then out into the Rona, the channel leading in the Atlantic itself – Cass's childhood sailing territory in her red-sailed dinghy, Osprey. I only came to grief once, when the wind blew up on me and flipped Lady Blue over, throwing me out into the water. I swam around to the centerboard (the dinghy equivalent of a keel) and hauled her upright, sails flapping. When I tried to get back aboard though, she just capsized on top of me.
It wasn't a good predicament. I was out in the Rona, half a mile from the shore, with not a house in sight. The water was cold, and I'd already been fighting my way home for an hour, so I was dangerously tired. But Lady Blue's nose was pointing shorewards – I pulled her jib (front sail) in, hooked my arms over her sides, set my feet against the centerboard, underwater, and there we were, sailing towards safety.
I wanted a real adventure out at sea, so I signed aboard the Norwegian square-rigged ship Sorlandet (Cass's favourite tall ship, too).  It was a wonderful experience: waking in the dark, to go up on deck and see the moon shining on the tiers of sails; to sit look-out in the bows and watch  the sun rise above the horizon like a scarlet hot-air balloon; to brace myself against the great wheel and feel the ship rise and fall beneath me, with sail after white sail rising up into the sky above.  It was cold, though, in these Northern waters …  Cass has sailed tall ships in tropical seas, with the southern stars above her, and flying fish glinting silver in the air – I might have to do a research voyage on that.
My third boat is the the original of Cass's beloved Khalida – my Karima S. She has a chart table,  a cooker, a toilet and my comfortable berth,  complete with duvet,  pillow and a good book.  She's just big enough to keep me safe, just small enough for me to handle single-handed, and I've had so much fun with her.  With the yachts from nearby Brae, where Death on a Longship is set, I've enjoyed barbecues on heather-smelling hillsides, parties in a laughter-filled cabin and nights at remote piers where the air blazes with stars. Last year, we sailed right around mainland Shetland, nearly 200 miles.
And crossing the Atlantic?  I haven't done that yet.  Cass's first Atlantic crossing was with her lover Alain, and they were on the way home when things went horribly wrong –  but, as we say in Shetland, that's a tale for another time.
ABOUT DEATH ON A LONGSHIP
When she talks her way into a job skippering a Viking longship for a Hollywood film, Cass Lynch thinks her big break has finally arrived – even though it means returning home to the Shetland Islands, a place she hasn't set foot on since she ran away as a teenager to pursue her dreams of sailing. When a dead woman turns up on the boat's deck, Cass, her past and her family come under suspicion from the disturbingly shrewd Detective Inspector Macrae.
Cass must call on all her local knowledge of Shetland, the wisdom gained from years of sailing, and her glamorous, French opera singer mother to clear herself and her family of suspicion – and to catch the killer before Cass becomes the next victim.
To win DEATH ON A LONGSHIP: leave a comment on this blog post to be entered to win a book (open internationally for ebook or the US, UK, and Canada for a print book).
Marsali Taylor grew up near Edinburgh, and came to Shetland as a newly-qualified teacher. She is currently a part-time teacher on Shetland's scenic west side, living with her husband and two Shetland ponies. Marsali is a qualified STGA tourist-guide who is fascinated by history, and has published plays in Shetland's distinctive dialect, as well as a history of women's suffrage in Shetland. She's also a keen sailor who enjoys exploring in her own 8m yacht, and an active member of her local drama group.
Goodreads | Facebook | Pinterest | website
To comment on Marsali Taylor's blog please click here.