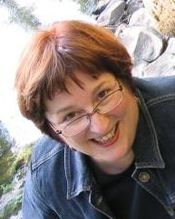 Tomorrow (9/4/12), Montlake Romance will publish my romantic suspense, EVERY BREATH SHE TAKES.  But it won't be the first time this story has seen publication. It was first published in 2004 by Dorchester Publishing under the title LAUREN'S EYES, after it won Dorchester's New Voice in Romance contest. I was thrilled to join the ranks of my mass market-published friends. Then I saw my cover. Actually, most of the romance writing community saw my cover before I did. It was unveiled at a Romantic Times conference which I was unfortunately unable to attend, but the lovely Julianne MacLean stood in for me and posed with my pretty cover on my behalf. And it truly was a beautiful cover, with gorgeous pastel colors, depicting three fantasy-type horses with long flowing manes. The problem? The book in question is not a pastel fantasy. It's a sexy, gritty romantic suspense with a relatively slight – but key – paranormal element (psychic heroine).
The upshot, of course, between the small print run and the lack of a genre-appropriate cover, was that the book failed to find its audience with Dorchester, and I subsequently reacquired the publishing rights.
Fast forward to 2011 when I was contacted by Montlake Romance. Their representative had read the book and wanted to publish it. My initial excitement only escalated after talking with the Montlake team and discovering how astoundingly author-centric they are. Given my earlier experience, I was understandably concerned about covers, but they assured me they would work with me to ensure I was completely satisfied. As it turns out, I am thrilled with my cover. And I can't wait to find out what a difference this cover will make for my book that just wouldn't die!
Giveaway: In celebration of the release of my romantic suspense EVERY BREATH SHE TAKES, I am giving away the winner's choice of a signed print copy of the complete set of either my Serve and Protect romantic suspense series (includes GUARDING SUZANNAH, SAVING GRACE and PROTECTING PAIGE) OR my Vampire Romance series (includes THE MERZETTI EFFECT and NIGHTFALL), at the winner`s choice. If the winner prefers to do their reading on an eReader, I am happy to gift them the complete set of their choice electronically.
To comment on Norah Wilson's blog please click here.