My answer is it depends. Why? Because readers look for different things in different kinds of mysteries. Thrillers, police procedurals, traditional mysteries and cozies all have their fans, who bring their own expectations to each sub-genre.
Cozies mystery readers probably look for romance the most in their mysteries. Why? Because cozies focus on characters much more than other kinds of mysteries, which is just fine with their fans. They like getting to know the people in a series, watching their lives change, and enjoying the interactions. Some of those interactions are logically going to be romantic—especially if the main character is single (though there can certainly be romance between married couples) and also, but not necessarily, if they are young.
In my Pickled and Preserved series, my main character, Piper Lamb, is single and young. At the beginning of the first book, THE PICKLED PIPER, Piper had broken off an engagement and moved to a small town to start a new life. The only problem was that her ex-fiancé, Scott, didn't take the break-up seriously. During his travels around the world to "find himself" he sent Piper messages and gifts as though they were still a couple, much to her annoyance and frustration.
The frustration grew as a new man entered Piper's life—Will Burchett, a handsome Christmas tree farmer who lived just outside of Cloverdale, where Piper had relocated. Local townspeople picked up on the attraction between the two and dropped many sly comments, much to Piper's embarrassment and consternation, since she had no intention of getting involved in a new romance so soon. Luckily—at least for that particular situation—a murder occurred in Cloverdale that diverted everyone's attention, but only until the killer was caught near the end of the book. Then interest returned to Piper's love life, especially when her ex-fiancé announced he was coming to Cloverdale.
In the second book, LICENSE TO DILL, part of the focus was on the gentlemanly tug-of-war between Piper's former and current love interests, which ramped up as the former fiancé showed signs of having changed for the better. This brought about some emotional confusion in Piper, which she was more than happy to set aside for a second murder investigation. Not that she was happy over another murder, but… well, you know.
In SCENE OF THE BRINE, the just-released book of the series, things heat up a bit. (But since this is a cozy, "heat" comes mainly in the form of hints, and love scenes discretely fade out.) A new murder occurs which hits close to home, quickly pulling Piper into the investigation and taking precedence. But since new-boyfriend, Will, and ex-fiancé, Scott, play important parts in solving this mystery—a poisoning that nearly kills Piper's pickles-and-preserves business as well—the two men's ongoing presence in the action means that Piper's quandary over choosing between them remains in the forefront. Can Scott's persistence pay off? Does Will's patience and understanding win out? Is the murder solved?
Which question is deemed the most urgent depends the reader, but my guess is that most cozy fans will see them as deserving equal time. SCENE OF THE BRINE, after all is a cozy. A cozy mystery, of course, but one populated with characters who lead fairly normal lives that are only occasionally interrupted by the inconvenient murder.
Murder, of course, is terrible. And cozy characters deal with it with all the seriousness it deserves. But readers want to see all sides of their favorite characters, and that includes their love lives.
Does romance, then, belong in mysteries? For most cozy readers, and for this particular cozy writer, I'd say the answer no longer depends. It would be a resounding, "Yes!"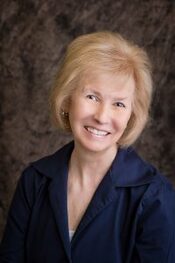 Mary Ellen Hughes is the author of the Craft Corner Mysteries, including Wreath of Deception, String of Lies, and Paper-Thin Alibi, as well as the Maggie Olenski Mysteries. She lives in Maryland with her husband, Terry, who has long provided her with bounties of homegrown vegetables for preserving and pickling as well as unique inspirations for mysteries. Mary Ellen is a member of Mystery Writers of America and Sisters in Crime.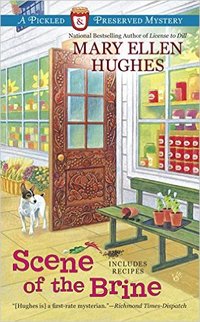 Piper Lamb has to take a break from jarring her delicious pickles and preserves to blow the lid off a poisoner….
Business is booming at Piper's Picklings in Cloverdale, New York. But not all is sweet in the life of Piper's number one customer and friend, local caterer Sugar Heywood. Sugar is dating wealthy realtor Jeremy Porter, but his family doesn't approve. After their unscrupulous accountant finds some dirt on Sugar, the family quickly urges Jeremy to throw her out like rotten fruit.
Things are further spoiled after the accountant is found poisoned, and all evidence points to Sugar's son, Zach. With the Porter family determined to avoid scandal, it won't be easy for Piper to preserve Zach's innocence. And after someone falls victim to a poisoned jar of some of her brandied cherries, Piper's got a peck of trouble to deal with herself…