Ali and Taylor Blake and the Dream Club members think they can! If you've been following my cozy series set in Savannah, you'll know that the ladies in the Dream Club meet once a week to analyze their dreams, enjoy some fabulous Southern desserts and solve a murder or two.
At first Taylor was skeptical about her sister Ali's enthusiasm for dream interpretation. After all, Taylor is the analytical type, always cool and rational. Ali is more impulsive, emotional and willing to explore new ideas.
How do the Dream Club members solve crimes? They look for clues in their dreams that relate to murders happening in Savannah. Sometimes the clue is hard to find. It might be symbolic and elusive. Often, it involves a clue that the police didn't notice. It could be a hint about a suspect's character, a chance comment, a suspicious element found at the crime scene.
In A PREMONITION OF MURDER, Abigail Marchand, a wealthy Southern recluse, has a disturbing dream about her own death. A premonition, you might say. She invites her good friends the Harper sisters over for lunch at her estate along with Ali and Taylor Blake. Abigail tells them about her dream and the guests immediately try to put her mind at rest.
A dream can mean many things, they tell her. Images of darkness and water closing over her are certainly troubling, but there may not portend death. Sadly, Abigail's premonition comes true the very next day when she is found dead at the foot of the stairs in her mansion.
This is the third release in the Dream Club Mysteries. Along with the Savannah setting, the series features a fun, retro candy shop called Oldies But Goodies. Ali and Taylor run the shop, which includes a café and they love trying out new recipes to serve at Dream Club meetings. Stop by and match wits with the Dream Club as you find yourself wrapped up in murder, Southern style.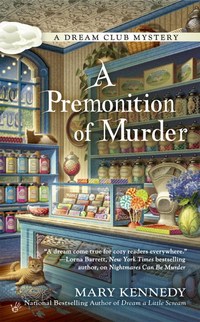 An elderly Southern heiress's nightmare becomes a real case of murder in the latest Dream Club Mystery from the national bestselling author of Dream a Little Scream.
When Abigail Marchand, Savannah's famously reclusive heiress, invites the Dream Club ladies to lunch at her Beaux Reeves mansion, Taylor and Ali hope for an invitation to join the distinguished Magnolia Society. But Abigail has a more pressing concern: a recent dream that seems to foretell her death.
Taylor reassures Abigail that there are many ways to interpret a dream, but at the next meeting of the Dream Club, their discussion is cut short by a call from Detective Sam Stiles. She's at Abigail's mansion, where the elderly woman appears to have been pushed to her death down a flight of stairs. Now Taylor, Ali, and the Dream Club need to catch a killer before someone else is laid to rest.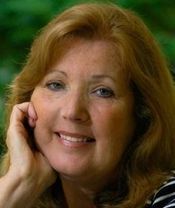 writes the Dream Club Mysteries and the Talk Radio Mysteries for Penguin-Random House. She is a clinical psychologist in private practice on the east coast, where she lives with her British husband and six neurotic cats. She has tried unsuccessfully to psychoanalyze both husband and cats, but remains optimistic.