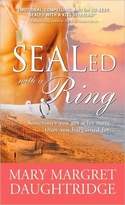 For the past week or so I've driven around with a brown paper grocery bag stacked with books riding shotgun. I'm taking author's copies of SEALED WITH A RING my March release, to friends who have aided my research. It's my version of Christmas. I'm celebrating the birth of a new work by making a present of it to all who have helped to bring it into the world.
Last Tuesday, my rounds took me to a ballroom dance studio.
Several years ago I began work on a third SEAL story in which the hero learns ballroom. My problem was that while I had researched SEALs out the wazoo, I didn't know beans about ballroom. It was a watershed moment. Reading ten or twenty books wasn't going to cut it. I needed lessons and they don't come cheap.
There was no external evidence then that I was an author. I knew how dismal my chances of being published were. How silly would I feel if I poured money and effort into learning how an imaginary person feels, if nothing ever came of it?
My heart pounded and sweat made my fingers slip on the computer keys.
That's when I realized I wasn't being honest with myself. It went deeper than taking a chance writing would pay off. I had wanted to learn ballroom for a long time, but stopped because I was afraid a woman my age would look silly.
Sometimes I think fear of looking like a fool is the most handicapping fear there is. No matter how unlikely it is that we're in danger from snakes, spiders and elevators, they are real. Fear of foolishness protects only the ego but makes us avoid being led by the heart.  For years I had let it stop me, but this time I was determined to listen to my heart and my heart was saying, "If not now, when?" Right then, I called and made an appointment for lessons.
As it turned out, I never finished the book. The dancer's character just wouldn't jell. However, as it also turned out, I loved ballroom, and my instructor was one of the most positive, supportive people I've ever met. I studied for a couple of years. He was the first person I told when I was offered a book contract.
I never wrote that book, but having see how much strength, flexibility, and stamina ballroom dancing builds, I visualized what a SEAL and someone with a dancing hobby could do with, say, a rumba, if fueled by desire and set free by the imagination of an author such as moi.  I knew I would write dancing into a book someday.
All of which is how it came about that the other day I dashed into Fred Astaire of North Greensboro: "The friendliest place in town," with an inscribed author's copy of SEALED WITH A RING to present to Alyosha Anatolly. (Many ballroom dance instructors are Russian, and Alyosha would tell you all the best ones are.)
Instructors crowded around to look over Alyosha's shoulder. "Is this the book about the dancer?"
"Yes and no. It's about a Navy SEAL who only wants to get his life back and a woman who needs to get a life period. Her only outlet is ballroom."
"And do they dance?" they persisted.
"Oh yes. He seduces her with a rumba—" Heads nodded wisely. Unlike the flirty, playful cha-cha, the rumba openly celebrates the body language of sexual interest. "When they…um…dance, it is—" I paused for effect and grinned."—HOT!"
SEALED WITH A RING
by MARY MARGRET DAUGHTRIDGE—IN STORES MARCH 2010
She's got it all…except the one thing she needs most
Smart, successful businesswoman JJ Caruthers has a year to land a husband or lose the empire she's worked so hard to build. With time running out, romance is not an option, and a military husband who is always on the road begins to look like the perfect solution…
He's a wounded hero with an agenda of his own
Even with the scars of battle, Navy SEAL medic Davy Graziano is gorgeous enough to land any woman he wants, and he's never wanted to be tied down. Now Davy has ulterior motives for accepting JJ's outrageous proposal of marriage, but he only has so long to figure out what JJ doesn't want him to know…
ABOUT THE AUTHOR
MARY MARGRET DAUGHTRIDGE has been a grade school teacher, speech therapist, family educator, biofeedback therapist, and Transpersonal Hypnotherapist. She is a member of Heart of Carolina Romance Writers, Romance Writers of America, and Romancing the Military Soul, and is a sought-after judge in writing contests. She resides in Greensboro, North Carolina. For more information, please visit http://marymargretdaughtridge.com/.
Leave a comment to be entered into our one day blog contest sponsored by MARY MARGRET DAUGHTRIDGE and Sourcebooks! Two winners!