My favorite scene…hummm….I think in HIGHLAND FLAME, I really enjoyed the moments right before Diocail and Jane get married. She tried to leave and was caught by the villagers and he's brought her back, only the villagers are demanding to know why she tried to leave. In this era, a noble wife was selected largely for her education. Meaning, she knew how to run a large household. Think back to the first time you had to manage a holiday dinner by yourself…I know I was using a set of my mothers recipes and even though I'd made them countless times, being the one in charge had me flustered big time!
In this scene, Diocail's men see Jane as a solution to the disarray the kitchens are in and winter will be very long without someone there to straighten things out. They embark on attempting to soften Jane up with drinking, while some of them are working on Diocail because he isn't too interested in having a wife who doesn't want him. Jane and Diocail don't bend easily, both trying to escape the men surrounding them, only to end up facing one another.
I hope you enjoy it as much as I do!
EXCERPT
The crowd didn't intend to be denied. They clustered around Diocail, which allowed Kory to break away by guiding his horse around the other side of the gallows. When they arrived, the common room of the Hawk's Head Tavern was empty.

Kory didn't trust Jane to make her way inside though. He grasped her upper arm and took her through the door as people came up the street behind them. Diocail came in behind her, cursing in Gaelic.

"Why did ye tell them I want to wed her?" He turned on Muir as he pointed at the window. "Listen to them."

The crowd had taken up position outside the tavern. They were calling for a wedding, some of them already playing music in celebration.

"The world has gone completely mad." Jane meant to think the words, but they crossed her lips as she stumbled back and landed on a bench.

Niven was suddenly there, pressing a horn mug into her hand. He actually lifted it toward her lips as she sat there frozen.

"Drink up, there, mistress," Aylin encouraged her. "Ye need to collect yerself."

She drank deeply and gasped as the liquid burned a path down her throat. "Christ, what was that?"

"Gillanders claimed it was his finest whisky. Maybe I poured ye the wrong one. Try this…"

The mug was swapped for another one, and once more Niven lifted her hand up to her mouth. She thought to argue but was by distracted Diocail stepping up and jabbing his finger in the center of Muir's chest.

"The woman tried to run the second she could. Does that sound like someone I need as a wife?" he demanded.

"The lass just needs to settle in," Muir responded as he pressed Diocail back. It was part wrestling, part argument.

"Ye're insane, man," Diocail ground out. "I'll no' be wedding her."

"Listen." Muir turned his laird toward the window. "Does that sound like a village that will be forgetting ye did nae make good on yer word?"

Niven tipped the mug against her lips, and she opened her mouth because she was absorbed with the way Muir was fighting with Diocail. Lachie joined in with the captain.

"Normally I would support ye, Laird," the secretary declared in a soft voice. "But it does seem that in this matter, a wedding would solve a great many dilemmas. There is the state of the kitchen to consider, and with winter closing in, another bride will not be simple to obtain, much less with the conditions at the castle and, of course, how unstable yer own position is as laird. No' many fathers will agree to a union with a suitably educated lady. Yet we have one here, and her father is no' close enough to raise an objection."

Niven was swapping out her mug again when Jane felt the first wave of whisky hit her brain. Somehow, she'd downed two mugs already, and her empty belly was making certain she felt the alcohol quickly.

But Niven was pressing yet another mug to her lips.

"What are you doing?" she demanded, slipping down the bench and getting to her feet before Niven and Kory managed to surround her. Aylin joined them, creating a solid wall.

"Drink up, lass," Aylin encouraged her in a tone Jane was fairly sure he'd use on a chicken right before he wrung its neck.

"Aye, it will settle yer nerves," Kory added with a smile too bright to be sincere. "So we can get on with what needs doing. It's a good match, and we'll be happy to have ye on Gordon land."

"Better than yer father's house, for certain. Judging by what I've heard of yer last husband, best no' let yer father choose ye a second one," Aylin added.

"I am not getting married to anyone," she insisted, but Niven wasn't relenting in his attempts to get her to drink more. He tipped some of the contents of the mug into her open mouth as she spoke.

Jane recoiled and fell on the bench, which just made the three retainers bigger and more imposing. They leaned down, clearly intending to keep pouring whisky into her. Desperation made her slip to her knees and crawl past them.

She ended up facing Diocail as he tried to dodge around Muir and Lachie. They both jerked to a stop a single pace from one another. What Jane didn't expect was to see Diocail in nearly the same condition as she was. His eyes were wide, his face flushed from arguing.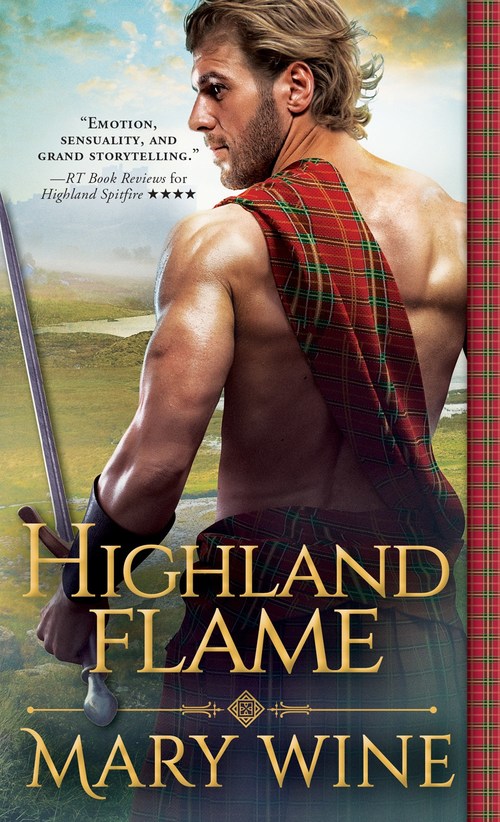 NEWLY MINTED LAIRD SEEKS WIFE, PREFERABLY RICH
Laird Diocail Gordon has just inherited his uncle's run down castle and rag-tag clan. He knows the sorry sight of the castle would send any woman running, but is determined to find a wife to help return his home to its former glory.
Widowed lady Jane Stanley is determined to return to England, even if she has to tromp through the Scottish Highlands on foot to get there. Her travels lead her straight into the midst of a troop of dangerous Highland warriors. The mysterious, brawny laird forbids his men to harm her, and the spark between them is immediate. The only way Diocail can keep her safe is to take her home with him, but will the miserable state of his clan douse her newly ignited Highland flame.
Romance Historical [Sourcebooks Casablanca, On Sale: September 5, 2017, Mass Market Paperback / e-Book, ISBN: 9781492602538 / eISBN: 9781492602545]
>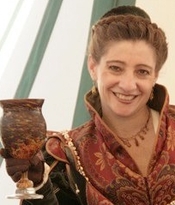 Acclaimed author Mary Wine has written over 30 works of Scottish Highland romance, romantic suspense and erotic romance. An avid history-buff and historical costumer, she and her family enjoy participating in historical reenactments. Mary lives in Yorba Linda, California with her husband and two sons.