Miranda Owen: First, let me say that I am such a huge fan. How do you find the time to write so many different varieties of romance books, in addition to your historical mysteries? What is your process like?
Jennifer Ashley: Thanks so much! How do I find the time? The short answer is: It ain't easy!
The longer answer is: I write every day. I start each morning, at breakfast, writing. I've made that a habit for years. So, even if I wake up wanting a day off, by the time I get to my computer with my bagel or toast, my brain turns on and starts creating a story. I can write anywhere from 500 to 2000 words during my breakfast sessions. That's very helpful. If I can then do a few more writing sessions during the day (I can write 1000-1500 words an hour if I don't goof off), that becomes a good chunk each day.
In this way, I can write a full novel (100,000 words) in two months. That includes the first rewrite / revision. That's two months if I'm not interrupted with real life—usually the work stretches to three months until it's final, final, final.
I plan my schedule six months to a year in advance, so while I'm working on one book, I can be thinking about and making notes on the one I know is next on my plate.
This all sounds more efficient than it is—I get behind, I end up working on edits for one book while trying to write another. It's a little crazy at times! But overall, that's how the books get done. Between shorter and longer books, I can write from 6 to 11 books a year.
MO: I adore your Shifters Unbound series. For me, two of the things that really make it stand out from other paranormal romances, are the fabulous heroes (and heroines), and the strong theme of "family" that runs through every book. Are character creation and getting that strong sense of family and place things that you focus on every time you write a story?
JA:When I worked out the Shifter world, I did go for a strong sense of family. Many animals in the wild are very social (lions, wolves), and rely on family for protection, food, and companionship. I wanted that to come through in the books. Incidentally, I was working up the Mackenzie family series at the same time, and I wanted a strong sense of family in that series as well.
I also like strong characters, both male and female. I try to dig deeply into their pasts to figure out what makes them who they are. Again, I developed the Mackenzie family and the Morrissey family around the same time. I spent a lot of time on their backgrounds. When I was ready to write the books (in both series), it was easy to step into their characters.
MO:There is so much discussion in online book groups about "alpha" versus "beta" heroes. Often a fan's explanation for not liking typically "alpha" characters is because they lump a lot of negative personality traits in with their definition of "alpha hero". This kind of drives me crazy because I always point out that you can have a strong male hero without having him be a jerk. I always reference your heroes as examples. What do you try and capture with your heroes? Who are some of your favorite heroes – both that you've created and those you've read?
JA:I realized a long time ago that being strong (or alpha) does not necessarily mean being aggressive or bullying. In fact, what I've observed in real life is that very aggressive and bullying people are actually weak—they have to try to beat everyone else down in order to control their own fears. A person who is kind and compassionate can be very strong, because they're not afraid of other people. My idea of an "alpha" hero is one who is protective and courageous, has a good sense of who he is, loves those he is close to, and will do anything for those he loves. He's a caring dad, brother, son, mate.
Some favorite heroes I've written are: Ian Mackenzie (MADNESS OF LORD IAN MACKENZIE), Sean Morrissey (PRIMAL BONDS), Tiger (TIGER MAGIC), Zander (the forthcoming GUARDIAN'S MATE), Malcolm Mackenzie (STOLEN MACKENZIE BRIDE), Egan MacDonald (HIGHLANDER EVER AFTER), Mick Burns (Stormwalker series), and Captain Gabriel Lacey (Capt. Lacey Regency Mysteries).
Favorite heroes I've read: Everyone's favorite Jamie Fraser (he proves you don't have to be bullying and cruel to be a great and strong hero); Lord Michael Kenyon (SHATTERED RAINBOWS by Mary Jo Putney)—well, most heroes by Mary Jo Putney. Robert Grey from Joanna Bourne's SPYMASTER'S LADY.
MO: Favorite heroines – both that you've created and read?
JA: From my own books: Ainsley Douglas (THE MANY SINS OF LORD CAMERON); Rae Lyall (from the forthcoming GUARDIAN'S MATE); Janet Begay (Stormwalker series); Bertie Frasier (RULES FOR A PROPER GOVERNESS); Kat Holloway from the Kat Holloway mysteries (SOUPCON OF POISON).
From authors not me: Phryne Fisher (Phryne Fisher mysteries); Mercy Thompson (Patricia Briggs' series); Zoe from FIREFLY; Mma Ramotswe (THE NUMBER ONE LADIES DETECTIVE AGENCY SERIES). Elizabeth Hoyt writes some great heroines as well.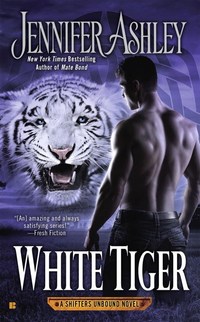 MO: In your latest Shifters Unbound release, WHITE TIGER, a few of the main characters are children or cubs. You write such great child characters. I look forward to one reading a story about Connor and, when he grows up, possibly Olaf. Are children more difficult to write?
JA: I find it fairly easy to write children—that is to say, they're as easy or difficult as adults. I try to approach writing kids as I would any character, thinking about their individual personalities, backgrounds, needs, fears. I'm lucky I remember very clearly what I thought when I was a child. Or maybe I just haven't grown up yet!
I am often asked if I'll write Connor's book (I will), and that of other cubs in the series. Probably. I many characters in Shifters Unbound, which means many more books. 🙂
MO: In WHITE TIGER, with the ranch and everything else, I felt like the story had a little "wild west" flavor. Is that something you were going for?
JA: I live in the west (have for most of my life), so to me, it felt normal, LOL. I did like taking the Shifters out of Shiftertown and having things a little more wild, a little more uncertain. So yes, I was going for that kind of a feel.
MO: One thing I really enjoyed about WHITE TIGER, as well as the previous book, WILD THINGS is that you took the shifters out of their element – out of shifter towns – and at times out of their home state. Were you looking to shake things up, or did that just fit the stories?
JA: In WILD THINGS, I took some of the action to New Orleans because the heroine in Lion Eyes had come from NOLA, and I mentioned there was a Shiftertown there (or close to the city). I thought it would be cool to explore that area, which I will probably come back to. I already knew Zander was going to be from Alaska, so a trip there for our hero and heroine was necessary.
In WHITE TIGER, I liked postulating what life would be like for Shifters who wanted nothing to do with Shiftertowns. They'd have to find a place to hide, to raise their families, to live. I wanted to explore the difficulty of that, and talk about what the Shiftertown Shifters gave up in order to survive.
It's also nice to not be bound by the setting of Shiftertown. I like to show that the Shifters are more free than laws and restrictions in their world make it seem.
MO: In WILD THINGS you had a psychic and a haunted house. Can you see yourself writing a book or series of the spooky variety with things like ghosts and psychic phenomena?
JA: I had a blast writing Jasmine's haunted house! To me, houses have personalities—I can feel that when I walk into one. Does it have good vibes? Or creepy ones? I took that idea and ran with it for Jasmine's house. I'll come back to it.
I'm not sure if I'd ever write a ghost series, though I never say never, and if I could put a weird twist on it, who knows what I'd come up with?
MO: Whenever I start a new mystery series, one of the things I like to know is whether or not there is a dash of romance in the series, or whether it's a straight mystery series. Mixing mystery and romance in a series isn't necessary for me in order to enjoy it, but I like knowing. Having never read either your Captain Lacey or Kat Holloway historical mystery series – is there any romance in either of them?
JA: The Captain Lacey series does have a romantic arc. It's not obvious in book 1 (HANOVER SQUARE AFFAIR), but that's because Lacey doesn't meet his heroine-to-be until book 2 (A REGIMENTAL MURDER). Lacey can't stand her at first, but as the series grows, the two characters begin to better relate each other. Lady B. turns out to be very good for him. I don't want to spoil anything, but the romance deepens with each book.
The Kat Holloway mysteries will have a romantic arc, which I think is clear from the introductory story (A SOUPCON OF POISON). Kat and Daniel McAdam have sparks right away, and the romance will develop from book to book.
In each mystery series, the romance is woven in with the main story, with the relationship moving a little further each time. I love writing romance this way—it feels very natural to me.
MO: I was so excited when you broke into contemporary romance with your Riding Hard series. Why cowboys?
JA: I love cowboys! As I say, I more or less grew up in the west (Texas, Arizona, Nevada). I live in the west now, have for many years. My husband's family is from Texas (they take up entire central part), so I'm very familiar with Texas Hill Country and Austin. I rode horses quite a lot when I was younger and loved it, and happy I could put that experience to good use.
I'd been wanted to write Westerns for a while—I have to credit author Cheyenne McCray for making me get off my butt and do it!
MO: Did you always plan on writing books about the Malory family when you centered this Riding Hard series around the Campbell family, or did something about the characters intrigue you as you wrote about them?
JA: When I first started Riding Hard, I planned to write five books, one for each brother of the Campbell family, oldest to youngest. But when Kyle and Ray Malory walked in, I realized I had two more hot guys on my hands with stories to tell. So the series expanded to seven. Kyle's and Ray's books will be the final two.
MO: I love paranormal historical romance and I really love your Nvengaria series. Can you describe for readers who may be new to the series what the logosh are? How do the lifespans of the logosh compare with humans?
JA: Thanks! The logosh I conceived of as shape-shifters who can take the form of animals, humans, or kind of demonlike creatures. They aren't actually demons; they are supernatural beings who evolved in the mountains of Nvengaria (where a lot of magic floats around)—Nvengaria is a country in the Balkans, tucked between Moldavia and Transylvania. Logosh live longer than humans, but not as long as the Shifters in Shifters Unbound (who live 300-400 years). The logosh were among the first "shifters" I wrote—they aren't based on anything but my crazy imagination.
MO: I'm thrilled that you will be coming out with a revised and expanded version of the story THE LONGEST NIGHT because it was always a favorite for me. Do you have a rough idea of when it will be released?
JA: The Longest Night is the story of a logosh who can become a wolf (and human) and a Scottish woman (sister of the hero of Highlander Ever After). When I first wrote it, I had a word count restriction, because it was published in an anthology with three other writers. I remember going through and cutting, cutting, cutting! Self-publishing has given me the chance to put things back in!
I wish I had a good idea of when the book will be out. I'm going through all four books in that series, having them re-edited and proofread. I've gone through all of Penelope and part of Mad Bad Duke—Highlander and Longest Night are still waiting. I plan to republish them once they are all finished. I have so many other new books to write, though, that they get pushed aside, sadly. But I'm working on it! I hope to have them back out this year, or at latest, early next year.
MO: What are you currently working on? Any Mackenzie or Riding Hard teasers?
JA: I am working on: Next Captain Lacey novel (ALEXANDRIA AFFAIR); a Shifter book that will be out in 2017; the next Kat Holloway mystery; an Immortals series novella (FORBIDDEN TASTE) that will release in a multi-author boxed set in October; a contemporary Christmas novella (which will be remotely tied to Riding Hard) for another multi-author boxed set. (Whew)
After that, I will work on more Riding Hard—I am hoping to write Tyler's and Ross's books close together and release them one month or so apart. I will also be working on the next Mackenzie (Alec Mackenzie, brother to Malcolm from Stolen Mackenzie Bride). Not sure when these books will be out—possibly late this year.
And of course, I'll be rereleasing the Nvengaria series.
I don't have a set publication schedule yet for the rest of 2016 (except the next Captain Lacey book on May 17; and the next Shifter (GUARDIAN'S MATE), first week of September. I'm actually going to take a vacation in between!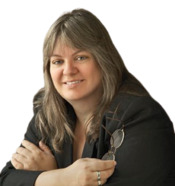 Jennifer Ashley has lived and traveled all over Europe and Asia, once sailing from San Francisco to Japan in a cargo ship. She has now settled with her husband and cat in the sunny southwest to work hard on her next books and drink gallons of gourmet iced tea.
Her books have won the Golden Quill and RT Reviewers Choice awards and RWA's RITA award.