After falling in love with historical romances during my years as an elementary school teacher, I eventually decided to try my hand at writing one. Since the publication of my first western historical romance, SUNFLOWER, I've been blessed with a long and fruitful career as a published author. I've written thirty novels, numerous novellas and short stories that include both Historical and Contemporary Romance fiction in both paperback and hardcover, Inspirational Western Romances, and most recently, a series of cozy/amateur sleuth mysteries set in Hawaii.
The reason I turned to writing who-done-its set in Hawaii is no mystery.
Many of my books always contained an element of suspense and because we owned a summer home in Hawaii, I was always trying to get away with island settings. GLASS BEACH, is a Victorian Western set on Kauai. The heroine of DAY DREAMER, ends up on an island in the Caribbean. One of my more humorous historicals, THE ORCHID HUNTER, is set in England and on a fictional island off the coast of Africa. Thanks to E-book publishing, all of my backlist historical romances are available to a new generation of readers.
In 2005 we became permanent residents of Kauai, the northernmost major island in the Hawaiian chain. Our island lends itself to quirky characters and crazy stories. Living in paradise isn't for everyone. You can't just jump in the car and drive to another state. In fact, on Kauai you can't even jump in the car and drive for more than a couple of hours before you have to turn around and go back to where you started.
With no natural predators who are a threat to them, chickens and roosters have taken over the island. They run wild in the jungle, backyards, front yards, parking lots, scenic turn outs, restaurants, and hotels. They even outnumber the tourists running around in their flashy Aloha shirts who seem to spend a lot of time taking photos of our famous "jungle fowl." If only they would take them home as souvenirs.
My husband is passionate about what he calls his rooster relocation program. He baits a humane trap with tortilla chips, catches roosters and relocates them to unpopulated areas. In the past week he's relocated four roosters and it's blissfully quiet around here for now. But it won't be long before another strutting cock-a-doodle-dooer moves into the territory.
One day our island newspaper featured a story about how a chicken knocked out the main transformer and for hours, half the island was out of power.
How could I not use that in a scene in my latest in the Tiki Goddess Mystery series, HAWAII FIVE UH-OH?
The series centers around a rundown tiki bar, The Tiki Goddess, owned by a Don the Beachcomber type character named Uncle Louie. He's a famous mixologist known for creating legendary tropical cocktail recipes and making up legends to go with them.
A gregarious troupe of aging hula dancers can't seem to stay out of trouble. The Hula Maidens hang out at the Tiki Goddess where the rich and famous rub elbows with locals and tourists alike sipping Mai Tais at happy hour.
Throw in an aging hippie who communes psychically with his dolphin fiancé, Uncle Louie's niece who's newly transplanted to Kauai, and a devastatingly handsome, fire dancing detective and HAWAII FIVE UH-OH is a recipe for hilarious, nonstop action.
The Tiki Goddess Mysteries are published by Bell Bridge Books.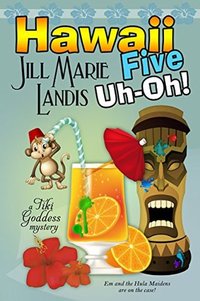 Em and the Hula Maidens are on the case . . .
Em Johnson is prepping for the biggest catering gig she's ever booked, this time at the world famous Tiki Goddess Bar. Then she hears Kiki Godwin has just been released from the psych ward at Kukuoloko. If the unpredictable leader of the Hula Maidens isn't completely recovered from her PTMAD (Post Traumatic Monkey Attack Disorder), Em knows all hell co could break loose at the upscale event.
But for once, Kiki isn't the problem. When the guest of honor's multi-million dollar paintings are stolen and a se security guard turns up dead, Kiki's convinced the best way to to get her mojo back is to capture the art thieves. Kiki an and the girls come up with a plan to lure the felons out by st staging a grand hoax. Their bait will be a cocktail party fe featuring paintings by the reclusive Alphonse Cappuccino, an an "up and coming artist" who is none other than Kiki's fu furry nemesis.
Hawaii Five Uh-Oh is hilarious, non-stop action. So pour yourself a tropical beverage, kick back, and join Uncle Louie, Em, Sophie Chin, and the Hula Maidens at the always unpredictable, ever-entertaining, Tiki Goddess Bar.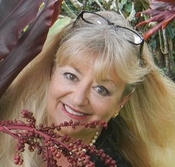 Known for the emotional intensity of her stories and the depth of her characters, Jill Marie Landis is considered one of the country's foremost authors of romance and women's fiction.
Her career in publishing began in 1988 with the historical romance, SUNFLOWER, the first of her many books to earn distinguished awards and slots on such national bestseller lists as USA Today's Top 50 and the New York Times' Bestsellers Plus.
A seven time Romance Writers of America Finalist for the RITA Award in both Single Title Historical and Contemporary, she is a Golden Heart as well as a Rita Winner. In 2005, her hardcover novel, HEARTBREAK HOTEL, was chosen by the American Library Association's Booklist Magazine as one of the Top Ten Romances of 2005, by Library Journal as one of the Top Five Best Romances of 2005, and by RWA as a Rita Finalist in the Single Title Contemporary.
Jill Marie has penned five Inspirational Historical Romances. With stories set in Texas in the 1870's the author added an element of faith as the heart of the novel. Written for Harlequin's Steeple Hill and also Zondervan, the novels contain all of the rich characterization, page turning tension, and heartwarming family drama that has made her previous books "keepers."
In 2011, Bell Bridge Books launched Jill Marie's current project, the Tiki Goddess Mystery Series. Set on Kauai, Hawaii, Book #1, Mai Tai One On, starts off the fun. In this hilarious series centered around the antics of an aging troop of hula dancers and a rundown tiki bar, tourists rub shoulders with locals and celebs, the surf hits the beach with a hypnotic rhythm matched by the beat of exotic drums, and the hum of ukulele music floats on the trade winds. Who knew murder and mayhem existed in paradise?
Jill Marie Landis resides full time in Hawaii with her hubby, Steve. When she's not writing or sitting on the beach reading, she enjoys raising orchids, working in her garden, playing the ukulele and dancing the hula.