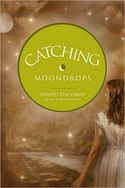 Have you ever wondered what it would be like if you were born a different race? I think oftentimes we are so comfortable in our own skin that we neglect to acknowledge the adversity faced by others. For example, the civil rights movement seems like an event found only in the pages of a history book, but in reality, it happened not too long ago. If it weren't for bright, courageous authors who challenge us to remember the road once taken, we might forever forget the struggles our country has faced.
This month's Jen's Jewels Jennifer Erin Valent is an expert, in my opinion, in making the past come to life. In her latest release CATCHING MOONDROPS, she continues the story of a brave young white woman named Jessilyn Lassiter who comes face to face with social prejudices in Virginia in the 1930's. The third book in the series, she takes the reader to a place where the Ku Klux Klan reigns supreme and the rights of those of a different race are put to the test.
As part of this interview, Tyndale Publishers has donated five books for you, my favorite readers, to try to win. So, don't forget to look for the trivia question at the end. And as always, thanks for making Jen's Jewels a part of your reading adventure.
Jen: A writer's road to publication oftentimes is as fascinating as the story itself. So that my readers may have a glimpse into your world, please share with us your educational and professional background.

Jennifer: The only real writing-related educational experience I have dates back to high school. (Keep in mind that was the same place I nearly flunked a test on A Tale of Two Cities because I deemed Dickens unreadable!) I didn't go to college, and I can guarantee I wouldn't have majored in anything involving literature if I had. My passion for writing happened later in my life, but then living life is a great teacher when it comes to the study of people and how we live.
Jen: Describe for us your "Aha!" moment when you made the conscious decision to actively pursue a career in publishing.
Jennifer: It was similar to the experience I had when I decided to take voice lessons years ago and was told I was a soprano rather than an alto. I thought, "It'll be fun to learn something new," and then I thought, "I'm doomed to sing opera for the rest of my life"! Actively pursuing writing meant great things like spending vast amounts of time using my imagination to create people, places and stories. It meant sharing my heart with the world. But it also meant learning about an industry I knew nothing about, studying the craft and business, and determining that I'd stick to it no matter what… even if I got to a point where I wanted to burn my laptop and walk away. Clearly, I'm glad I made the decision to go for it, but in the beginning it was excitement and fear rolled into one.
Jen: As you have said, you have dabbled in many areas of publishing from magazines to children's books. Currently, you write for the Christian Market. What has made this particular genre a good fit for you? And, what has been the most challenging part of writing for this audience?
Jennifer: It's a perfect fit because my faith is the basis for who I am, and it's why I do what I do. So it's a market that I relate to easily. The difficulty is that the Christian market doesn't get the same sort of publicity in some venues. It can be a struggle to get your work noticed. But ultimately, I leave that in God's hands.
Jen: Your first novel FIREFLIES IN DECEMBER was the 2007 winner of the Jerry B. Jenkins Christian Writers Guild Operation First Novel award. Quite an accomplishment! Congratulations! For my readers who are unfamiliar with your work, please describe for us the premise.
Jennifer: FIREFLIES IN DECEMBER is the story of Jessilyn Lassiter whose family takes in her orphaned best friend, Gemma Teague. But Gemma is black and a white family taking a black girl in as their own in 1932 Virginia is not looked on favorably. The family faces the effects of segregation and come face-to-face with the Ku Klux Klan, throwing Jessilyn's life into a tailspin of anger, fear and the harsh discovery of the darker side of humanity.
Jen: Approximately how much research was needed in order for the story to ring true with your readers? And, what was the most fascinating tidbit you learned along the way?
Jennifer: I primarily needed to have a feel for the time period and an understanding of racial prejudice during the Depression era. I watched documentaries, read non-fiction, Googled a lot. Sometimes, though, it's the smaller details that are hardest to discover, like particulars about how their homes would have looked inside, what vehicles they would have driven, or what terms they would have used. You can't just research certain time periods; you have to research that time period in that particular place. Someone living in the city in 1932 would have lived differently than someone in rural Virginia in 1932, which is where this story is set.
I suppose the most interesting things I learned had to do with the Ku Klux Klan. It amazed me to see just how pervasive they've been at times in our history, and how much they were able to circumvent the law. I think I knew something about that from things I'd read and watched before I started researching the book, but it really came to life for me when I plopped this family I'd created right into the midst of the turmoil.
Jen: Why did you choose to write about this time period from a young girl's point of view?
Jennifer: It's really as simple as sitting down at my computer with the desire to write a first person Southern drama and coming up with Jessilyn's character first. From that point on, knowing the kind of character she was, I was excited to paint the story from her perspective. I've had some people who knew me as a teenager tell me she reminds them of me when I was that age, so I think I found it easy to step into her shoes.
Jen: The story continues in the sequel COTTONWOOD WHISPERS. What is the premise of this book?
Jennifer: In COTTONWOOD WHISPERS, we're once again back in Calloway, Virginia, but this time it's 1936 and Jessilyn is turning 17. She's on that cusp of womanhood, and she's no longer as naive as she was when the trouble hit in FIREFLIES IN DECEMBER. And when an elderly friend is accused of a crime she's certain he didn't commit, she's determined to see right win out over wrong… at all costs. But when she finds out just what that cost might be to her and her family, she wonders how far she can go in her search for justice.
Jen: Was it your intention all along to write a series, or did the story just take on a life of its own? What works best for you in terms of plotting the storyline?
Jennifer: I had originally thought of following Jessilyn's story through one novel, but as I worked it out in my head, I knew I'd never be able to dive into the storylines deeply enough without making it an epic-size novel. Considering I have an affinity for reading characters that I can follow through a series, I naturally decided to head in that direction.
Honestly, I'm not much on outlining plot, so I tend to wing it a lot. I think I'm just the type of writer who develops the characters first and then lets them weave the story together. As I flesh out the characters and have them interact, I start getting plot ideas, and it all just strings along as I go. So I usually start with a basic theme and idea of the story, but the particulars tend to come as I go.
Jen: In your latest endeavor CATCHING MOONDROPS, the main character Jessilyn Lassiter is facing a very emotional period in her life. Her best friend Gemma falls in love with Tal Pritchett a young, black doctor who has just recently moved to town. This new relationship puts a definite strain on their friendship. Why is Jessilyn so fearful of letting go of her friend?
Jennifer: Jessilyn is fiercely loyal. It's one of her most endearing qualities, but it's also something that makes life tough for her because it makes her resistant to change and growth. Letting go of Gemma means moving on to a place where life will never be quite the same again. That's a difficult leap for most of us!
Jen: And, how does this mirror Jessilyn's own doubts about her relationship with Luke Talley?
Jennifer: Jessilyn's the kind of girl that wishes she could grow up in some ways and stay a kid in others. On one hand she wants to marry Luke Talley, and on the other hand she wants to stay with her best friend forever. Just by nature of who she is, and how dependent she is on the people who matter most to her, she has to make a lot of hard choices in order to grow into who she's meant to be.
Jen: This story confronts the harsh realities of social prejudices in the South when a young black man is lynched. Jessilyn has faced these injustices before; however, this time is much different. Why does this specific incident throw her into such a tailspin? Does it have anything to do with her newfound sense of maturity?
Jennifer: Jessilyn's been up close and personal with hate and violence before, but never quite so personally as this. She's lost loved ones before, but not to brutality and murder. The picture of that lynching is etched into her mind, a permanent picture of hate, and it eats away at her soul.
The worst part of my research for CATCHING MOONDROPS was reading about lynching. Once you see pictures of someone hanging there like that, at the mercy of the dark side of human thinking, it sticks with you. Jessilyn saw it up close and personal, and it changed her forever.
Jen: Jessilyn struggles with accepting the Lord's role in the injustices of her world. She realizes that she has disappointed her family and friends due to her disbelief, yet she can't seem to move beyond it. Whose opinion among her circle matters most to her in this situation and why?
Jennifer: I always think it's Gemma, but you'd have to ask Jessilyn to find out for sure! She wants to please her parents and make them happy, of course, but I think she really feels most convicted around Gemma. Gemma is like a mirror for Jessilyn – a portrait of the type of character that she should have – and because of that she feels more conviction from her than from anyone… without Gemma even having to say a word.
Jen: Luke Talley has been the constant in her life. He is the man she wants to spend the rest of her life with, God willing. What makes these two such a good pair? And, in what ways do their differences make their relationship more solid?
Jennifer: Luke and Jessilyn have formed a bond over the years that make them understand each other, and to me there are few things as comforting as having someone around who really gets you. Luke's the guy who knows her, spots and all, and still sticks with her through thick and thin. When two people have been through so much together without killing each other, there has to be something good there, right?
I love how the Lord takes people and fits them together in complimentary ways, and that's what I wanted for Luke and Jessilyn. His mild mannered ways are in stark contrast to her fiery personality, but he can come right back at her with his wit and doesn't back down to her. At the same time, it's Jessilyn's spitfire nature that reminds Luke what's worth living – and fighting – for.
Jen: Let's switch gears now and talk about your promotional plans. Will you be participating in a book tour?
Jennifer: Right now we don't have a tour planned. It's amazing to me how much the internet has come to mean to the marketing world. Between interviews like this one, blogs, website ads, Facebook and Twitter, we're able to get the word out to a lot of people.
Jen: Please take us on a brief tour of your website.
Jennifer: When you stop by JenniferValent.com, you can find out more about each of my books including sample chapters, critical reviews and purchasing information. There's also a bio page where you can find out more about who I am and why I write, and an events page that will tell you about signings, speaking engagements, interviews and more. Plus, you can enter contests for books and other prizes, visit my blog, and drop me a note. I love hearing from readers!
Jen: Do you participate in Author Phone Chats? And if so, how would my readers go about scheduling one?
Jennifer: I'm always happy to do what I can to help readers experience more of the back story of my books. I've participated with book clubs before, and I'm always open to considering invitations. Readers can contact me on my website with any requests, and I'll get back to them as quickly as I can.
Jen: What's next for you? Will there be a book four in this series?
Jennifer: No, Jessilyn's story (at least my part of it!) ends with CATCHING MOONDROPS. I realized early on that I didn't feel comfortable carrying this story line on past three books, and as sad as it was to say goodbye, I still feel certain it was the right way to end it. I've got a book idea I'm working on now that would still be historical fiction, but we'll see if it works out.
Jen: Thank you so much for taking the time to stop by and chat with my readers. I have loved reading all three of your books. The stories are so emotionally charged with historical informational and gripping plot lines. Thank you so much for bringing your readers back in time to a period that needs not to be forgotten. Best of luck in the future!
Jennifer: Thanks so much for the opportunity to share a little bit about myself and my books with you and your readers. I wish everyone very happy reading!
I hope you have enjoyed my interview with Jennifer. Please stop by your favorite bookstore or local library branch and pick up a copy of CATCHING MOONDROPS today. Better yet, how would you like to win one instead?
Answer the following trivia question correctly and you could be one of five winners.
Name the first book in the Jesssilyn Lassiter series.
Later this month, I will be bringing to you my interview with Leigh Brill, author of the true-life story A DOG NAMED SLUGGER. You won't want to miss it.
Until next time…
Jen