Our reviewer Sandra Wurman, wrote FIND HER "first and foremost I have to say I've never been more emotionally invested in a story. FIND HER crept into my heart and consciousness and refused to leave. This book is so well written with obvious attention to details and sequences that the author, Lisa Gardner, deserves plaudits for a job very well done. I've read lots of crime novels, but FIND HER is gritty and scarily plausible, and that's what makes it attention-grabbing."
So now it's time to talk to the author and find out more about FIND HER (February 2016).
I can't help but wonder – just what or who was your model or inspiration for the character of Flora Dane? Flora had to be one of the most resourceful characters ever written – human to be sure – but so mentally secure in her own way. The mantra she developed was awe inspiring.
I developed Flora's character after interviewing two victim specialists from the FBI's Office of Victim Assistance. These specialists focus on working with a victim's family during a crisis as well as developing a post-captivity plan upon recovery. One of the specialists emphasized over and over again that survivors are strong. That's why they survived. The biggest mistake you can make upon recovery is to treat the survivor as a victim. Instead, remind the survivor that yes, he and she can do this. Strength is the antidote to fear, and survivors need to hold on to their strength, or they can lose their way to fear.
There are times – albeit briefly – that we almost see Flora's Monster trucker in a human light. The spare moments when he seems to "care" for Flora. Brilliant portrayal of a demonic person without a soul. Just how did you "see" Jacob? By the way I love the way she called him her monster.
As part of my research for FIND HER, I read several of the memoirs written by survivors of major abduction cases, you know, the headline-making crimes where the girls were held for years, even decades. One of the more surprising things I read is that a monster can't act terribly all the time. It's too much work for one thing. So, for all the moments of violence and terror and shame, there's also movie night, or a gift of a radio, or the time he brought home her favorite food. It becomes part of the complexity of the relationship. As Flora admits, she hates Jacob, will always hate Jacob. And yet, part of her misses him, too. For better or worse, he is the single most powerful relationship she's ever had, which is awful for her.
There's that issue with people developing feelings for their captors – Stockholm syndrome – and Flora battles with herself about her "feelings" for Jacob. How did you manage to do this without making Flora appear weak which would have been against her innate survivor mentality?
Trauma bonding, Stockholm Syndrome, these are all very real, very powerful conditions. Two years later, when the kidnapping victim is left home alone, why doesn't she call the police for help? Because she can't. Because none of us are wired that simply. As a suspense novelists, I've always been fascinated by criminology—what makes a predator. But FIND HER is really Flora's story—what makes a survivor. Which I think is even more compelling.
The relationship between Samuel and Flora is necessary for the healing process. But his knowledge was imperative in the search for Flora when she once again is missing. Did you purposefully make him the thorn in D.D.'s side? Candidly there were times when I was angry at the nerve to enact patient privilege with her life probably in peril.
From a detective's perspective, of course any expert arguing privileged information is frustrating. So on D.D.'s behalf, I'm glad you gnashed your teeth! J But privilege is all about protecting the survivor, which is Samuel's main priority. Flora trusted him with a story she's never told anyone else. Never. To violate their agreement, and their bond, would be more damaging to someone like Flora, than anything else. And remember, Samuel has faith in Flora's strength. That's his job as well. Much to D.D.'s dismay.
Okay we love to hate characters. In FIND HER there are several. Since this is an interview to entice people to read FIND HER I hesitate to even mention one in particular. But we come to realize this character is an important cog in the Monsters machine. So it goes back to an old question or quandary. Nature or nurture. Are monster born or raised?
As a suspense novelist, nature vs nature is one of my favorite arguments. In my free time, I read a shocking number of true crime stories, in order to understand how predators are made. It's probably not good for me. 🙂 My own take: the answer is all the above. You can find case studies where clearly the serial killer was "wired-wrong" from the get-go, to much more tragic cases where the cycle of violence, lack of nurture, was definitely a contributing factor. Human beings are very, very complex creatures, which means I'll never run out of things to write about.
After being abducted and abused, victims find it almost impossible to return to a normal life. Your characterization of the intelligence and cunning of Flora is so realistic. When you write about victims returning home what resources do you use to keep that realism so spot on?
While I'm known for writing dark books, I feel that overall, I'm always telling stories of characters working their way to a better place. We are all stronger than we think. The challenge is discovering that strength and honing it. For Flora, part of finding her strength is making it tangible—she's become an expert on self-defense, self-reliance, etc. But at the end of the day, it's her mental fortitude that will always be her best asset. That, of course, and her knowledge of deadly uses for plastic straws.
This is a relationship story. Flora and her mother and brother. Jacob and Molly. D.D. and her husband. And Samuel and Flora. Each of these relationships are the foundation of this story. What I found so telling was the relationship between the old Flora and Flora 2.0. Flora 2.0 is hard on herself for the things she had to do to survive. And yet we know if old Flora hadn't been smart and strong she wouldn't have survived 472 days in captivity. What was your motivation in making Flora 2.0 so hard on herself?
According to the victim specialists, one of the biggest challenges survivors face is second-guessing themselves. Once they're out of crisis, they find themselves looking back with a terrible case of would've, could've, should've. I should've fought harder. That day, I could've escaped. Second-guessing what already happened, however, undermines their ability to respect and acknowledge how well they did cope, the fact that they did survive. For Flora, she's had to let her old self go. For her, Flora 1.0 was stupid and naïve—the kind of girl who'd wind up in a coffin-sized box. To move forward, she needs to be stronger, smarter, more resourceful. Flora 2.0. Samuel would probably argue they're both still Flora, but for Flora, this separation works for her.
I loved the idea that Flora made use of her surroundings. There were times that I actually laughed out loud when I realized what her plan was. I am still amazed that you got me to laugh while reading one of the most disturbing stories. How did you ever think of her "tools"?
I got it from reading survivor's accounts, and then I just became fascinated with the idea that there are tools all around us. And yes, even garbage can be used brilliantly and efficiently for self-defense. Some of the tricks I used had nothing to do with crime—just, household hacks for say, creating fire when you don't have matches. But for someone like Flora, determined to feel strong, I can see how all these tips would appeal to her. And frankly, researching just exactly what you can do with a plastic straw, was great fun!
Last but not least – the time spent in the box. Did you actually spend any time confined to be able to write so convincingly of things Flora thought about, did, and said to herself? The total absence of light, no conceivable way to escape, dependent for everything. I know this was done to make her docile but your insight actually gave her strength.
I don't know if this is embarrassing or not, but yes I spent a morning on the floor of my office, pretending I was trapped in a box. Just how much could I move? Just what options did I have? Method writing! 🙂 Given than I'm claustrophobic, I'm happy it was just make believe. But it did help give me insights into Flora and it was interesting how many options for exercise, self-entertainment I could come up with.
Now I'm going to have to read it again. This is a book that is definitely going to be dog eared. Thank you.
Ah, that is high-praise indeed. Thank you very much!
Lisa Gardner, a #1 New York Times crime thriller novelist, began her career in food service, but after catching her hair on fire numerous times, she took the hint and focused on writing instead. A self-described research junkie, her work as a research analyst for an international consulting firm parlayed her interest in police procedure, cutting edge forensics and twisted plots into a streak of internationally bestselling suspense novels, including her most recent release, FIND HER.
With over 22 million books in print, Lisa is published in 30 countries. Her success crosses into the small screen with four of her novels becoming movies (At the Midnight Hour; The Perfect Husband; The Survivors Club; Hide) and personal appearances on television shows (TruTV; CNN).
Lisa Gardner's novels have also received awards from across the globe. Her novel THE NEIGHBOR was recognized as the Best Hardcover Novel from the International Thriller Writers in the United States and Grand Prix des lectrices de Elle, prix du policier in France. She was also recognized with the Daphne duMaurior Award presented by RWA in 2000 for THE OTHER DAUGHTER.
Readers are invited to get in on the fun by entering the annual "Kill a Friend, Maim a Buddy" Sweepstakes at LisaGardner.com, where they can nominate the person of their choice to die in Lisa's latest novel. Every year, one Lucky Stiff is selected for Literary Immortality. It's cheaper than therapy, and you get a great book besides.
Lisa lives in New Hampshire with her auto-racing husband and black-diamond skiing daughter. She spends her days writing in her loft with a gentle old sheltie and a wonderfully silly puppy.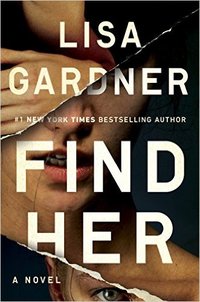 Flora Dane is a victim.
Seven years ago, carefree college student Flora was kidnapped while on spring break. For 472 days, Flora learned just how much one person can endure.
Flora Dane is a survivor.

Miraculously alive after her ordeal, Flora has spent the past five years reacquainting herself with the rhythms of normal life, working with her FBI victim advocate, Samuel Keynes. She has a mother who's never stopped loving her, a brother who is scared of the person she's become, and a bedroom wall covered with photos of other girls who've never made it home.
Flora Dane is reckless.
. . . or is she? When Boston detective D. D. Warren is called to the scene of a crime—a dead man and the bound, naked woman who killed him—she learns that Flora has tangled with three other suspects since her return to society. Is Flora a victim or a vigilante? And with her firsthand knowledge of criminal behavior, could she hold the key to rescuing a missing college student whose abduction has rocked Boston? When Flora herself disappears, D.D. realizes a far more sinister predator is out there. One who's determined that this time, Flora Dane will never escape. And now it is all up to D. D. Warren to find her.