April is blooming with exciting YA books. Paranormal books, like this months feature from Jennifer Archer, continue to run rampant, but I'm including a bonus interview with contemporary debut author Kirsten Hubbard.
PARANORMAL
Veteran woman's fiction author Jennifer Archer makes her YA debut this month with THROUGH HER EYES, a paranormal story that's both eerie and emotional. This book has a great voice and a distinct sense of place that make the events seem very real. The emotional tone, too, really resonated with me.
I'll let Jenny tell you what it's about in her own words:

Jennifer Archer: Tansy Piper, a sixteen-year-old high school student and amateur photographer, moves with her grandfather and her mother, a horror writer, to the setting of her mother's next book–a secluded house outside of a tiny, desolate West Texas town called Cedar Canyon. Tansy is upset over the move and very lonely in her new home. When she finds an old pocket watch, a crystal, and a journal filled with dark poetry hidden in the cellar, she is lured through these items into the mind of a mysterious young man named Henry who died decades earlier. And through the lens of her camera, she discovers that she can enter his black and white world. But as Henry's world becomes more vivid to her, Tansy begins to lose touch with reality and fears that she might never find her way back.
RCM: This book has a very multi-generational feel, even though it's firmly Tansy in the driver's seat. The past weaves in with the present in a very real way. What drew you to writing YA? Was it this particular story, or the character of Tansy?
Jennifer Archer: I've always been drawn to stories that explore the ways in which the past colors the present. For instance, how the choices of one generation affect the family members of the generations that follow. I knew I enjoyed reading YA and thought I might enjoy writing it. And then I literally woke up one morning with the character of Tansy — a teen girl who had grown up moving a lot. I related to her because I was once that girl.
I thought it would be interesting if while Tansy searched for her own identity in a new town, her grandfather began losing his identity. Papa Dan is dying and has dementia. The only way Tansy can keep him from completely slipping away… is for her to find the memories he has lost and keep them alive. And that presents a problem, because she only knows him as an old man.
When we're young it's difficult to imagine that the elderly people in our lives once had the same dreams for the future, fears, emotions, and confusion that we do. I loved allowing this girl the opportunity to see her grandfather through different eyes. To see him as he was when he was her age. I thought a firsthand awareness that her grandfather faced struggles similar to her own would not only teach her a lot about him, but about herself and life in general.
RCM: On a side note, my dad died from dementia, and I took care of him as he slipped away. I went through a lot of Kleenex reading the book because it was very real to me, but not a downer.]
RCM: (back on the subject): I wasn't expecting a paranormal! But this novel was very grounded in reality. It made the paranormal elements seem very plausible and real. (And spookier for it.) What made you decide to write a ghost story?
Jennifer Archer: Early in my career, I wrote quirky paranormal romance novels. They were pretty humorous, but my writing became somewhat more serious over time. I really love eerie, dark, even creepy stories and movies. That said, I tend to prefer storylines that are more psychologically spooky rather than blood and guts. The plotline for THROUGH HER EYES provided the perfect opportunity for me to include those elements of disturbing moodiness in a story of my own, and I really got into it! I made a soundtrack of music to listen to while I wrote, choosing songs from some of my favorite scary, disturbing movies, including THE MOTHMAN PROPHECIES, IDENTITY, and GIRL INTERRUPTED.
RCM: The Texas panhandle setting is intrinsic to the book. How did it play into creating the story?
Jennifer Archer: The Panhandle of Texas is a somewhat desolate place, especially the smaller towns here. I felt that the setting added an extra layer of isolation to Tansy's feelings of aloneness. The Panhandle is also one of the windiest places in the United States. Wind gusting relentlessly has a lonely, eerie, sound that perfectly fit the story tone I wanted to capture.
Lots of atmosphere in this eerie, lovely story. You'll see THROUGH HER EYES on bookshelves on April 5 (from HarperTeen)
Other Paranormal YA to look for this month: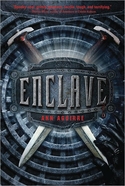 ENCLAVE, by Ann Aguirre. (April 12; Feiwel & Friends) I've been waiting for this book FOREVER. In a post apocalyptic world, Deuce has earned a spot as a Hunter. She must brave the tunnels outside the safety of Enclave, evading ferocious monsters to bring back food for the Breeders and Builders. When a mysterious, handsome rule-breaker named Fade becomes her partner, Deuce starts to question the strict elders—do they really know best? Dark and awesome, this book is full of action and romance and scary monsters and wonderful writing.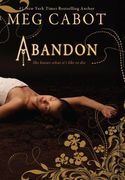 ABANDON, by Meg Cabot. (April 26; Point) Peirce was once dead for an hour. She tries to return to life as she knew it before the accident, but someone in the underworld wants her back. This is a modern telling of the Persephone myth, and it's wonderful. Surprisingly dark and a little more on the angsty romance side than some of Cabot's other books, but her clever touch and signature way with dialog keeps it fresh, breathing life into the girl/mysterious supernatural guy dynamic on which paranormal romance relies.
CONTEMPORARY
Though paranormals continue to dominate, there are some lovely and heartfelt contemporary novels to look for, starting with one that came out last month.
LIKE MANDARIN doesn't have anything to do with speaking Chinese. It's a novel about learning who you are and being true to that. I'll let debut author Kirsten Hubbard tell you about it, in this BONUS interview just for you fans of contemporary novels.

Kirsten Hubbard: Like Mandarin is about a 14-year-old girl named Grace Carpenter, who feels like she's suffocating in her Wyoming badlands town. She rejects her mother's pageant ideals, and finds beauty in an unlikely, explosive friendship with 17- year-old wild girl Mandarin Ramey — until Mandarin betrays her.
Also, jackalopes.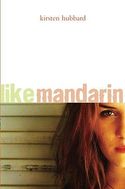 RCM: [LOL! Jackalopes.] One thing I keep hearing about this book is how REAL it is, from the small town setting to the emotions Grace experiences, to the relationships between the girls. Are you a Grace, or are you a Mandarin?
Kirsten Hubbard: I wasn't much like either girl! I was bookish and observant like Grace, but she's way more bashful than I've ever been. I was more bossy and assertive, like Mandarin — though she can be outright aggressive, and I was definitely never "wild". Both girls are loners until they find each other, and I was fortunate to have a strong group of friends throughout high school. But in the way the girls relate to one another, you could say I was Grace at certain times in my life, and Mandarin at others — it all depended on the power balance of each particular friendship, which constantly shifted back then.
RCM: Who was your girl crush when you were a teen? (Mine was Kelly, the best ballet dancer at our arts school. She had blonde hair to her waist and she was just so COOL.) Did the friends you chose influence the person you became as an adult?
Kirsten Hubbard: There was never one particular girl I was obsessed with, but rather a series of girls I watched throughout the years. Girls who had something about them, some magnetic ease that made me stop, stare and wonder. It wasn't until I was older that I realized almost every girl guards secrets, insecurities and broken places, no matter how confident she seems.
Lots of wonderful reviews for LIKE MANDARIN. It's available now from Delacorte Press.
Also in Contemporary this month:

THE LAST LITTLE BLUE ENVELOPE, by Maureen Johnson. (April 26; HarperTeen) In this sequel to 13 Little Blue Envelopes, Ginny Blackstone thought the biggest adventure of her life was over, but then she gets a letter from London, from a mysterious boy who found her bag with the last envelope left to her by her late grandmother. Soon she's off on an adventure that brings her to old friends, new love, and life-changing experiences. I enjoyed the previous book a lot, and Johnson is always great.
That's it for the double issue April YA bonanza! Until next month, Happy Reading!
Rosemary Clement-Moore writes Young Adult books because she loves to read them.
Visit her webpage or blog to find out more about her award winning Maggie Quinn: Girl vs. Evil series, and her gothic romance, THE SPLENDOR FALLS (now in paperback). Next up is TEXAS GOTHIC.