Ready to play Author Match? I hope so because I've got an author on hand who you'll want to check out ASAP!
Writes: Contemporary romance with my latest release, BREAK OF DAY, book #2 of the EXCLUSIVE ROMANCE series now on store shelves.
About: Contemporary romance author seeks readers for a novel with both heart and heat featuring a poor but determined heroine who's clawing tooth and nail to get ahead in her TV news career and a rich, surfer weatherman hero whose happy-go-lucky attitude hides his deep, scarring family secrets. Must like workplace romance, humor, and John Hughes plotlines.
What I'm looking for in my ideal reader match:
Likes their beach reads with emotional depth.
Enjoys stories with some heat, but a lot of heart.
Has always wanted to live in the sunshine of Southern California.
Thinks surfers are super hot.
Is curious what goes on behind the scenes in a TV newsroom.
Wants a hero you can root for and fall in love with.
Likes an ending that is not only happy, but filled with hope.
What to expect if we're compatible:
Two more books in the series (JUST THIS NIGHT, already released) and AT FIRST LIGHT (coming in February 2017.)
Frequent giveaways on my Facebook page.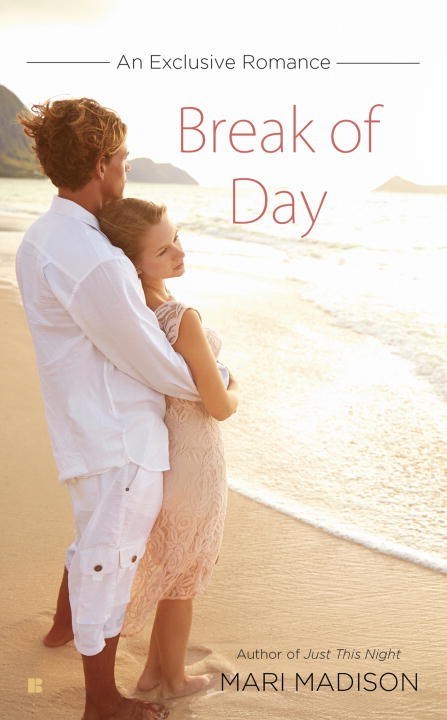 There's a chance of a heat wave for the crew at News 9 San Diego…
Asher Anderson is an amazing surfer—with a body to match— but he's pretty much the world's worst weatherman. He'd prefer to catch the perfect swells in the morning so he tapes his forecasts in advance—it never rains much in San Diego anyway. The suits at News 9, however, would love to fire him, but since he's the son of the station owner, they'll just have to get creative…
Piper Strong thinks she's scored her dream job when she's promoted to weather producer. Glorified babysitter is more like it—she's now responsible for bringing Asher back to shore. The problem is she's afraid of the water, and she wasn't counting on her growing attraction to Asher. But if Piper can just weather this storm, she'll be able to carve out a career to be proud of—and maybe even a place in her heart for love….
Romance | Romance Contemporary [Berkley Sensation, On Sale: August 20, 2016, Mass Market Paperback / e-Book, ISBN: 9780425283141 / eISBN: 9780698408791]