I love music, from the sounds of Motown and funk of the seventies, eighties girl groups like The GoGos and Bangles, through country and bluegrass to modern music like Bruno Mars, Rumer and light jazz artists like Stacey Kent and Karen Souza. I love classical music, too… Rachmaninoff, Mendelssohn, Copland and lots of others.
But I would never have imagined getting hooked on… opera.
OPERA??
Well, yeah, opera. I started researching some opera just to reference pieces for Pish Lincoln to listen to for my Merry Muffin Mysteries. And I listened on YouTube, to some of the greats. And a funny thing happened; I was listening and watching Pavarotti signing Nessun Dorma, and realized… tears were streaming down my face. It was like my very own Pretty Woman moment (except I do NOT look like Julia Roberts); remember when Julia's character is watching the opera with tears in her eyes?
I got it… I finally got it. Opera done right is an extremely emotional experience, a revelation, really. I went from doing research to get Pish's picks correct, to becoming more interested, and watching opera videos for entertainment. But it is important to watch quality singers. I've found that opera done badly is worse than any other kind of performance done badly. It could put you off opera for life, and I can believe that is why so many folks think of opera as singers screeching high notes.
Only one thing remains for my complete conversion; maybe someday I'll get to see a live performance by a quality singer. Let's just say… it's on my bucket list.
But in the meantime the internet is a fabulous place to find audio and videos of the greats. I recommend – of course – Pavarotti singing Nessun Dorma, but also… Diana Damrau singing the Queen of the Night aria from The Magic Flute, Jonas Kaufmann singing just about anything, and the luminous late Maria Callas singing… anything she darn well pleased.
It may seem like it's highbrow or artsy, but opera started as the music of the masses, and in my case, it still is.
Victoria Hamilton is the national bestselling author of three bestselling series, the Vintage Kitchen Mysteries and Merry Muffin Mysteries as Victoria, and the Teapot Collector Mysteries as Amanda Cooper. She is also the bestselling author of Regency and historical romance as Donna Lea Simpson.
Victoria loves to cook and collects vintage kitchen paraphernalia, teacups and teapots, and almost anything that catches her fancy! She loves to read, especially mystery novels, and enjoys good tea and cheap wine, the company of friends, and has a newfound appreciation for opera. She enjoys crocheting and beading, but a good book can tempt her away from almost anything… except writing!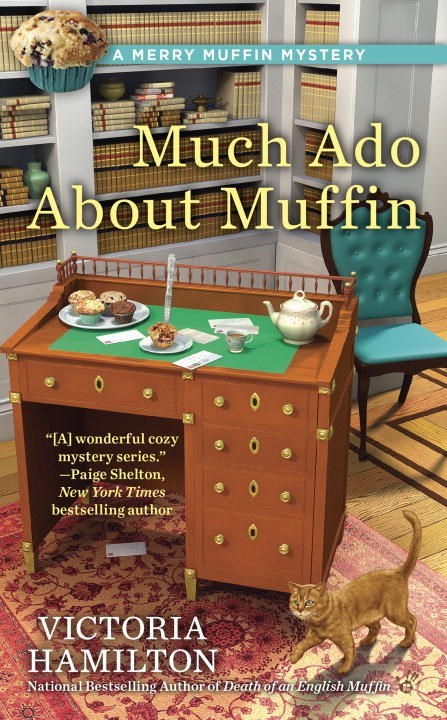 In this fresh mystery from the national bestselling author of Death of an English Muffin, baker Merry Wynter comes to the aid of an innocent woman accused of murder.
When muffin baker Merry Wynter sees an innocent woman accused of murder, it's dough or die…
Opera singer Roma Toscano may have a crippling case of stage fright, but she certainly is stirring up drama in Autumn Vale, New York, as she prepares for an upcoming performance at Merry's Wynter Castle. With her flamboyant style and flirtatious personality, Roma attracts fans as well as critics, including the town's postmistress—and Merry's bitter foe—Minnie Urquhart.
But Roma and Minnie's heated rivalry goes cold after Merry discovers Minnie dead at the post office. While every clue seems to be another ingredient in the investigation of Roma, Merry thinks the case is half-baked, and she's eager to get her mitts on the real killer…
Mystery Cozy [Berkley Prime Crime, On Sale: August 2, 2016, Mass Market Paperback / e-Book, ISBN: 9780425282588 / eISBN: 9780698406070]