Howdy, Fresh Fiction fans!
In my latest release, the erotic romance COWBOY RESURRECTION, Monica Kaur is a marketing executive who's tasked with planning and promoting a rodeo. She's also a city slicker who has no idea what a rodeo is. She enlists the help of a local rancher's son, Dean MacKinnon, who's a professional bullfighter. Together, they get the show up and running…and spend some private meetings getting to know each other one-on-one.
So what is a rodeo anyway? I attended my first rodeo in my twenties, so I can understand a newbie's confusion. You drive up to the arena, not knowing what to expect. You park your Prius among all the giant dusty pickup trucks. You pay for your ticket, find a seat in the stands, look around and think, "What happens now?" And maybe, "What am I doing here?" And also, "Who are all these cowboys?"
No worries—I've got you. Here's a quick and dirty city girl's guide to rodeo.
HISTORY
In the 1800s, Mexican vaqueros and American cowboys worked the vast cattle herds in the west. A couple times a year, they rounded up the herds and drove them hundreds of miles to stockyards, where the cattle were bought and sold. To celebrate a job well done, the cowboys held friendly competitions, challenging each other's ranch-related skills like roping and "cutting," or separating one cow from the herd. Spectators gathered to watch.
ASSOCIATIONS
Railroads changed the nature of ranch work, but the shows lived on, evolving into today's rodeos.
Today, the Professional Rodeo Cowboys Association (PRCA) presides over most major rodeos. Standard events at these rodeos include calf (tie-down) roping, steer wrestling, barrel racing, saddle bronc riding, bareback riding, and bull riding.
In response to the popularity of bull riding, in 1992, a group of bull riders formed the Professional Bull Riders (PBR), which holds bull riding-only events.
At rodeos sanctioned by the Working Ranch Cowboys Association (WRCA), only cowboys who work on ranches are allowed to compete; they aren't paid to rodeo.
The Women's Professional Rodeo Association (WPRA) promotes female athletes in the sport, including world champion barrel racers and ropers.
THE EVENTS
There are two kinds of rodeo events. First, roughstock events are scored by a judge. These involve cowboys trying to ride bucking things that really don't want to be ridden. Second are timed events. These are the speedy events like barrel racing, tie-down roping, team roping, and steer wrestling. YouTube videos should help you understand how all these events work. Pretty exhilarating stuff.
As for winning, scores and times determine which athletes advance to the next round. Participating in rodeos is expensive. To my knowledge, few competitors find profit in competition. The biggest motivator seems to be love for the sport.
WHY I LIKE IT
As Garth Brooks sings, "It's the broncs and the blood, it's the steers and the mud…and they call the thing a rodeo." Rodeo is an extreme sport. It's exciting and family friendly. Local rodeos are generally inexpensive to attend, and they bring the community together. Going to a rodeo feels like going to a county fair—low key, a little dusty, and lots of fun.
P.S. I know what you're thinking, city girl. What to wear? I recommend searching Pinterest for "rodeo outfits." That's a good place to start.
ATTEND A RODEO
In addition to the big shows like Frontier Days in Cheyenne and Wrangler National Finals Rodeo in Las Vegas, there are tons of smaller events held throughout the year. Check out these associations' schedules for a rodeo near you!
GIVEAWAY
Are you a country girl or city slicker at heart? Leave a comment below. Three winners will receive a digital copy of COWBOY RESURRECTION from the book retailer of their choice.
supplemental photo caption: Team ropers at the Clovis Rodeo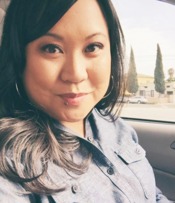 Mia Hopkins writes lush romances starring fun, sexy characters who love to get down and dirty. She's a sucker for working class heroes, brainy heroines and wisecracking best friends.
When she's not lost in a story, Mia spends her time cooking, gardening, traveling, volunteering and looking for her keys. In a past life, she was a classroom teacher and still has a pretty good "teacher voice" and "teacher stare."
She lives in the heart of Los Angeles with her roguish husband and two waggish dogs.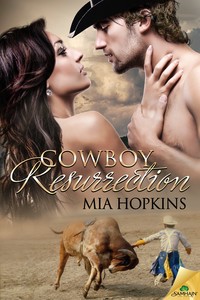 Ball-busting businesswoman meets no-holds-barred cowboy. He's gonna need a longer rope.
Marketing hotshot Monica Kaur has put her big-city life on hold to help bail out her brother's failing business. Now she's got three months to plan and promote a rodeo, the first her tiny hometown has ever seen.
To ensure the rodeo's success, Monica enlists a local hero, a rancher's son who's made a name for himself on the bull-riding circuit. Problem? She can't stop daydreaming about the cocky bastard—and all the things she longs to do to him out behind the chutes.
Professional bullfighter Dean MacKinnon is home helping his family while his father fights cancer. Haunted by bad memories, jaded by love, Dean finds escape in a no-strings-attached go-round with brainy, sexy Monica, whose close-knit Sikh-American family would sooner run him out of town than see her with a notorious rodeo romeo.
In private, Monica and Dean play as hard as they work. But as the rodeo draws near, that clean break they promised each other is getting more and more hung up in the rigging.
Warning: Contains rope play, motel nooners, a blue-eyed charmer with a taste for kink, and a brown-eyed princess with a taste for cowboys.