1–What's the name of your latest release? 
My latest release is called Little Wishes.
2–What is it about? 
Little Wishes is about a young couple in 1960's England in a small coastal town in Cornwall who fall in love, but for whom life conspires to keep them apart. Fifty years later they reconnect. Little Wishes is about taking all of those lost chances from the years they weren't together, and making them come true. It's about a love that lasted fifty years, despite life getting in the way. Ultimately it's about my characters reconnecting both with people they had lost, but also with parts of themselves that needed reawakening.
3–What word best describes your main character(s)? 
Tom is stubborn, loyal, but occasionally cowardly. Elizabeth is both brave, romantic, and sorry.
4–What makes your story relatable? 
I think we all have moments in our histories when we can look back and think things could have gone either way. Choices about work, where we live, which relationships we will fight for, and which relationships we let go. Hopefully, for most of us, we take the right decision, follow the path that makes us happiest. But part of us perhaps will always wonder, what if about certain things. That's what happened for Tom and Elizabeth. They are very human characters, with flaws that limit them. But ultimately, they are two people who are in love, trying to do the right thing and make the best out of a bad lot. I think we can all relate to that.
5–Who are the people your main characters turn to when they need help? 
Elizabeth has always turned to her mother, and it's the loss of her that causes so many difficulties in Elizabeth's life. Tom has often felt as if he had nobody. He always turns to Elizabeth, even when they are apart.
6–What do you love about the setting of your book? 
Cornwall is one of the most stunning coastlines in the world. It's without a doubt one of my favourite places in my home country. I love its wild, barren cliffs, and endless expanse of ocean.
7–Are you a plotter (follow an outline) or a pantster (write by the seat of your pants)?
I'm a little of both. I used to be very much a pantser, but the more books I write the more I plan. Mainly because I have deadlines, so can't afford to keep writing books that my agent doesn't like.
8–What is an ideal writing day for you? 
I usually arrive at my desk by the latest 9 am. I like to write in the mornings for four to five hours. The rest of my working day will be filled with all the other tasks that a writer has to do. When I'm writing a new book, I like to get about 3,000 words written per day.
9–Do you listen to music while you write, need total silence, or do you have the TV on?
For a new draft, I like silence, but for editing, I might use music that suits the mood of the piece. I don't like working in a café though.
10– How do you approach research? 
I enjoy research and tend to do it gradually as I go along. This usually means I need to edit things as I go along, but I don't mind that. I will use google, maps, local connections. For little Wishes the current shopkeeper in the village I set the book in helped me a lot with local knowledge and stories via email.
11–What is your publishing journey story? 
I wrote my first book back in 2009, and it was probably pretty terrible. I sent it out to agents and of course, nobody wanted it. I had no idea what editing was back then. After that, I emigrated to Cyprus, where I wrote a second book, and then I decided to self-publish both. I wrote and published four more books and one novella that way. In 2015 I had written another book, my seventh, and was set to self-publish again, and even had the cover ready to go. It was a last-minute decision to hold it back and submit to agents, and that was the book that secured me representation and went on to sell in over 15 territories.
12–Do you have critique partners/writing groups you want to give a shout-out to? 
Not really. The only people who read my work before a publishing house is my agent. I don't like to have people read my early drafts.
13–What're the most frustrating things about being an author? 
I guess being alone can get tiring. Also, spending a year writing a book, and then not having it sell. That's rubbish.
14–What's your favorite scent?
I wear Si by Georgio Armani, and I like my house to smell like lavender or fresh bread.
15–What movie will you watch no matter what if it's on TV? 
The Matrix. Forrest Gump. Terminator 2. All great movies, and I'm a 90s girl.
16–Do you like breakfast, lunch, or dinner best? 
I'm not much of a foodie, but I guess I'd have to choose breakfast. Pancakes with bacon and syrup is the best breakfast and there is no country that does breakfast like the USA. I never thought anywhere could serve more pancakes than I could eat.
17–What's one thing you wish you knew more about? 
Psychology. That's why I've just signed up to do a post-graduate degree in that subject.
18–What's the silliest thing you've recently done?
Every day I do something. I am so clumsy. Yesterday I knocked my tea over my beige sofa.
19–What can readers expect from you next? 
My next book is called Hidden Treasures, and it will be out next year. It's a coming of age story and explores what it means to find out who you really are.
20–How can readers reach you?
The best place to reach me is Instagram. It's the place I like to hang out @MAdamswriter.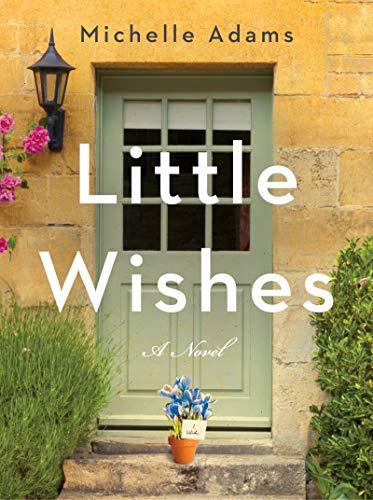 On her favorite day of the year, Elizabeth Davenport awakens in her cottage on the wild and windy Cornish coast, opens her front door, and discovers a precious gift: the small blue crocus and a note that begins I Wish . . . They are not signed, but she knows they've been left by her first and truest love, Tom Hale. Each of these precious missives convey a simple wish for something they had missed, and the life they might have shared. She has kept them all.
But on this day, what should have been the fiftieth anniversary of their falling in love, the gift fails to arrive. Could something have happened to Tom? Elizabeth has always been plagued by thoughts of "what if?". Propelled by worry and decades of pent up longing, Elizabeth packs a little suitcase, leaves Porthsennenon, and journeys to London . . . to find the love of her life once again, years after circumstances forced them apart.
Finding him, Elizabeth is faced with the desperate knowledge that any time they might have now is running out.  Never before had she thought that she might truly lose time—forever. And now, knowing that life is too short, Elizabeth vows to fulfill as many of Tom's wishes as she can. Yet she fears that her efforts may expose the shameful secret that, until now, has kept them apart.
Can she continue to hide the truth, or will she have the courage to reveal herself completely and finally make their dreams come true—before it's too late?
Romance Contemporary [William Morrow, On Sale: November 17, 2020, Hardcover / e-Book, ISBN: 9780063019560 / eISBN: 9780063019584]
Michelle is a writer and novelist. She is the author of two psychological thrillers, My Sister (2017) and Between The Lies (2018), and now writes heartwarming women's fiction. Her debut women's fiction title, Little Wishes will be released in November 2020, and will be followed in 2021 by Hidden Treasures.
Michelle contributed to the 2020 anthology about motherhood, The Best Most Awful Job with an essay entitled Learning To Be A Mother, an account of her experience with adoption.
Her novels have sold in 20 territories, including UK, US, Germany, Greece, and China. She has also written for The Guardian newspaper and The Daily Mail.
Michelle is British, but now lives in Limassol, Cyprus, with her husband and their children.