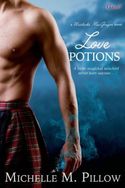 "Do not pay attention to my cousins. Every family needs a couple idiots and we keep them around for entertainment." – Rory MacGregor, LOVE POTIONS

To me, family is one of the most important things in my life. So, it only makes sense that I love writing stories where families are a big part of the character's life. With the MacGregor clan, family is everything—so much so that many of them live in the same mansion. These guys (and woman, sorry Malina) bring a lot of fun elements to the table. Yes, they are sexy Scottish warlocks who are practically immortal. I mean, how can a writer resist a hot guy in a kilt with a knee-weakening accent?
The MacGregors will literally die, or kill, to protect each other. Add to that familial bond magickal abilities and centuries worth of mischievous history, and you have some very funny situations.
"Ya were going to turn me into a rat? Had I known that I wouldn't have tried to turn ya into a snake."- Iain MacGregor, LOVE POTIONS

The MacGregor siblings and cousins have been using their magick to prank each other since they were children. I won't give everything away, but there have been frogs jumping out of hair during coming out parties, pink horses, petrifying spells… So, when the hero of Love Potions, Erik MacGregor, falls in love with his new neighbor you can well imagine his sister Malina is right there wanting to "help"…and to maybe get a little payback for all the times her brother stood behind her with the magickal equivalent of a shotgun as dates tried to pick her up. Malina's love potion prank makes Lydia the target of his embarrassingly obsessive behavior.
"Am I on your walk of shame? You did sleep with the right MacGregor, didn't you?" – Charlotte, LOVE POTIONS

Family isn't always blood. For Erik's neighbor, Lydia Barratt, her best friend Charlotte is her only living family. There are friends, and then there are true friends. Charlotte has no problem telling Lydia how it is, but so help anyone else who tries to do it.
Lydia is trying hard to live down her small town reputation as the granddaughter to the eccentric 'witch on the hill'. She likes her quiet, reclusive life living in the house she inherited from her grandmother and running her beauty product business, Love Potions. When the MacGregors purchase the mansion next to her house, she begins to realize maybe Gramma Annabelle wasn't as crazy as everyone thought.
"A stóirín, ya are a handful of trouble, but I kind of like it." – Erik MacGregor, LOVE POTIONS

These two friends may be mortal, but I think the power of being strong females can take on any magickal force the MacGregors bring to the table.
I am very excited (read: nervously anxious author who will be incessantly refreshing the book pages and email on release day) to hear what readers have to say about this new book, and possible series.  I adore the MacGregor family, and I hope you all will to.
A special thanks to Fresh Fiction for having me!
Check out her Website, Newsletter, Facebook, Twitter
To comment on Michelle M. Pillow's blog please click here.