I grew up reading romances. In fact, the first adult novels I remember reading were Victoria Holt's gothic romances. Full of windswept moors, isolated castles, danger, mystery, suspense, and of course, heart-thumping romances, these books seeped into my bloodstream and I've been hooked ever since.
My newest book, How to Blackmail a Highlander, book 3 in my MacGregor Lairds series, combines quite a few of my favorite romance-book elements to create a funny, thrilling, and utterly romantic romp through the highlands. These are ten things (in no particular order) that I love in a romance:
1. A good believable conflict – there is always a reason the main couple can't get together right away, but it drives me nuts if the reason is a simple misunderstanding that a two-second conversation would clear up (though even these can work if done well). I prefer a good, solid "someone will die if we get together" or an "I love you but I'm supposed to hate you" type conflict. A reason to stay apart that has some teeth to it 🙂
2. A flawed heroine – I really love a girl that has some weird quirk…maybe she's klutzy, or always has her nose in a book, or has a scar running across her face. It's easy for a guy to fall for the perfect supermodel…I like to see a girl who isn't so perfect get the hot guy.
3. A tortured hero – I'm a sucker for the bad boy with a heart of gold. A Dread Pirate Roberts who turns out to be Wesley the farm boy. A thief who meets the girl of his dreams and changes his life to be with her. Jack from Romancing the Stone who tries to romance the treasure out of Joan and ends up falling in love himself. As long as there is a good heart beneath the bad activities, it makes for a great read.
4. Or, A "non-average" hero – the nerdy librarian who finds out he's a bit of an Indiana Jones. The soccer coach who turns into Rambo to save his family. I love when a regular Joe turns into the ultimate alpha male when the going gets tough.
5. A setting that sucks you in – this is probably why I love historicals so much. I want to be transported to another world; whether that world is in the past, the future, another planet or timeline, or a regular world turned on its ear, I want to live in that world while I'm reading the story.
6. Actual romance – I'm all for love scenes 😀 But sex scene after sex scene can actually get a bit tedious if there is no romance going on along with it. A simple brush of the hand can get my heart pounding harder than the most graphic love scene when done right. Gotta have the romance 🙂
7. A little danger – romance is always a little more fun when something dangerous is going on. Falling in love while fighting zombies? Squeezing in a make-out session or two between a few near-death experiences? Intense situations can make a romance all the more thrilling and can make for a great read.
8. A little mystery – maybe the main couple grows closer together as they try to solve a murder, or find a treasure, or search for a missing person. Romances are always a little more fun when there are underlying mysteries to solve.
9. A great supporting cast – the best friend who helps the lovers sneak off together; the sidekick who's great for a little comic relief; the sibling who puts aside the rivalry to help (or maybe hinder) the lovers getting together. Sometimes these supporting characters can make or break a story.
10. An intense love that makes me want to re-read the story again and again – for me this is different from the romance. The romance is the building love, the sweet gestures, the tender kisses. Those are wonderful and I want them in the books I read (and write!). But I really love an intense love that defies all odds, that lasts years, sometimes centuries….Jamie and Claire from Diana Gabaldon's Outlander series; Rane and Alex from Celeste de Blasis' Wild Swan series; Bella and Edward (don't judge, I love these two!) 😀 I want intensity. I want the pages to smolder. I want these two to conquer the whole world in order to be together. I don't ask for much, do I? 😉
What do you love in a romance?
The MacGregor Lairds #3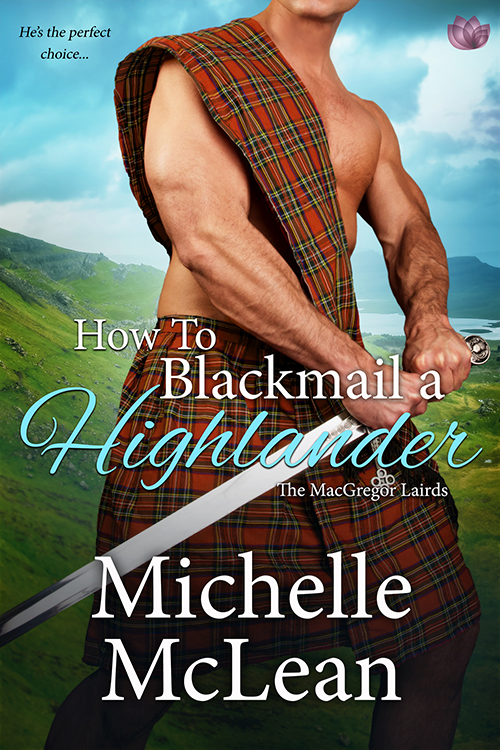 Lady Alice Chivers is done being controlled by her family. On the run
from an arranged marriage, she needs a strong highlander to escape.
Only Philip MacGregor insists on sending her back to her pampered life,
so she'll just have to blackmail him instead. But now they find
themselves in an accidental marriage, and soon they're both playing a
role that feels like it was meant to be real.
Philip is cautious, in control, and in way over his head with his
unexpected wife. She's intense, spontaneous, and can't follow an order
to save her life. And he might be falling completely in love with her.
However, her distractions endanger the lives of those he loves. Now he
must somehow undo the damage that has been done, before his
friends pay with their lives.
Romance Historical [Entangled: Scandalous, On Sale: January 14, 2019, e-Book, ISBN: 9781640637054 / ]
Romance and non-fiction author Michelle McLean spent 98% of her formative years with her nose in a book indulging in her love of reading and research. She has a B.S. in History, a M.A. in English, has insane eclectic tastes, and tends to be a bit of an organized mess with an insatiable love of books.
When Michelle's not editing, reading or chasing her kids around, she can usually be found in a quiet corner working on her next book. She resides in PA with her husband and two children, an insanely hyper dog, and two very spoiled cats.