Sometimes what you think is going to be a great idea for a novel turns out to be a whole lot of work!  That's what happens when you realize the idea you are now in the middle of isn't going to work the way you thought it would.
In THE CONSPIRACY, I got the idea for a book that started in Texas, moved to the Caribbean, and ended up in Venezuela.  With all the trouble country is having, I thought it would be a great setting for a Romantic Thriller.
Unfortunately, after I was well into the book and started doing the necessary research for that segment of the story, I realized the geography I needed and the rural setting didn't exist in Venezuela.  I
I spent days digging around in South America, looking for a rainforest that could be reasonably reached from the Caribbean island of Aruba.  Nothing worked.
Finally, I realized there actually was spot that exactly fit the image in my head.  (This happens to writers all the time. No one knows why.) The spot was in Colombia, a place I had no desire to write about, but fit the story exactly.  
So I went to work researching a remote area of Columbia accessible from Aruba.  
Chase Garrett, the hero of THE CONSPIRACY, with the help of Harper Winston, the woman who hires him to find her missing brother, wind up in extreme danger in the  Columbian tropical forest. It's a very unusual place that required hours of research, but in the end, it was worth it.
I had my work cut out for me, finding which animals, reptiles, and birds lived in the area.  Reading about the customs of the indigenous tribes, and the politic. Rebel armies inhabit the forest and they don't like intruders.  
The research made THE CONSPIRACY one of the most challenging books I've written, but hopefully its one of my most interesting.  I hope you'll look for THE CONSPIRACY, the first of my Maximum Security series, and that you enjoy.
Until next time, very best wishes and happy reading, Kat    
SPECIAL CONTEST from Kat: https://www.katmartin.com/the-conspiracy-giveaway/
To CELEBRATE the release of THE CONSPIRACY, enter my new contest for a chance to win a KINDLE FIRE 7″ Display, Wi-Fi, 8 GB and a Kindle copy of INTO THE FURY, INTO THE WHIRLWIND and INTO THE FIRESTORM. Contest runs from Jan 1, 2019 through Feb 28, 2019.  
January Contest: https://www.katmartin.com/monthly-contest/
For January, Kat Martin is giving away a signed hardcover edition of Book 3 in the AGAINST series, AGAINST THE SUN to celebrate the release of THE CONSPIRACY on Jan 22nd. NOTE: THE CONSPIRACY is not part of the prize.
Be sure to follow Kat for more giveaways and information about her upcoming books!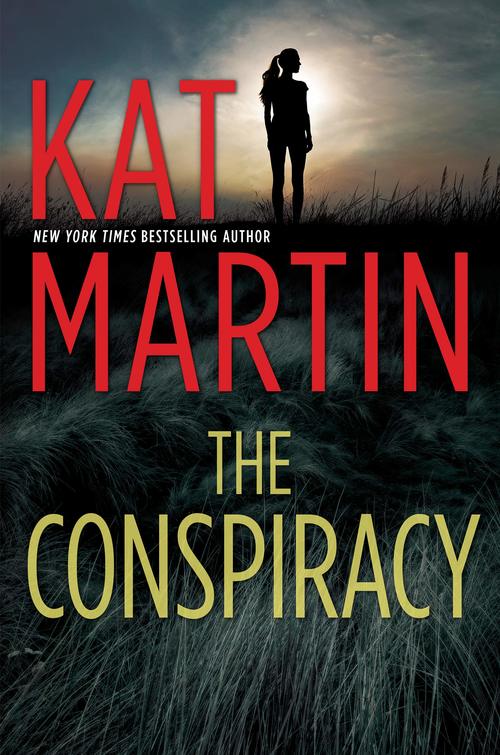 Perennial New York Times bestselling author Kat Martin returns to her Harlequin home with a brand-new series doing what she does best! Maximum Security is full of larger-than-life heroes and whip smart heroines caught up in high-stakes, fast-paced romantic suspense. Fans of Sandra Brown, Linda Howard, and Julie Garwood will fall in love with The Max.
As the wealthy owner of Maximum Security, Chase Garrett has made his share of enemies managing a team of private detectives, bail enforcement agents and personal security experts. Although risk is his stock in trade, when Harper Winston hires him to find her missing brother, Michael—his former best friend— dealing with the Winston family goes against everything he knows. No matter how attractive his new client, Chase knows all too well that the Winston family patriarch is mixed up in some deadly business, and suspects there's more to Michael's disappearance than meets the eye. In a fast-paced thriller that takes readers from the jungles of South America to sultry Miami and the dry Texas heat, Kat Martin returns with her hottest novel yet.
Romance Suspense [HQN, On Sale: January 22, 2019, Hardcover / e-Book, ISBN: 9781335541895 / eISBN: 9781488098901]
New York Times bestselling author Kat Martin is a graduate of the University of California at Santa Barbara where she majored in Anthropology and also studied History. Currently residing in Missoula, Montana with her Western-author husband, L. J. Martin, Kat has written sixty-five Historical and Contemporary Romantic Suspense novels. More than sixteen million copies of her books are in print and she has been published in twenty foreign countries. Her last novel, BEYOND CONTROL, hit both big lists … NEW YORK TIMES BESTSELLER LIST as well as the USA TODAY BEST-SELLING BOOKS LIST. Kat is currently at work on her next Romantic Suspense.