The Fresh Fiction Valentine's Day Recipe Roundup continues with Mimi Matthews! We hope you'll enjoy this sweet treat. . . 
***
Neville Cross is one of the four Victorian orphans of my Parish Orphans of Devon series. He suffered a traumatic brain injury in his youth that impacts his speech, his ability to recall words, and also causes him to occasionally lose time. He's a gentle giant of a man who generally prefers the company of animals to people.
Enter Clara Hartwright, a lady's companion and aspiring academic who has recently rescued an elderly dog. She's come to stay for the winter, and at once enlists Neville's help with her problematic pug. Soon, the two of them are bonding over their mutual love of animals. They're also sharing several cups of tea.
During a cold winter, nothing goes better with hot tea than freshly baked molasses cookies. You can dip them and then let them dissolve on your tongue. As an added bonus, baking molasses cookies makes your entire house smell fantastic. The following recipe is one I've used often. Note: For a better dipping experience, I generally skip the part where you roll the cookies in sugar before baking them.
Molasses Cookies
from https://www.joyofbaking.com/MolassesCookies.html)
Ingredients
2 cups purpose flour
1 teaspoon baking soda
1/4 teaspoon salt
1 teaspoon ground cinnamon
1 teaspoon ground ginger
1/2 teaspoon ground cloves
1/2 cup unsalted butter, at room temperature
1 cup firmly packed dark brown sugar
2 tablespoons vegetable oil
1/3 cup unsulphured molasses
1 large egg, at room temperature
1/2 teaspoon vanilla extract
Directions:
In a large bowl sift or whisk together the flour, baking soda, salt, and spices.
In the bowl of your electric stand mixer, fitted with the paddle attachment (or with a hand mixer), beat the butter and sugar until light and fluffy (about 2-3 minutes). Add the oil, molasses, egg, and vanilla extract and beat until incorporated. Scrape down the sides and bottom of your bowl as needed. Add the flour mixture and beat until well combined. Cover and refrigerate the batter until firm (at least 2 hours or overnight).
Preheat your oven to 375°F. Line two baking sheets with parchment paper.
Place about 1/2 cup of granulated white sugar in a medium sized bowl. When the batter is firm, roll into 1 inch balls. Roll the balls of dough into the sugar, coating them thoroughly. Place on the baking sheet, spacing about 2 inches apart. Then, with the bottom of a glass, flatten the cookies slightly. Bake for about 9-10 minutes, or until the tops of the cookies have crinkles yet are barely dry (the longer you bake the cookies the crispier they will be). Remove from oven and let cool about 5 minutes on the baking sheet. Then transfer to a wire rack to finish cooling. Store in an airtight container for up to a week, or they can be frozen.
Makes about 36 cookies.
—
COMMENT TO WIN: Don't you just love a good cookie? Tell us your favorite cookie in the comments and you'll be entered to win a signed copy of THE WINTER COMPANION. US only – good luck! 
—
Don't forget! Our Valentine's Day Recipe Roundup lasts all of this week! Check out our earlier posts and come back tomorrow and Friday for more recipes, reads, and more!
—
Parish Orphans of Devon #4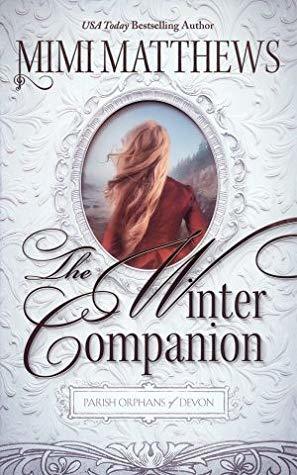 A winter reunion for the orphans brings romance for Neville Cross in Book 4 of Mimi Matthews' USA Today bestselling Parish Orphans of Devon series.
She Needed to be Seen…
As a lady's companion, Clara Hartwright never receives much attention from anyone. And that's precisely how she likes it. With a stormy past, and an unconventional plan for her future, it's far safer to remain invisible. But when her new employer is invited to a month-long holiday at a remote coastal abbey, Clara discovers that she may not be as invisible as she'd hoped. At least, not as far as one gentleman is concerned.
He Wanted to be Heard…
Neville Cross has always been more comfortable with animals than people. An accident in his youth has left him with a brain injury that affects his speech. Forming the words to speak to his childhood friends is difficult enough. Finding the right things to say to a lovely young lady's companion seems downright impossible. But Miss Hartwright is no ordinary companion. In fact, there may not be anything ordinary about her at all.
During a bleak Devon winter, two sensitive souls forge an unexpected friendship. But when Clara needs him most, will Neville find the courage to face his fears? Or is saying goodbye to her the most heroic thing he can do?
Romance Historical | Historical [Perfectly Proper Press, On Sale: February 12, 2020, Paperback / e-Book, ISBN: 9781733056953 / eISBN: 9781733056953]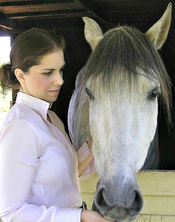 Mimi Matthews (A Victorian Lady's Guide to Fashion and Beauty, The Lost Letter) writes both historical non-fiction and traditional historical romances set in Victorian England. Her articles on nineteenth century history have been published on various academic and history sites, including the Victorian Web and the Journal of Victorian Culture, and are also syndicated weekly at BUST Magazine. In her other life, Mimi is an attorney. She resides in California with her family, which includes an Andalusian dressage horse, two Shelties, and two Siamese cats.