What's the name of your latest release?
My latest release is HOUSE RULES. It's the 3rd book in my Uptown series about love, real estate, and adulting.
What is it about?
HOUSE RULES is about exes who end up living together because the rent in New York City is too darn high. It also features meddling relatives, some sexy wrist-brace stripping, and an asshole cat.
What word best describes your heroine?
Evolving. Lana is in her 40s, but in a lot of ways she's still finding her place in the world. When she divorced the hero Simon, she was an aspiring music teacher, but her own career aspirations seemed to take second place behind Simon's. Now she's moved back to New York and is trying to make it as a chef.
What makes your hero irresistible?
When Lana is sick, Simon puts her to bed, runs out to the all-night pharmacy to get her all the medicine she could possibly need, arranges it all on tray, makes her food. He's also a runner and, in my head at least, looks a little like Matthew Goode.  It's a pretty great combination.
Who are the people your main characters turn to when they need help?
Lana turns to her coworker Talia, who seems practical and steely to hide a soft heart. She also leans on her cousin Julia, who's a lawyer, and more than 10 years younger than Lana, and who has, in Lana's opinion, an annoying tendency to ship Lana and Simon.
Simon talks with his sister Maxine, but he also ends up relying on his interns, Abena and Dion, who are there to offer plenty of conflicting advice and opinions.
What do you love about the setting of your book?
HOUSE RULES, and all the Uptown books, are set in Harlem, a vibrant neighborhood in Manhattan rich in history, particularly Black history. I love the beautiful brownstones, and the fashion. I love how everyone seems to know each other, and how they greet each other with warm hugs and big guffaws, how in summer there are often people sitting outside on stoops, or on lawn chairs, just watching others go by.
Are you a plotter (follow an outline) or a pantster (write by the seat of your pants)?
Both! I try to get a basic plot down, but I do go pretty drastically off map most of the time.
What is an ideal writing day for you?
An ideal writing day is the one where I get enough sleep the night before. I'd like to get some solid work in before talking a walk or a run in the park, and doing more writing.
Do you listen to music while you write, need total silence, or do you have the TV on?
I usually write in to the accompaniment of my hissing heating pipes, or the air conditioner. If I have music on, I'll end up dancing or singing (or crying), and making playlists, and looking up artists or composers, and doing anything except writing. I do have music going on in my head—particularly for this book, because Simon is a musician—so I put together a whole concert for him, but not during writing hours.
How do you approach research?
I approach it most often when I'm supposed to be writing,
What is your publishing journey story?
I wrote non-fiction for places such as The New York Times, The New York Post, and Salon, and had a literary novel published by a small press before venturing into Romancelandia. My first book, ACUTE REACTIONS (Practice Perfect #1), went the rounds of agents and editors, before it was picked up by Crimson Romance. And by the time I was ready to write the Uptown series, Crimson had been shut down, but my former editor, Tara Gelsomino, was ready enter agenting, and she offered to represent me. Sometimes the backwards stumbles ended up being forward steps.
Do you have critique partners/writing groups you want to give a shout-out to?
Amber Belldene has beta read most of my books. She's an amazing, and well-rounded writer who's published in paranormal romance, contemporary romance, romantic mystery, and working on women's fiction. I especially love her Hot Under Her Collar contemporary romance series about the lives and loves of Episcopal priests.  
What're the most frustrating things about being an author?
The most frustrating thing is probably non-writers giving me "ideas" on things to write about, or giving me career advice. I think because people read books, they think they know about publishing.
What's your favorite scent?
I love grapefruit and lemon scents. I love the smell of fresh laundry, and cut grass.
What movie will you watch no matter what if it's on TV?
The Wizard of Oz. I'll sit down and watch it even if someone is pounding on the door offering me a million dollars and a basket full of pastries and a puppy and a kitten.
Do you like breakfast, lunch, or dinner best?
I like a leisurely brunch! Preferably with friends!
What's one thing you wish you knew more about?
This changes all the time. When I'm outside, I wish I knew more about plants and birds. When I'm talking with people, I feel guilty because I don't know enough about TV. Carpentry, jazz, how to do things with computers, elephants—these are all things I'd like to know more about.
What's the silliest thing you've recently done?
I'm a parent, so silly happens every day. Yesterday, I pretended to be a very stupid, but loveable dog who chases her own tail.
What can readers expect from you next?
The Uptown Collection paperback comes out in May. It bundles PLAYING HOUSE, OPEN HOUSE, and HOUSE RULES. I'm also hard at work on a book featuring an older heroine and a younger man.  
How can readers reach you?
I'm Facebook at https://www.facebook.com/RubyLangWrites/ . But the easiest way to reach me is on Twitter @RubeLang or on Instagram @ruby.lang.
Uptown #3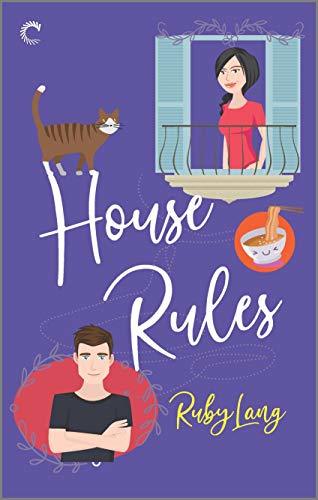 ROOMMATE WANTED to share a gorgeous sun-filled apartment in Central Harlem. Must love cats. No ex-husbands or wives need apply.
Seventeen years ago, different dreams pulled Simon Mizrahi and Lana Kuo apart. But when Lana takes a position as a chef back in Manhattan, her apartment search puts her right in her ex-husband's path. Music teacher Simon is also hunting for a new place to live, and when Lana proposes they be platonic roomies, well…it's not the worst idea he's ever heard.
A sunny uptown two-bedroom sounds far more appealing than the cramped, noisy space where he's currently struggling to work. Still, Simon has seen firsthand that Lana's a flight risk, so he agrees on a trial basis.
Three months. With strict boundaries.
Living together again feels wonderfully nostalgic, but when the ex-couple's lingering feelings rise to the surface, the rules go out the window.
Of course, chemistry was never their problem. But while Simon's career feels back on solid footing, Lana is still sorting out what she wants. With their trial period soon coming to an end, they'll have to decide if their living arrangement was merely a sexy trip down memory lane or a reunion meant to last.
Romance Contemporary | Romance Comedy [Carina Press, On Sale: February 10, 2020, e-Book, ISBN: 9781488055164 / eISBN: 9781488055164]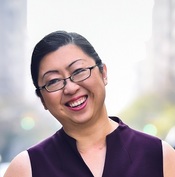 Ruby Lang is the author of the acclaimed Practice Perfect series. She is pint-sized, prim, and bespectacled. Her alter ego, Mindy Hung, wrote about romance novels (among other things) for The Toast. Her work has also appeared in The New York Times, The Walrus, Bitch, and other fine venues. She enjoys running (slowly), reading (quickly), and ice cream (at any speed). She lives in New York with a small child and a medium-sized husband.