About MAY THE BEST MAN WIN
Opening five lines:
On the upside, the prelude had already begun, and chances were good that Mozart's Sonata in E-flat Major pumping through all those organ pipes would cover any sounds of distress emanating from St. A's sacristy.
Jase Foster crouched in front of Dean Skolnic, groom du jour, and cursed. This had to stop happening.
"You think she's gonna notice?" Dean asked, wincing as Jase pulled one strip of duct tape after another off the garbage bag of ice currently secured to Dean's shoulder.
"The arm?" Jase clarified, because while he wasn't an every-Sunday kind of guy, they were in a church so he couldn't flat-out lie.
Theme: Enemies-to-lovers, second-chances
Inspired by: An intense discussion over the myriad flavors of "HOT" guys came in…and the subsequent dive into Pinterest's man-candy files that left me with a handful of "tuxedo-fine" morsels, and a story idea about a group of best men I just couldn't ignore.
Order: First in the Best Men Series
MAY THE BEST MAN WIN Scrap book: https://www.pinterest.com/miralynkelly/may-the-best-man-win/
About Emily Klein…
Emily's first thoughts about Jase:
Best man her butt.
Seriously, how did Jase Foster keep getting this gig?
Obviously, the guys loved him. Couldn't get enough of the whole bromance business Jase had perfected back before it was even a thing. But the women? Come on, like they hadn't heard about the time Jase got Neil Wallace to the altar a mere two hours late—because the boat they took out that morning on a whim ran out of gas.
Most distinguishing physical trait: Tall. Coming in at 5'11" she's usually the tallest woman in the room…and in weddings, universally paired up with the tallest man. Which is only a problem when Jase Foster happens to be in the party too.
Celebrity casting: Rachel McAdams
Career and hobbies: Public Relations. Enjoys running, cooking and quality time with her girls.
Biggest pet peeve: Jase Foster.
About Jase Foster…
1.Jase's first thoughts about Emily:
The sacristy door swung open again and that old familiar tension knuckled down Jase's spine. He took her in with one sweeping glance and then—just to piss her off—went back for a second, slower pass. She should have looked like Natasha Fatale from those old Rocky and Bullwinkle cartoons. She had the height, all right, but instead of the severe black hair, wickedly arched brows, bombshell body, and calculating scowl, Emily was every kind of soft. Soft strawberry-blond hair spiraling in loose curls over her shoulders. Big, soft-brown eyes. And a soft, shy smile that hid her poison-dart tongue. Even her body, tall and athletically lean, had a softness to its modest curves—curves that had distracted the hell out of Jase in high school but that he'd become immune to in the passing years.
Since he'd finally seen through her soft snow job to the cold, hard ice queen beneath.
"Jackass," she greeted, with a soft smile just for him.
Most distinguishing physical trait: Even taller. Coming in at 6'5" Jase really tries not to speculate about what kind of perfect fit he and Emily might make.
Celebrity casting: Henry Cavil
Career and hobbies: Banker. Enjoys 'Guys' nights, shooting hoops and watching the games with his friends.
Biggest pet-peeve: Emily Klein
About THE BEST MEN SERIES
Nutshell: The Best Men series centers around a tight knit group of crazy hot, relationship challenged bachelors with a knack for scoring all the top best man gigs.
Setting: The Lakeview neighborhood of Chicago—because back when I was young and cool (read: before I had a zillion kids) (side note: I use the term "cool" loosely) it was one of my favorite places to hang out!
Books: There are four books in the series: MAY THE BEST MAN WIN, BEST MAN FOR THE JOB, BEST MAN WITH BENEFITS, and STAND IN BEST MAN.
Connected Stand Alones: Each book in the series follows a different hero to their HEA and promises plentiful fun, flirt, and sizzle. (Read: Mira doesn't skimp on shirtless hero time.)
Last word: These guys have been such a blast to write and I hope you'll give them a read.
About Mira Lyn Kelly
Nutshell: I'm a write-at-home mom to four kids, an overgrown puppy beast, and one perpetually young-at-heart husband.
Career: I write contemporary romance…the sexy, flirty, fun kind.
Quirk: I'm a chronic stress-baker. And I'm always on deadline…so my house smells like warm chocolate most of the time!!
Passion: More than anything, I love to laugh.
Where you can find me: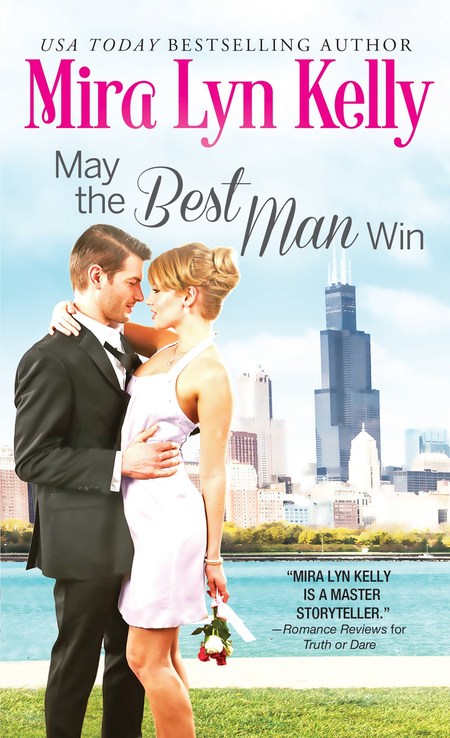 Four friends
Each a Best Man at a wedding
One chance to get it right
Jase Foster can't believe his bad luck. He's been paired with the she-devil herself for his best friend's wedding: Emily Klein of the miles-long legs and killer smile. She may be sin in a bridesmaid dress, but there's no way he's falling for her again.
They can barely stand each other, but given how many of their friends are getting married, they'll just have to play nice-at least when they're in company. Once they're alone, more than just gloves come off as Jase and Emily discover their chemistry is combustible, and there may be something to this enemies to lovers thing after all…
Romance Contemporary [Sourcebooks Casablanca, On Sale: August 1, 2016, Paperback / e-Book, ISBN: 9781492630739 / eISBN: 9781492630746]