You can read more about Fresh Fiction Senior Reviewer Miranda Owen and her reviews here!
"But sometimes, the things you wanted most were the things that would destroy you." Cynthia Eden, BOUND IN SIN
In general, I'm a cozy mystery kind of a girl. I don't usually go for movies or books that promise "high suspense." That's usually a turn-off for me. If a book has dog tags or a pistol on the cover the odds are that it's probably not for me. Likewise, a film trailer or poster with some intense music or describing how the hero/heroine has a limited amount of time to defuse a bomb, rescue so-and-so, or recover the lost jewel of blah blah blah does nothing for me. I like scary movies, but usually with the violence that is cheesy and obviously fake rather than what I think of as "torture porn" – gratuitous torture scenes that don't further the story or have us learn anything new about the baddies and generally just stick in my head like some toxic sludge that resurfaces even years later. There are, of course, exceptions to every rule. I do read some mysteries and some romances with a few thrills and chills in them. If you asked me, I couldn't quite articulate exactly what sets those films of books apart from the rest that I refuse to partake of, but I know what I like.
"The stalking, predatory animal cuts the weakest from the pack, and then kills at his leisure." Ann Rule
I am so not a camping kind of chick. I've only gone camping with my nature-loving husband once, and I said there was no way he'd get me to do it again. The experience was tolerable. It was at a state park in December with lots of snow on the ground so – yay for me – no bugs or extreme heat. Perhaps that's why the "Friday the 13th" films have always appealed to me. You're out in the woods. Ok. Sold. That is enough to be a convincing horror story for me. I recently read HIS FINAL GIRL by Brooklyn Ann, which is a horror/New Adult romance with a summer camp as the backdrop. Brooklyn Ann provides the perspective of the hero and heroine, but the mysterious and mythic killer terrorizing the camp remains a shadowy figure for both the characters and the reader. In this homage to classic horror films like "Friday the 13th," characters are picked off – sometimes individually and sometimes in groups. The terror goes from zero to sixty, from young love in a peaceful woodland setting to a bloodbath. There is no sexual violence, and the killings and discovery of mangled bodies is brutal but swift. The main characters make this story enjoyable for me. Wes and Linnea experience their first time falling in love, and the excitement that comes with that very easily turns to the adrenaline of fighting for their lives. The friendships formed in this short amount of time, and stressful circumstance, are a bright spot in this book as well. True to form with a book by Brooklyn Ann, Wes is a sweetheart of a hero and not an alphahole, and Linnea is a strong heroine who has plenty of self-respect and doesn't tolerate B.S. from anybody else. Brooklyn Ann balances sweet times with this couple with the ever-present danger.
"Everyone is a potential murderer – in everyone there arises from time to time the wish to kill – though not the will to kill." Agatha Christie, CURTAIN
Since going wild over Stacey Kennedy's book DIRTY-TALKING COWBOY, I was eager to try the first book in her new "A Dangerous Love" series. I wasn't sure what to expect with this book. If Brooklyn Ann's HIS FINAL GIRL echoes "Friday the 13th," NAUGHTY STRANGER echoes another one of my favorite horror films, "Scream." Peyton tries to rebuild her life in a small town after the death of her husband. A murder at her new shop casts a pall on her new start. The story starts out fun and flirty with Peyton making friends and trading smooches and lingering looks with earnest and totally delicious Detective Boone Knight. The death and danger seem somewhat removed from Peyton and like just another random and isolated crime. Stacey Kennedy slowly builds the tension to tantalize readers. As the incidents escalate and as the connection to Peyton grows stronger as Boone works the case, things turn from idyllic to nightmarish. I like how Stacey Kennedy gives the relationship space to develop and grow in the middle of all the chaos surrounding a murder investigation. Even though she has experience working in a hectic ER environment as a nurse, Peyton doesn't think of herself as being particularly brave. However, when put in a high-pressure situation, she defends herself and those she cares about with a ferocity.
"Instinct is a marvelous thing. It can neither be explained nor ignored." Agatha Christie, THE MYSTERIOUS AFFAIR AT STYLES
"Every murderer is probably somebody's old friend." Agatha Christie, THE MYSTERIOUS AFFAIR AT STYLES
If I'd compare HIS FINAL GIRL and NAUGHTY STRANGER to some of my favorite slasher films, then I'd have to say that Cynthia Eden's books have many elements that make me think of some of my favorite Alfred Hitchcock films. Normally I avoid books, TV shows, and films that take you inside the mind of a psycho. Cynthia Eden's books are the exception. Her LOST series is like the show "Criminal Minds" but with lots of expertly written erotic encounters thrown in. Her Lazarus Rising and Phoenix Fire series have some evil Dr. Frankenstein-like character plotting world domination and sadistic experiments. Her Deadly, For Me, Mine, and Dark Sins series, just to name a few, involve tales of suspense with part of the story told from the unhinged and unknown killer's perspective. Given the subject matter, I should avoid these books like the plague, but… Cynthia Eden writes phenomenal stories and she is one of my favorite authors. I can't pinpoint exactly what makes a Cynthia Eden "psycho killer" story any more palatable for me than any other book with similar themes. Some staples of a Cynthia Eden book that make one hard to resist include a to-die-for alpha hero (thoroughly yummy and not an alphahole), well-written sex scenes, strong heroines, and a story that has you glued to the page from start to finish. While the first two books discussed in this article, by Brooklyn Ann and Stacey Kennedy, convey a sense of menace by keeping a certain amount of distance between the reader and the killer, Cynthia Eden prefers to get up close and personal. Her scenes from the killer's perspective are short but give readers the chills. Her recent Wilde Ways release, THE HEART YOU BREAK, is no exception. Each book in Cynthia Eden's Wilde Ways series works as a standalone story and takes a classic romance trope – like rock star hero, enemies to lovers, second chance romance, etc. – and gives them the spine-tingling Cynthia Eden treatment.
SOME OF THE AUTHORS/BOOKS MENTIONED IN THIS ARTICLE: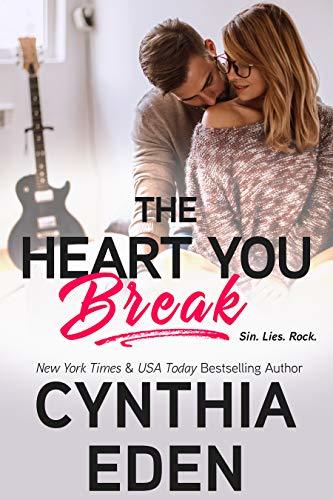 Her new client is the bad boy of rock.
Security agent Julia Slate is going undercover. Her assignment? Protect rocker Bran Copper. He's sexy, has a reputation for living life to the extreme, and he's also the target of one very obsessed fan. Julia's job is to keep Bran safe…and the catch? Bran can't know that she's his bodyguard. Bran's manager has hired her because the star refuses to get protection. Bran just wants to be left alone. With his stalker escalating, that isn't an option.
It should be easy to keep him at arm's length.
Julia pretends to be Bran's new assistant as she moves into his mountain home. She acts shy and reserved, a delicate flower who isn't a threat…when she can totally kick butt any day of the week. She will stay with Bran twenty-four, seven, and make sure he's safe. It's supposed to be business only, and there is no way the guy is her type. He's everything that she doesn't want in a lover. Right? But…the more time they spend together, the more she realizes that the bad boy? It's just an image he projects. There is a whole lot more to the real man.
But she's lying to him.
Bran has been betrayed over and over again, and now Julia is lying to him, too. She thought her lies didn't matter. She thought she was keeping him safe, but she never expected to give her heart to the man she's been hired to protect.
He's never met anyone like her.
Bran's new assistant is gorgeous, smart, and…making him crazy. He's used to women throwing themselves at him, used to people not caring about who he is—just that he's famous. But Julia isn't like that. She touches something inside of him, she makes him want, makes him crave everything that he's never had. Soon Bran can't imagine ever letting her go. He needs her, he wants her, and what Bran wants…he gets.
As the threats keep mounting, as the stalker closes in, will Bran be able to forgive Julia when he learns the truth? Or will they crash and burn? Because THE HEART YOU BREAK…it could be the one that matters most.
Author's Note: Ready for sin and rock? Because Bran is one sexy singer, and Julia is a bodyguard who will do anything to protect her man. But as Bran falls for Julia, as the lies twist around them, things are going to become wild and dangerous. No cliff-hangers. This book can be read as a stand-alone. So have fun and rock on!
Romance Erotica Sensual | Romance Suspense [Self Published, On Sale: June 25, 2019, e-Book, ISBN: 9781942840626 / eISBN: 9781942840596]

Thrills galore, steamy love scenes, and an intriguing mystery!
***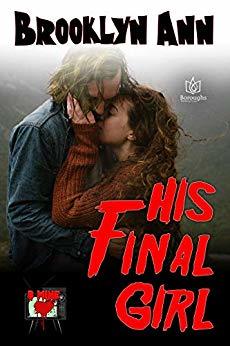 DON'T GO IN THE WOODS
Computer nerd, Wes Carpenter, dreads having to spend ten days at summer camp with the rest of his in-coming high school senior class. But when he meets strong-willed and confident farm girl, Linnea Langenkamp, everything about being away at camp improves immediately.
When a malicious prank awakens an ancient evil, turning their summer romance into a bloodbath, Wes and Linnea pray they make it home alive while fighting for the survival of their classmates. With Wes's ingenuity and Linnea's knowledge of the forest, together they may be able to stop the killer, save the camp, and maybe even find their happily ever after on the way.
Romance Suspense | Horror | New Adult [Boroughs Publishing Group, On Sale: April 25, 2019, e-Book, ISBN: 9781948029889 / eISBN: 9781948029872]

A sweet romance with authentic characters, and a little blood and gore thrown in!
***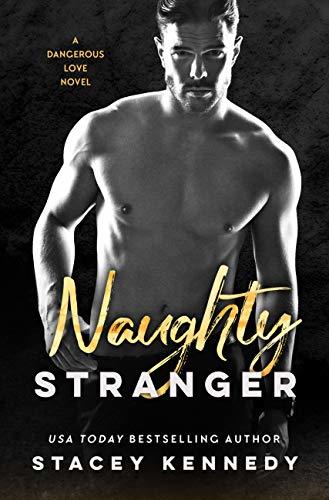 From USA Today bestselling author Stacey Kennedy comes a thrilling, sexy romance about a woman in danger and a small-town police detective who will do anything to keep her safe.
After a sudden tragedy blew her world apart, Peyton Kerr fled her big city career and started over in Stoney Creek, Maine. So far, she's loving small-town life–no one knows about her past, and her easy flirtation with Boone Knight gives her a reason to smile. But then someone is murdered in Peyton's store, and her quiet, anonymous existence is instantly destroyed. To make matters worse, Boone–a police detective–is assigned to the case, and Peyton knows she can't keep him at arm's length any longer. She's resisted the simmering heat between them–but now this gorgeous man is promising to keep her safe–and satisfied…
Boone Knight doesn't want the complications of a relationship. But when he volunteers to protect his town's newest–and sexiest–resident, he finally admits he'd like to explore their sizzling attraction. And after one incredible night, everything changes for Boone. Peyton is sweeter–and braver–than anyone he's ever met, and with her in his arms, everything makes sense. He just needs to convince her to trust him enough to reveal her secrets, or risk losing her to a merciless killer who seems to grow bolder with each passing day.
Small Town | Romance Suspense [Forever Yours, On Sale: June 11, 2019, e-Book, ISBN: 9781538746912 / eISBN: 9781538746929]

An entertaining thriller hidden in a sizzling small-town romance!