Have you ever had mixed feelings about a series you have read and enjoyed coming to an end? You might be relieved that the heroine gets her happily-ever-after or be thinking "No – there is so much more they can do!" That is exactly where I stand on the ending of Keri Arthur's Outcast Novels.
This series centers on Tiger, a dechet – a super-soldier the humans manufactured to fight the species war. At the end of the war, the dechet's were eradicated, men, women and children, by the shifters as they deemed them abominations. Tiger survived and is surrounded by ghosts of those who died in the bunker including two little ones, Bear and Cat, her constant companions. She can't help what she is, what she was made to be but she can use her skills to help others when she has to.
Unfortunately, the bombs that ended the war also tore holes between worlds and allowed the entrance of other beings that were happy to find new hunting grounds, so demons, vampires and wraiths entered the destroyed world. So now, humans and shifters alike, live in artificially lit cities as the new beings love to hunt in the darkness.
In the CITY OF LIGHT Tiger, who had been living in hiding in the nearly destroyed bunker of her kind, rescues a little girl and finds herself face to face with a ranger. Jonah Galloway had fought and hated dechet's but must trust this one to survive. The story continues with Tiger finds herself embroiled in the mystery of finding other children who have been kidnapped and are being experimented on.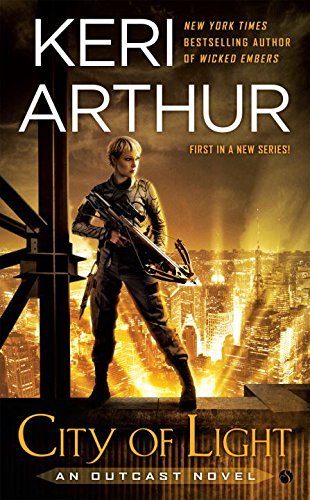 The first in an all-new futuristic fantasy series from Keri Arthur—the New York Times bestselling author of the Souls of Fire novels.
When the bombs that stopped the species war tore holes in the veil between this world and the next, they allowed entry to the Others—demons, wraiths, and death spirits who turned the shadows into their hunting grounds. Now, a hundred years later, humans and shifters alike live in artificially lit cities designed to keep the darkness at bay….
As a déchet—a breed of humanoid super-soldiers almost eradicated by the war—Tiger has spent her life in hiding. But when she risks her life to save a little girl on the outskirts of Central City, she discovers that the child is one of many abducted in broad daylight by a wraith-like being—an impossibility with dangerous implications for everyone on earth.
Because if the light is no longer enough to protect them, nowhere is safe…
Fantasy Urban | Science Fiction [Signet, On Sale: January 5, 2016, Mass Market Paperback / e-Book, ISBN: 9780451473509 / eISBN: 9780698185371]

Urban fantasy with phenomenal world building and great characters!

New series with a kick-butt heroine in a very frightening world
With WINTER HALO Tiger must infiltrate a pharmaceutical company called Winter Halo to learn more about the facility. Her mission gets complicated, when the female guard she is impersonating (a part of her skills to physically become someone else) is targeted. But, she will somehow find a way to end the experimentation that are going on at this site, with the help of a ranger named Jonah.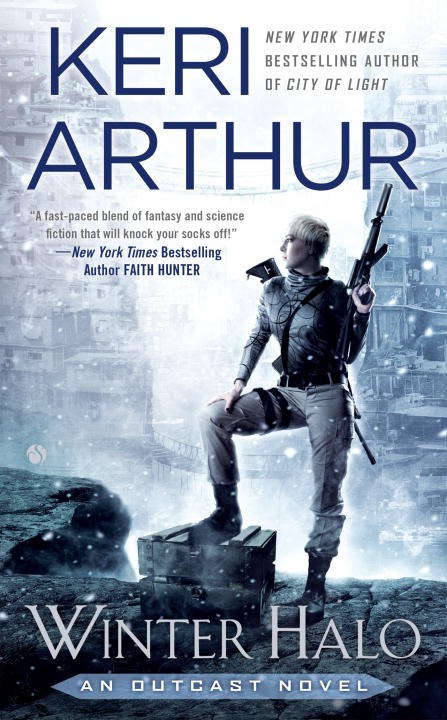 From the New York Times bestselling author of the Souls of Fire novels comes the second in the futuristic fantasy series that will make you want to keep the lights on…
When the bombs that stopped the species war tore holes in the veil between worlds, they allowed entry to the Others. Now, a hundred years later, humans and shifters alike live in artificially lit cities designed to keep the darkness at bay….
The humanoid supersoldiers known as the déchet were almost eradicated by the war. Ever since, Tiger has tried to live her life in peace in hiding. But in the wake of her discovery that Central City's children are being kidnapped and experimented on, Tiger's conscience won't let her look the other way.
The key to saving them lies within the walls of a pharmaceutical company called Winter Halo. But as she learns more about the facility, Tiger's mission is derailed by a complication: Winter Halo's female security guards are being systematically attacked by an unknown force.
Now Tiger must summon all her gifts to stop those responsible for both atrocities—no matter the cost to herself…
Fantasy Urban [Signet, On Sale: December 6, 2016, Mass Market Paperback / e-Book, ISBN: 9780451473516 / eISBN: 9780698185388]

Tensions Of All Kinds Rise in Arthur's WINTER HALO

Fascinating world and amazing characters.

Things are heating up for Tiger….
And the finale THE BLACK TIDE the final evil person, with the improbably name Ciara Dream, is being sought and seven children must be rescued. The danger to the cities is greater as the otherworld beings have always feared the light, but the experiments being done have given them the ability to walk in the light, leaving the cities defenseless.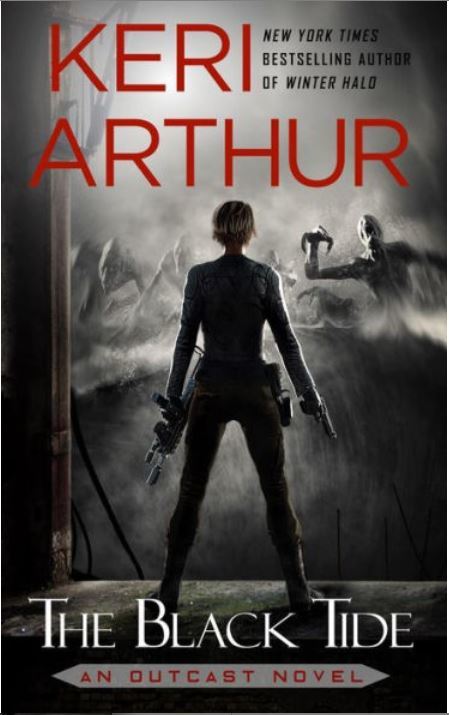 New York Times bestselling author Keri Arthur brings her Outcast series to a breathtaking conclusion as Déchet supersoldier Tiger races against time to save humanity from darkness and total annihilation….
Though Winter Halo–the pharmaceutical company behind the evil experimentation on both children and adults–has been destroyed, the danger is far from over. Not only do seven children remain unaccounted for, but some of the vampires are now able to walk in light.
The key to stopping the unthinkable lies in finding Ciara Dream, the last member of the trio behind the plot to give full light immunity to both the vampires and the Others. But Ciara, like Tiger herself, is a shapeshifter, able to take on any human form she desires.
To find her, Tiger will need to use every skill in her formidable arsenal, and even that might not be enough to save the city and the people she has started to care about.
Because the vampires are coming, and this time, the lights won't stop them.
Romance Time Travel [Author Self-Published, On Sale: November 28, 2017, e-Book, ISBN: 2940154902486 / ]

Amazing finale to a dark dystopic series
I have to admit that at first I wasn't real enamored with Jonah or Nuri, the witch healer who leads the mercenary group who are fighting the fight for the city. They did grow on me as I continued reading the series and realized that Jonah could and would change and Nuri was just gruff exterior heart of gold woman. Other characters fit the world perfectly, either hapless drones doing a job they don't realize could lead to the annihilation of humans; humans filled with hatred that has never gone away and those greedy for power and wealth.
This post apocalyptic world is imaginative, filled with a frightening feel of what follows a horrific war and the continuation of evil that nothing seems able to eradicate. It is people (shifters, humans and one lone dechet) trying to live in peace but just can't let things slide that are wrong. In this setting the author can take her characters anywhere and make them able to do amazing things and have it totally acceptable. Tiger has a number of DNA's mixed into her being that give her the ability to shadow, move faster than other humans, become other people and the one that I thought was intriguing was she was a lure. She would literally lure a target and have them at her mercy – the mercy of a trained assassin or simply getting information they don't realize they are giving.
This series is not a romance, but you can see that Jonah has changed his mind about Tiger and for once something not bred into her happens … emotion. There is some sexual intrigue going on as she uses her "lure" as one Catherine Lysandra, to become the mistress of Charles Fontaine, former financial director of Winter Halo and now member of the House of the Lords as a means of getting information.
All in all this series is filled with storylines that should intrigue many readers from dystopian, paranormal, action and mystery … and maybe add in those who like a very slow growing romance. It will definitely give readers a HEA that I feel Tiger certainly deserves, and though it is sad to see an ending to a vastly provocative series I loved picturing Tiger, Jonah, Cat and Bear walking off into the sunset together … oh and with baby Raela … you will have to read THE BLACK TIDE to find out how this little scamp fits into the series.
Well done, Keri Arthur and as a long time fan, I look forward to your next offerings.