Though the threat of pickpockets is real, the beauty and sensuality and brilliance of Barcelona is a character all unto itself in this story. Because when it comes to Barcelona, anyone who has ever been there raves of the culture, the beauty of the people, and the extraordinary art.
Barcelona boasts some of the most spectacular beaches in the world, amazing cuisine, and has been home to some of the most renown artists in history. It, rightly so, holds high priority on many a bucket lists. My own included!

You can tour the Sagrada Família and sunbathe on a nude beach all in the same day. Or maybe walk the streets of the Gothic Quarter then shop for goods at La Boqueria. I'd love to go on a Vermouth bar hop. They do Vermouth very different than we do here in the states. And hello…hunky Spanish men. Ummmm…Álex González anyone? How about Javier Bardem, Antonio Banderas, or Enrique Iglesias? Phew!
But in all my research, the overwhelmingly repeated advice was to keep your belongings locked down, at all times. Due to the mild climate and the expansive tourism, Barcelona is known as the #1 city in the world for pickpocketing. Stories and videos abound on the internet, uncovering a few hilarious stories.
I don't think this takes away from Barcelona, but makes it all that more interesting! I read a story about a scheme where a little person hid in luggage loaded into the storage compartment of a bus. While in transit, the passenger's goods would be stolen, and when they arrived at their destinations, they'd find their valuables gone with no evidence of how they disappeared!
I was blown away by how far some people would go to steal. LOL!
In PLAYING THE SPANISH BILLIONAIRE, Mateu and London have beautiful adventures, and one of those takes a hilarious turn while sunbathing…on a nude beach. I'm sure you can imagine!
Then, last month, my nephew crashed at my house to decompress and refuel over his spring break from Stone Hill College near Boston. Cause I'm that cool. LOL! Not even close. He was just tired. 😉
Last year, he spent a semester overseas. He was sharing his cool pictures and hilarious stories, one of which, had me dying by the coincidence.
His buddy had gone to Barcelona and met a woman at a bar. They hung out and danced all night in a club, and then took a walk along the beach. Deciding to skinny dip, they shucked their clothing. Once the guy was waste deep in the water, a group of other guys ran up, grabbed all his clothes and wallet and ran off down the beach. And the girl went with them! It was all a setup!
Dude! Sucked to be him. Now he was stuck…naked…alone…in a foreign country!
Here I was researching, reading stories, and coming up with my own cons, and all I had to do was get a few travel abroad stories from my nephew! Hahaha!
So, when the opportunity arises to go to Barcelona, don't hesitate. It'll be a once in a lifetime experience.
But keep your wits and wallet close about you!
Hugs, loves, and peanut butter!
MK Meredith
An emotional ride on heated sheets…
International Temptation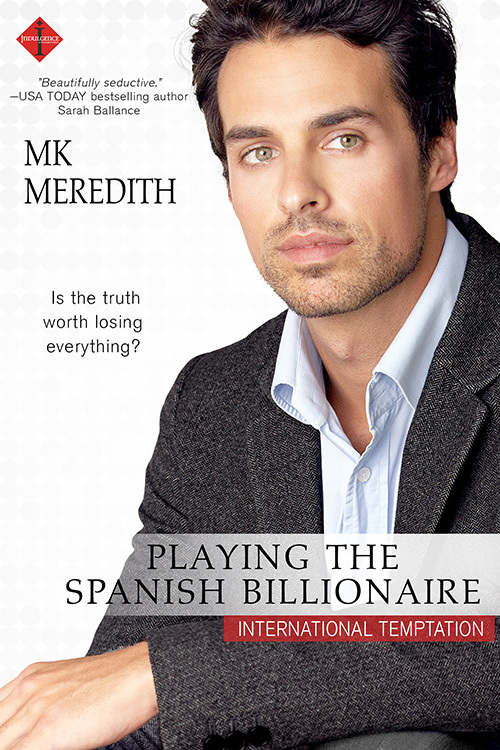 Mateu Espasa, CEO of Barcelona's most luxurious hotel, knows how to deliver a five-star experience. When he learns the identity of hotel reviewer, London Montgomery, it seems harmless to play as her local tour guide to make sure she enjoys her stay and places his hotel back in the running for the Elites Travel and Life Magazine's hotel of fame. But every moment with London makes Mateu want her just as much as he needs that review.
Constantly working to cover her mother's medical bills, London needs to have a little fun on this vacation. First on her list: Kiss a hot Spaniard, and her knight-in-shining-Armani at the train station seems to fit that bill—he's local and definitely hot! But when she discovers the man charming her is really CEO of the hotel she's reviewing—supposedly secretly—she decides to see how far he'll go to make her dream vacation a once in a lifetime experience.
Mateu shows her the romance of his city and his soul, but when the truth comes out, the fun is over, and it turns out nobody wins in a game of hearts.
Romance Contemporary [Entangled Indulgence, On Sale: April 24, 2017, e-Book, ISBN: 9781633759084 / eISBN: 9781633759084]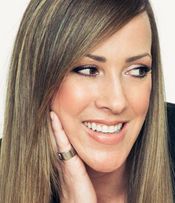 M.K. Meredith writes single title contemporary romance promising an emotional ride on heated sheets. She believes the best route to success is to never stop learning. Her lifelong love affair with peanut butter continues, only two things come close in the battle for her affections: gorgeous heels and maybe Gerard Butler or was it David Gandy? Who is she kidding? Her true loves are her husband and two children who have survived her SEA's (spontaneous explosions of affection) and live to tell the tale. The Meredith's live in the D.C. area with their two large fur babies…until the next adventure calls.