This is my first amateur sleuth novel, though I've written mysteries into romance novels. But Bailey Burke, home stager extraordinaire, is the first heroine I've actually thrust into the role of having to solve crimes, and she's inconveniently afraid of blood, but at least she's always dressed to the nines. I like to think that given my interest (hubby would call obsession) with crime TV, I would be able to figure out the clues and solve a crime or two. But you never know until you're in the situation and I'll stick to fiction, thanks. No true crime for me.
So what are the rookie mistakes Bailey makes?
Wrong uniform. It's a bitch to run from the bad guy in heels.
Not spotting a liar from twenty feet. Sure, we have to trust someone but not every cockamamie story she's told.
A genuine people pleaser, she is worried about hurting the detective's feelings by prying.
Growing up reading Agatha Christie novels, which I loved, I had this idea the sleuths intrinsically have information we the readers did not. I wanted a heroine more like a Stephanie Plum character, who stumbles from situation to situation, but somehow manages to hold her own.
Here's a short excerpt from GONE WITH THE GHOST:
I had a feeling Marner had all kinds of secrets. Look at the whole cloth napkin thing. Who could have known that about him? If you gave me twenty tries, I could probably never guess what was on the bookcase in his apartment. Wrestling magazines? Hemingway? Harry Potter? I had no idea. Maybe he didn't even have a bookcase. I'd never been to his place. Not that he was eccentric, he was just, well, closed. Quiet.

"Okay, I get your point. But sometimes the way you feel doesn't make sense—and I feel that there is more to what happened than meets the eye." I sipped my water and waited for him to sigh. Reprimand. "It seems to me that everyone was awfully quick to just assume it was suicide without bothering to investigate whether it could have been murder."

I got the sigh. But no reprimand. Instead he just said, "Eat your pizza, Bailey. I'll look into it, all right?"

"Look into it?"

"Yeah. I'll look into it. Do some investigating."

"I could help," I offered, feeling guilty again for involving him. "To save you time."

His opinion of this was clear in the look of utter disbelief that flashed across his face. "Uh, thanks, but I'm good on my own. Never did like working with a partner, and you are not a cop. You stick to staging houses and I'll look into this."

Well. That was rude. But no less than what I expected. "I was an evidence tech, you know."

"Yeah, and you sucked at it, no offense."

"I did not!" There was a difference in hating it and sucking at it. "I have an eye for detail. I rocked swabbing blood and collecting fibers. I just didn't like it."

"I stand corrected." He sipped his water and stared me down.

Geez Louise, the man was intense. Time to switch tactics. "What happened to Ryan's car?"

It was hard to hold my eyes that wide, in imitation of my client Christy, but I was hoping to throw Marner off the scent. I don't do innocence as well as Double D Christy, apparently, because Marner was on to me.

"Why?" He moved on to slice number two, but still managed to sound suspicious around a mouthful of cheese.

"Uh…no reason." Channeling Flight Attendant Barbie, I smiled. "Just wondered."

"Stop wondering and stay out of it, Bailey. I said I'll look into it."

"Umm-hmm," I said, in what I hoped could be interpreted as a murmur of agreement.

Then I rammed pizza in my mouth and hoped Marner had Fridays off so he wouldn't notice me hanging around the station asking to see DeAngelo. That might make him just a little irritated, and I wasn't sure what exactly Marner would do when irritated.

Definitely not something I wanted to find out. The number of people I could flag as a legitimate friend on my phone weren't all that many.

I had to hold on to all of them, even the dead ones.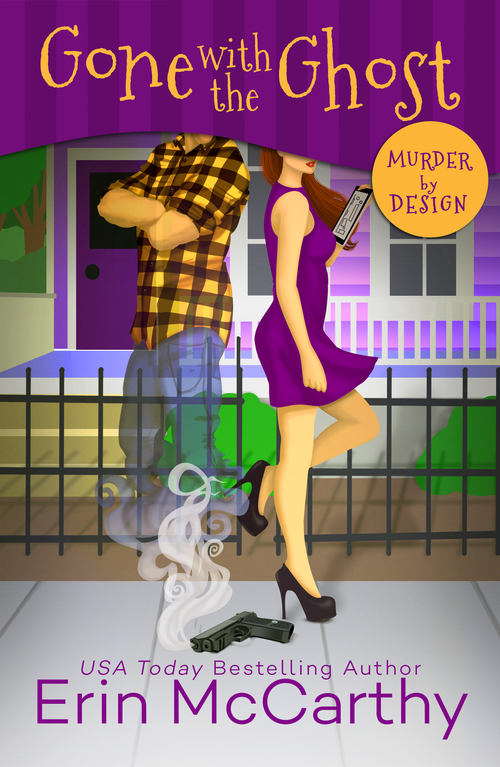 Bailey Burke has had a rough six months—it's not easy thinking your romantic overtures toward your best friend caused him to kill himself. Except that's exactly what happened. Ryan is very much dead, having shot himself with his own police-issued gun. Guilt and grief shouldn't cause hallucinations though, but six months after Ryan went into the ground, Bailey is freaking out and swearing his ghost is standing in her kitchen. Which he is…
Ryan claims he didn't commit suicide, but was murdered, and he needs Bailey to help him find his killer so he can earn his ticket out of purgatory. Ryan's counting on a stairway to heaven, as opposed to wings, since that might be a little unmanly for a cop, even a dead one.
An expert in home design, with her own staging business, Bailey can tell you where to place a couch to improve flow and comfort, but solving a crime? Not her area of expertise. But with help from Ryan's former partner, Marner, she is unraveling the mystery of what happened to Ryan that day… and unwittingly putting herself in grave danger.
Mystery Paranormal [SilverHart, On Sale: May 23, 2017, e-Book]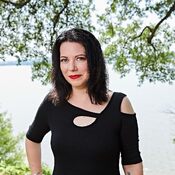 Holding out for a hero
USA Today and New York Times Bestselling author Erin McCarthy first published in 2002 and has since written over sixty novels and novellas in teen fiction, new adult romance, paranormal, and contemporary romance. Erin is a RITA finalist and an ALA Reluctant Young Reader award recipient, and is both traditionally and indie published.
When she's not writing she can be found sipping martinis in high heels or eating ice cream in fleece pajamas depending on the day, and herding her animals, kids, and amazing renovation-addicted husband.