One of my very favorite parts of romances, whether from movies or a great book, is the build-up and realization of that first kiss. The one that gives you that sexy punch to the gut and makes your mouth water.
Unfortunately for me, I learned I'm more of a just please punch me in the face and let the world swallow me whole to save me from myself kind of girl.
You see, the story of the first kiss between my husband and me is not the breathless anticipation we crave from a great romance novel or the sweet, yearning build-up we can experience in a romantic comedy. Instead, it was a debacle of immense proportions. I was out of practice and nervous and playing way out of my league. He was so handsome and cool, and I was the world's biggest cheeseball ever created. Something I never managed to outgrow.
After an amazing sushi dinner and conversation that went well into the night, he dropped me off at the apartment I shared with a couple girlfriends. Like a gentleman, he opened the door for me of his red Camaro with the white fuzzy dice hanging from the review mirror—I kid you not. Then the moment of all moments was upon us. We thanked one another for the evening, basking in the mutual enjoyment and commenting on how fast the time had raced by.
In that pause of silence, you know the one where you both are wondering what will happen next, he held my gaze and asked if he could kiss me. Heaven awaited, I just knew it.
With the gentle fingers of one hand, he held my chin as he leaned in. My heart raced, my mouth watered. The scent of him clouded my head and made me want to melt into him. And the whole time my brain raced with how much I couldn't believe this was happening, and what if I sucked, and…and…
Just as our lips were a hair's breadth from touching, so close his warm minty breath wafted across them, I dropped my head to his chest and laughed.
"Nooooooo!" I wanted to die. I apologized profusely, forcing the ridiculous mirth back down my throat.
He paused, I'm sure trying to figure out what asylum I'd escaped from, then leaned in again.
I laughed.
Again.
OMG…kill me now! I swear, if I could have punched myself in the face, I would have.
Pulling in a breath with a skewed little smirk on his face, he leaned in one more time.
*hangs head* You guessed it. I laughed. And my stomach tried to force up dinner over my world record idiocy. My mind screamed once more in that garbled slow motion sound effect you see in the movies. With a look that could be nothing but utter mortification, I just stood there. I never wished so hard for the ground to open up and swallow me whole.
Cool, and probably not a little concerned about my stability, he eased a step back and said, "Maybe just a hug."
Swearing profusely at my stupid self, I shoved down my panic from making an epic train wreck out of the thing I'd been wanting to do all night. Then blocking my brain from trying to think at all, I grabbed the collar of his shirt and yanked him down, planting my lips on his.
And didn't stop for the next two hours.
Oh…and I was right. Heaven, my friends. Sweet, sweet heaven. LOL!
So, the moral of the story is that though I adore and anticipate the first kiss of every romance I come across, I am so relieved mine is in the past and did not hurt my happily ever after.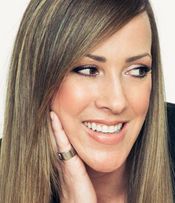 M.K. Meredith writes single title contemporary romance promising an emotional ride on heated sheets. She believes the best route to success is to never stop learning. Her lifelong love affair with peanut butter continues. Only two things come close in the battle for her affections: gorgeous heels and maybe Gerard Butler…or was it David Gandy? Who is she kidding? Her true loves are her husband and two children who have survived her SEA's (spontaneous explosions of affection) and live to tell the tale. The Meredith's live in the D.C. area with their two large fur babies…until the next adventure calls.
International Temptation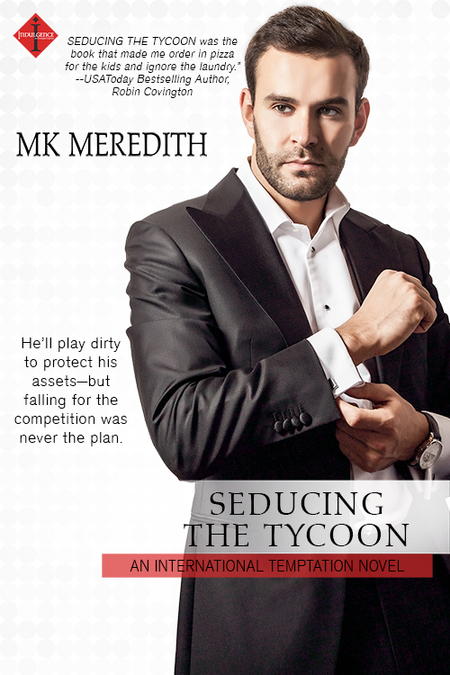 International tycoon Drago De Luca has the world at his feet and he knows it. But back home in Italy, his beloved grandmother's family inn is on the verge of closing down for good, thanks to hotshot American heiress, Chase Huntington, and her new hotel. Drago has to protect Nonna's inn, even if it means getting close enough to Chase to convince her she needs to leave. But the more time he spends with Chase, the more he's drawn to her passion, her love of his culture, and the way she looks in those Louis Vuitton heels.
Chase Huntington would give anything to enjoy her time with charming, sexy-as-hell Drago in the style capital of the world, but she has to make sure the new Huntington hotel opens successfully. How else can she prove she's not just fashionista with a fortune—she's an heiress savvy enough to take over the family's biggest hotel back in California? But somewhere between boutiques and business plans, she falls head over Louboutins for Drago. But when Drago's true motive for spending so much time with her comes to light, it could destroy everything Chase built and everything she thought she found in Italy.
Romance Contemporary [Entangled Indulgence, On Sale: September 19, 2016, e-Book, ISBN: 9781633756953 / eISBN: 9781633756953]