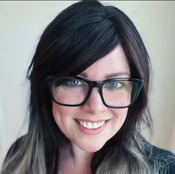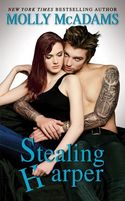 One of the best questions I get from readers, bloggers, and other authors, is, "Did you always know you wanted to be a writer?" Ha. No. If you even knew what I was like growing up, the fact that I'm doing this now would blow your mind!
I was definitely one of those students that didn't read the books that were mandatory reads in school, I was also one of those students that failed the first half of one of their English classes in high school because I was … err … am absolutely awful at grammar! But the thing that makes everyone laugh the most, is that I was one of those students that failed out of a Creative Writing course in college.
It wasn't that I didn't do the homework, or that I didn't try, I was just really terrible. The professor told me I wouldn't have a career in writing, and I thought that was just fine because I didn't want to be a writer anyway. I'd just needed that class for my major, unfortunately.
Needless to say, when I published my first novel, my entire family didn't believe me. I got practically the same reaction from both sisters and my parents. "You didn't write a book, you don't even read! You hated English. Really? You really wrote a book? No, no you didn't." It wasn't until four years ago at a job that had a lot of downtime, did I start reading. I fell in love with love stories, and realized that's why I'd hated reading in the first place. All the books that had been pushed on me didn't have my kind of love stories in them. I was twenty years old and kept thinking, "Where have I been all my life? Where have these books been?"
A year later I started writing out dreams I was having, and that led to expanding them. I still didn't think I was writing a book, I was just having fun with my dreams. Almost a year and a half ago I started TAKING CHANCES, the first novel I published, and I haven't looked back since. I found that I love pouring my soul into my writing just as much as I love getting fully caught up in these love stories other authors have written. So it may have been my little secret for a while, and I may have blown everyone in my family's mind since it was so unlike me, but now my third book is about to be published and I can't wait for y'all to read it.
Understanding grammar, or not. Being able to achieve someone else's idea of "creative level", or not. I write what I know, and I write what I love. Don't ever let anyone tell you what you can, or cannot, be.
Now for some cool news…
Molly McAdams will release e-book novella STEALING HARPER two weeks early if we can reach the pre-order goal! Yes, you can read Chase's side of the story A WHOLE TWO WEEKS EARLIER! If we can get the thermometer up to scene four, Molly's publisher will release the e-book on May 21st (rather than June 4th)! Be sure to order by the deadline May 12th!
And here you go, the exclusive excerpt for today…
"GOD," I GROANED and couldn't help it when my hand formed a fist in her hair, urging her to continue – I was so close. She moaned around me and my eyes shut as I lost it. From the way she jerked, I knew she hadn't been expecting it. I probably should have warned her, but that was the last thing I'd been thinking about just then.
As soon as she was done I let her pull away and looked around to see if anyone had come to this side of the house as I put myself back in my pants.
"Thanks, Chase."
I froze momentarily, then huffed a short laugh and glanced at her as she stood back up. She was thanking me? Usually I had to do something for them first before they started thanking me, but I wasn't one to judge. "Uh, yeah. Ready to go back in?"
She nodded enthusiastically and reached for my hand, so I quickly draped my arm around her shoulder and led us through the backyard and into my house. "Oh Chase, can we dance? I love this song! Pretty please?"
Pretty please? What are we, five? I tried not to groan and forced a smile on my face. We walked toward the center of the mass of people dancing in my living room and my hands went to whateverhernamewas's hips as she ground her butt into me. Her back arched and I had an even better view of her already-exposed chest.
"I'm so glad we can start this before school starts, I was dying to date you all last year," she whispered and I ground my teeth.
Date? Oh hell no. I tried to remove my hands from her hips at the same time she pushed them tighter to her body, and someone knocked into us. My already narrowed eyes looked up to see wide, terrified, gray eyes turn toward me. I literally felt my heart skip a few painful beats before my pulse started racing.
the next installment of awesome will be on May 8th at Bookalicious
Chase Grayson has never been interested in having a relationship that lasts longer than it takes for him and his date to get dressed again. But then he stumbles into a gray-eyed girl whose innocence pours off her, and everything changes. From the minute Harper opens her mouth to let him know just how much he disgusts her, he's hooked.
But a princess deserves a Prince Charming who can make her dreams come true. Not a guy who can turn her life into a nightmare.
All good intentions go out the window when Harper starts to fall for the guy Chase has come to view as a brother. He wanted to protect her by keeping her away, but he can't stand to see her with anyone else, and he'll do anything to make her his. But when it comes down to Harper choosing between the two, will Chase have the strength to step back from the girl who has become his whole world if it means she'll be happy?
Lines will be crossed. Friendships will be put to the test. And hearts will be shattered.
To comment on Molly McAdams's blog please click here.