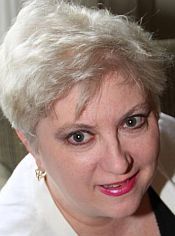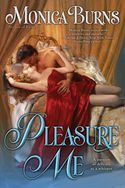 Thanks to Fresh Fiction for inviting me back to talk about my upcoming release, PLEASURE ME. It's a story about an older woman/younger man story where the hero happens to be a virgin. When trying to come up with a title for the book, my editor and I bounced several ideas back and forth until we settled on PLEASURE ME.
One of the really interesting things about my books and titles is that they often prove to have meanings that I don't see at the time of their creation. I'll be three-quarters through a book when I'll write a scene which capitalizes on a minor plot point I'd written at the beginning of the book. It can be something as insignificant as a ring someone wears, something someone says or the actions of a minor character. Then later in the book that insignificant piece of information proves to be a critical component in the storyline. It's not something that's planned on my part. It just happens, and I love when it does that.
I love how my characters or plots put twists in front of me that enrich the book through character development or surprise plot directions. It's such a cool surprise to come to a fork in the road and suddenly realize which fork to take is an easy choice. That happened to me in PLEASURE ME with a very minor character. I hadn't even seen their value until they popped up at a critical moment without my planning for it. It was perfect timing that I didn't even see coming when the character was briefly introduced in the first quarter of the book. This person was simply a way for me to bring two pivotal characters together. Imagine my surprise when this minor character is witness to an important moment in the story. I had one of those, oh my god, I love how my subconscious can see something coming from a ten miles away.
The same thing happens with titles for me as well. When my editor and I finally settled on PLEASURE ME, I didn't realize how important a title it was. When I write a book, my goal is to give my readers an enjoyable read. With PLEASURE ME, I had the same goal, I just didn't realize that the title had double meaning. It wasn't just about Garrick and Ruth silently telling each other that they wanted to be pleasured. It was about readers asking for a book that would pleasure them as well.
I've played up that theme with my upcoming blog event where I've invited 35+ NYT and USAToday bestselling authors along with many others  to join me in chatting about of historical romance, aptly named PLEASURE ME With Romance. The entire event is about pleasuring readers with posts from their favorite historical authors. Spotlighting why writers write, the types of heroes everyone likes to read, the writing life and a slew of other topics. I even managed to land a coveted two-part Q/A interview with the amazing Jayne Ann Krentz, who writes historicals as Amanda Quick.
I hope the event and the book truly live up to the name, PLEASURE ME, because I'm first and foremost all about pleasing my readers.
What do you find the most pleasurable aspect of reading a romance?
To comment on Monica Burns's blog please click here.