Meg Ryan nailed it. In You've Got Mail, bookstore owner Kathleen Kelly (Ryan) stands behind the counter of The Shop Around the Corner and insists, "When you read a book as a child, it becomes a part of your identity in a way that no other reading in your whole life does."
"Hear! Hear!" I remember books and their characters from my childhood as if they were living, breathing folk—animals and humans alike. I could bump into them today and know their names, understand their motivations, imagine the decisions they'd make in a world or time outside their own.
They were and are my friends—part of my fiber and being. I'm not sure if I picked my favorite books because I'm like those characters and believe I could comfortably slip into their shoes, or because those characters have influenced my own thought processes and character growth. Either way, we're friends for life.
Here are my favorites and why I love them:
The Adventures of Tom Sawyer—This story chronicles, tongue in Mark Twain's cheek, a good-hearted, fun-loving, sometimes conscious-stricken, creative boy magnetically drawn to trouble and adventure, who precariously walks a knife's edge of danger. Through it all, he remains steadfast in friendship. Dialogue rolls off his tongue like honey.
Anne of Green Gables (series)—Great storytelling warms the heart in this tale of a lonely orphan girl who longs to belong, lives through her imagination, and achieves the stuff of dreams—which turns out to be teaching, mentoring, and writing the book she was born to write. Though she nearly loses everything by chasing her dreams, before the end of the series she discovers love in her own backyard, and that home is the greatest treasure of all.
Little Women—Josephine "Jo" March is a writer from childhood, an actress and director at heart, happily penning thrilling stories in her attic by candlelight while the family sleeps. She loves and sacrifices for family, and longs for—and creates—adventure. Struggling through poverty, she finds love in unexpected places, but in the end, like her author, "paddles her own canoe."
A Child's Garden of Verses—Robert Louis Stevenson created lyrical worlds from a Victorian child's imagination. I love the cadence, the rhythm, the rhyme, the noticing and appreciation of things a "grown-up" would never see. "Delight" is my takeaway from this book.
The Secret Garden—A lonely orphan girl and chronically ill boy are both renewed and made well by the strengthening forces of hope, community, beauty, and nature. Love conquers depression and superstition.
These books embody so many things I love—faith, home, family, the desire to love and be loved and to belong, strong characters and character growth, the thrill of adventure, creativity, writing, imagination, loyalty, the beauties and healing power of nature, the rhythm and cadence of words, and winsome dialogue true to their genres and time periods.
I've learned that by embodying elements I love and believe in a story, my novels ring richer and true. Not surprisingly, I've poured elements from each of these books into my latest novel, Until We Find Home. Perhaps more than any book I've written, this story contains the thrill, the adventure and joy of my childhood and young adulthood. There is a boy whose penchant for trouble matches Tom Sawyer's. There's even a villain reminiscent of Injun Joe, and a scene worthy of the night Tom and Becky were lost in the cave, pursued by that knife-wielding fiend. Claire, the main character, longs to write like Jo March, and a houseful of potential orphans long for a home and family, like Anne. One of Robert Louis Stevenson's poems is remembered, and a secret garden brings healing and restoration to many. UNTIL WE FIND HOME also contains a number of my life's lessons, in fictionalized form.
Writing is the opportunity to pour my heart onto paper, to share with readers those things that have helped me, inspired me, made me question and challenge myself and the status quo. Writing stories creates a means to do that and to share joy and hope with others—a better means than any other I know.
The debt I owe to books read in childhood can never be repaid—except by sharing them with new readers . . . a gift that keeps on giving.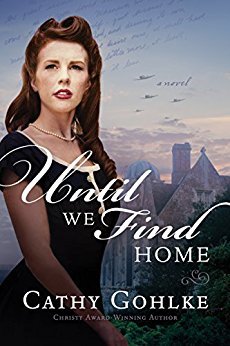 For American Claire Stewart, joining the French Resistance sounded as romantic as the storylines she hopes will one day grace the novels she wants to write. But when she finds herself stranded on English shores, with five French Jewish children she smuggled across the channel before Nazis stormed Paris, reality feels more akin to fear.
With nowhere to go, Claire throws herself on the mercy of an estranged aunt, begging Lady Miranda Langford to take the children into her magnificent estate. Heavily weighted with grief of her own, Miranda reluctantly agrees . . . if Claire will stay to help. Though desperate to return to France and the man she loves, Claire has few options. But her tumultuous upbringing— spent in the refuge of novels with fictional friends—has ill-prepared her for the daily dramas of raising children, or for the way David Campbell, a fellow American boarder, challenges her notions of love. Nor could she foresee how the tentacles of war will invade their quiet haven, threatening all who have come to call Bluebell Wood home and risking the only family she's ever known.
Set in England's lush and storied Lake District in the early days of World War II, and featuring cameos from beloved literary icons Beatrix Potter and C. S. Lewis, Until We Find Home is an unforgettable portrait of life on the British home front, challenging us to remember that bravery and family come in many forms.
Women's Fiction Historical [Tyndale House Publishers, On Sale: January 9, 2018, Trade Size / e-Book, ISBN: 9781496410962 / eISBN: 9781496427670]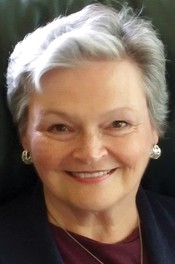 Three-time Christy and two-time Carol and INSPY Award–winning author Cathy Gohlke writes novels steeped with inspirational lessons from history. Her stories reveal how people break the chains that bind them and triumph over adversity through faith. When not traveling to historic sites for research, she, her husband, and their dog, Reilly, divide their time between northern Virginia and the Jersey Shore, enjoying time with their grown children and grandchildren.