Wiping her hands on a towel, Charlotte turned to Faith, smiling as the manager typed out a message so fast on her ever-present phone that her thumbs blurred.
"What'd you need?" Charlotte asked.
"You, your effervescent personality and beautiful face."
"Do you want me to clue you in on how pimp-ish that sounds, or are we just going to ignore it?" Char­lotte drawled, quirking an eyebrow.
"Ignore it."
Charlotte snickered, then grinned. As she had been headhunted from the California restaurant where she'd been working, so had Faith, from her native San Anto­nio, to run Sheen.
Faith had created a name for herself as a Jon Taffer in heels. Not that Sheen had been failing and needed rescuing when Faith had been brought on several weeks ago and prior to Charlotte's hiring, but the owners had wanted to make sure their venture hit the ground running from the beginning.
"Okay, give. I have nearly a full restaurant of hun­gry customers to feed," Charlotte said, crossing her arms. "What's up?"
"What's up is I just heard from a source who shall remain nameless that the food critic from the New York Voice magazine will be dropping by Sheen next Tues­day."
Astonishment vibrated through Charlotte, and she rocked back on her nonskid sugar skulls clogs. "What?" she whispered excitedly. "You're kidding me!"
The New York Voice. Holy… The alternative e-zine had only been around for the last five years, but it had immediately become popular not just within New York, but nationally and internationally, too. With its hard-hitting investigative journalism stories on societal is­sues, along with its focus on the cultural community of art, music, literature and food, it had already won the National Press Foundation Award as well as the George Polk Award. For Sheen to receive a positive review in their food column would be amazing publicity not only for the restaurant, but also for Charlotte's career.
"Nope, all true. Which means we need to be at our very best next Tuesday. I'll handle the front of the house and make sure it's super clean, all the servers are on point. And you're responsible for the back. I don't think I need to explain what a rave review could do for us."
"You don't." Charlotte shook her head, grinning. "And believe me, we will be better than perfect."
"I know it," Faith said, and for several moments they stood there, grinning at each other like two giddy fools. "We got this," she whispered.
"Oh, we so got this," Charlotte whispered back, the excitement still humming inside her joined by a steely resolve.
Yes, a glowing write-up and recommendation would mean great things for Sheen, but it went deeper than that. This restaurant was managed by a black woman. The kitchen was run by a black woman. The staff were women of various ethnicities—but they were all women. When the owner had come up with the con­cept, maybe it'd been a gimmick to differentiate Sheen from the other new restaurants popping up. But both Charlotte and Faith had vowed that they wouldn't let it remain some publicity ploy. Their restaurant would be one of the most successful establishments known for its sublime service and outstanding food. And so far, they were succeeding at this aim.
"Chef, your presence has been requested at one of the tables. They asked to meet you," Carlie, one of their servers, interrupted.
"Thanks, Carlie." Charlotte nodded at the younger woman. "I'd better get out there," she said to Faith, try­ing to conceal a grimace.
But apparently, she hadn't been quick or stealthy enough. A smirk curled the other woman's mouth.
"Part of the job, Charlotte," she reminded her.
"I know, I know," Charlotte muttered, unsnapping her baggy white executive chef coat and shrugging out of it, revealing the large T-shirt underneath. She strode over to the hooks near the door that led out of the glass-enclosed kitchen and removed her more formal and fitted turquoise chef coat with three-quarter-length sleeves, black piping and fabric-covered buttons. "It's not that I don't like going tableside," she grumbled, slipping into the coat and quickly fastening it over her chest. "I'd just much rather be cooking. I always feel like I'm on display."
"Well, get used to it. You're not naive enough to not know that these days it's as much about the chef as the food. That face and pinup body is an asset along with your truffle mac 'n' cheese." Faith's matter-of-fact tone stole a bit of the wind out of Charlotte's imminent tirade about the unfairness of her appearance being a factor at all. Mostly because, as unreasonable as it might be, Faith was correct.
It still annoyed her, though.
"Thank you for those words, oh, wise one," Charlotte drawled. Then, turning to Carlie, she smiled. "Lead the way."
As they exited the kitchen, Charlotte couldn't help surveying the restaurant, where she spent nearly as much time at as the home she rented for her and Ben. A sister site to The Bellamy's Glass House restaurant, Sheen was made entirely out of glass. This evening, the low lighting complemented rather than competed with the setting sun's rays that poured through the ceiling-to-floor windows, bathing the tables and patrons in its orange-and-red glow.
Beautiful.
And one day, hopefully, hers. Well, partly.
Carlie led her through the restaurant toward the far corner that boasted one of the best tables because of its gorgeous view of Royal. The table, which sat on a small dais, overlooked the entire restaurant. Which meant one thing—VIP guest.
Charlotte fixed a polite smile to her face as she neared the table. Five minutes, max, then she had to return to—
Oh, God.
Frigid fingers of shock crackled through her veins, and her feet stuttered to a stop. Startled stares swept over her like ants marching over a picnic blanket, prick­ling her skin. But she couldn't move. Couldn't jerk her gaze away from a pair of icy blue eyes.
Her heart attempted to drill a hole through her rib cage, each beat pumping pain and fear to every artery and organ. Pain, fear and something so much more com­plicated.
Pain, because for the first time in three years she stared into the beautiful, cold face of the man she'd once loved. A man who had been willing to take her body but not her heart.
The convoluted emotion was a noxious mixture of anger, resentment and—Jesus, she hated herself for this—a residue of the delight that just a glimpse of him used to stir within her.
And fear… Damn, the fear, because she wasn't just coming face-to-face with Russell Edmond Jr., the man who'd broken her heart.
She was coming face-to-face with her son's father.
A son he had no idea existed.
(C) Naima Simone, Harlequin Books, 2021. Reprinted with permission from the publisher.
Texas Cattleman's Club: Heir Apparent #1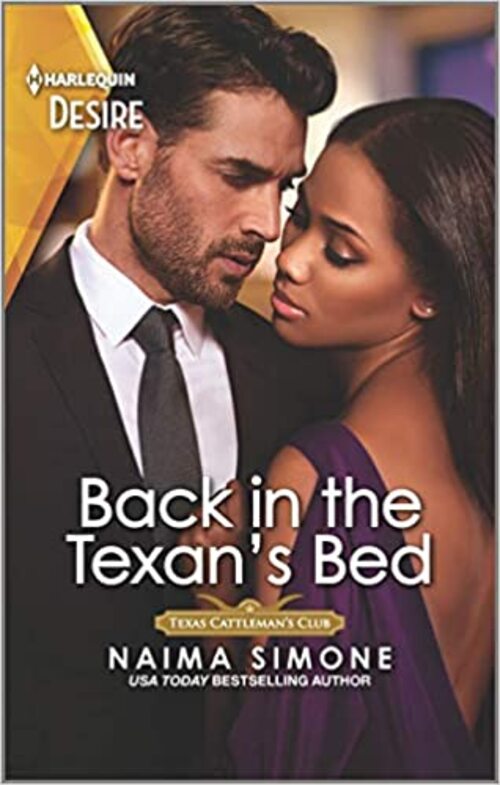 He's going to claim his child and the woman who got away…from USA TODAY bestselling author Naima Simone.
Will they ever learn…
that giving in to desire is playing with fire?After discovering he has a secret son, oil heir Ross Edmond isn't letting Charlotte Jarrett walk away again. He proposes they move in together—to share their son…and a bed. But Charlotte has secrets, and Ross doesn't know the real reason his family's former chef left town three years ago—and they still have a powerful enemy who could bring them both down…
From Harlequin Desire: Luxury, scandal, desire—welcome to the lives of the American elite.
Visit Royal, Texas, and find out if the Edmond family is all that they seem in Texas Cattleman's Club: Heir Apparent.
Book 1: Back in the Texan's Bed
Romance Billionaire [Harlequin Desire, On Sale: February 9, 2021, Mass Market Paperback / e-Book, ISBN: 9781335232700 / eISBN: 9781335232700]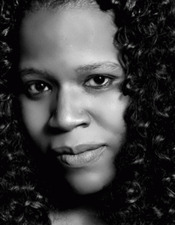 USA Today Bestselling author Naima Simone's love of romance was first stirred by Johanna Lindsey, Sandra Brown and Linda Howard many years ago. Well not that many. She is only eighteen…ish. Though her first attempt at a romance novel starring Ralph Tresvant from New Edition never saw the light of day, her love of romance, reading and writing has endured. Published since 2009, she spends her days—and nights— writing sizzling romances with a touch of humor and snark. She is wife to Superman, or his non-Kryptonian, less bullet proof equivalent, and mother to the most awesome kids ever. They all live in perfect, sometimes domestically-challenged bliss in the southern United States.