Time-travel romances can take you anywhere, any time, and in any direction. But what makes them eternal? I've come up with a list of five reasons why we love time-travel romances.
The experience
So many people long for experiences, but the reality is, we can't possibly experience everything in this life. That's where books come in – and that's especially where time travel shines! Of course we know that times were rough in earlier periods, but as time-travel romance readers, we get to experience the best of what the era had to offer, while looking at it all through the rosy glasses of hindsight. We can take the best of a culture, spin the most heroic qualities of the time into a hero (or heroine!), and make an ideal out of it. We can take a piece of ourselves – the piece that we relate to in one of the characters – and get that happily-ever-after, in the most perfect setting, in a time where the good always outweighs the bad.
Love is transcendent
It's one thing to know that your beloved would give up his phone for you, but it's a whole new experience when he'd be willing to give up everything he's ever known! A once-in-a-lifetime love is spectacular, but a forever love is eternal. The chord struck in our hearts when two souls meld together for eternity is a sweet one, and stays with us long after The End.
Suspension of belief
Life is hard, and it's not always a bed of roses. So when the chance comes to escape to a time completely different than our own, it can be easy to suspend belief for the pleasure of the story. Going along with a character as he or she tackles problems so far outside our own gives a sense of victory that we all need once in awhile. Cheering for a modern-day heroine who's stuck in a time when she's regarded as little more than sheep, then watching her conquer the hero's heart with her wit and brains and sense of self, is a phenomenal way to recapture the feeling of accomplishment – and perhaps inspire ourselves to go out and conquer our own troubles.
The potential in us all
In time-travel romances, when an everyday woman (or man!) is thrust into such an unexpected and unfamiliar situation, the reaction to her new surroundings doesn't necessarily define her for the rest of the story. How she reacts to subsequent challenges, such as convincing a medieval hero that she can do more than sew in a tower, or challenging the norm of the ton that marriage is the only option for women, taps into a collective curiosity. What's the potential of this heroine? How clever can she be? How far can she be pushed before she pushes back? As the story progresses, the question of how the two characters manage to grow together, when their minds and cultures are so far apart on every level, is eventually resolved after many hurdles. As a reader, I can connect to these characters. I cheer along with the good choices and cringe alongside the bad. And they all lead towards one thing – fulfilling the potential of the character.
True love conquers all
When two souls are meant to be together, in a romance novel, there is nothing the Universe can throw at them that prevents them from bring together. Distance, financial status, disapproving parents, societal standards…all these challenges are surmountable if both parties are willing to give up something in their lives. But different eras? How does one decide that love is greater than indoor plumbing, glass windows, even medicine? Most romances are loved for the simple reason that readers are usually guaranteed a happily ever after – and time-travels are no exception. After twisting through trials and times not their own, both main characters must adapt their ways of thinking and behaving for true love to work. Seeing the characters change into a better version of themselves is emotionally satisfying – and it's fun to see how traditions and history is blended (or, in some cases, bent) to the story. In a time-travel romance, The End is just the beginning, because when you're willing to trade everything you have for the chance to be with the other half of your soul, then you know that true love has conquered all – including time itself.
If you have any to add to the list, let me know at nancy@nancyscanlonbooks.com, or on my Facebook page.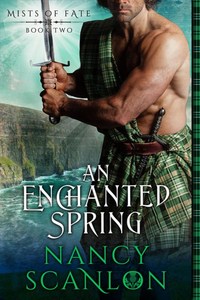 Nancy Scanlon continues the timebending saga she began with The Winter Laird, pulling heroes and villains alike through the portals of time to help save their futures and find their truest loves.
A time travel accident has left Aidan MacWilliam, younger brother of a medieval Irish laird, trapped in the future. Though he's become a successful entrepreneur in the twenty-first century, Aidan still can't banish thoughts of the world he left behind. In search of distraction, he heads to New York to scout a PR person for his cousin's matchmaking firm, Celtic Connections.
Emmaline Perkins might be the perfect candidate. A PR expert and closet medievalist, Emma has always put work before her social life. When a breathtakingly handsome man who looks like he stepped straight out of the Middle Ages proposes business, she struggles to keep her professional and personal lives separate.
Then Emma's ex-fiancé resurfaces, threatening Emma's livelihood, her home, and ultimately her safety. Aidan jumps to protect her and not just because she's good for business. He feels a primal need to defend the alluring young woman. But the question is not where she'll be safe, but when.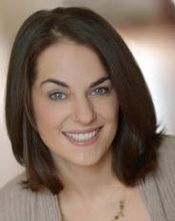 Born and raised near Boston, MA, Nancy wrote her first romance novel at age 16, when she realized that fictional boyfriends were much easier to figure out than real ones. In the time since, she managed to earn her B.A. in English from the University of Massachusetts Amherst, obtain a graduate certificate in creative writing from the University of Cambridge, and marry the man of her dreams (but she still holds tight to her fictional boyfriends).
Nancy adores all things misty, caffeinated, chocolate and grammatically correct. Currently, she resides in Puerto Rico with her husband, two small children, and two not-so-small dogs.
When not writing, Nancy spends her time reading romance and watching too much HGTV.