Welcome to Fresh Fiction, Negeen! We are so happy to have you here today. Please tell us about yourself and your new book, SET TO MUSIC. 
Hi everyone! Thanks for having me. I'm excited to be here. A little bit about me…I'm a born and raised Cali girl so I have no clue what real seasons are. I'm a wife and a mother of two rapidly growing boys, one who's about to go into high school, and honestly, I have no idea how that even happened. I'm an Iranian daughter. If you haven't read my books yet, you'll understand what that means when you do. And I'm a dentist by day. I know, totally makes no sense alongside a romance writer, but hey, I like to be different.  
There's just something about a rock star romance! What drew you to writing about this fun romance trope? 
I mean, rock stars, what's not to love? But truth be told, Anthony was created out of my unhealthy obsession with Nicky Jam. I'm thoroughly obsessed with his music, even though I can only really understand half of what he's singing. My Spanish can carry me in a conversation, but it's no match for a fast-paced song. Doesn't matter, though, it still gives me all the tingles. Plus, I love the rugged, badass energy of rock stars in general. They're sexy, brooding, and thoroughly delicious if you ask me. Just felt like my next book boyfriend had to be one of them!
Darya and Anthony have a bit of an "opposites attract" setup as well. What do you like about pairing characters who seem so different together? 
I love that they can still manage to make things work in the end, even when the odds are stacked against them. The greatest love stories are the ones that seem impossible, and when you start out with two totally different characters, their union, in the end, is that much more satisfying. It creates hope, and we all need a little hope these days.    
Darya has a lot riding on her success as an ER doctor–she supports her family, has bills to pay, and wants to be great at what she does. But the opportunity to travel the world with a band is too tempting to overlook. How will readers relate to Darya and the decisions she makes throughout this novel? 
I think Darya's story is similar to a lot of people's in the sense that most have been faced with a decision that can impact the important individuals around them. She makes the choice to go on tour out of her obligation to take care of her sister and mother, especially in a time of instability and tragedy. But as her story progresses, it becomes more about what she wants and less about what they need. Ultimately, she has to choose to follow her heart, or let her loyalty dictate her life. I think most people can relate to how impossible that can feel. 
Anthony is a super-hot, award-winning musical artist, but he's also devoted to his family, and can't help but be charmed by Darya. What are some of your favorite things about Anthony?  
Well, being that I created Anthony, he's pretty much a sum of all my favorite things, LOL. But if I had to choose, I love his steadfast loyalty to his family. He may be a hot and sexy lead singer, but he cares deeply, and most of his life decisions have been based on the needs of the people he loves. He's selfless and considerate, despite his rock star persona, and even though it's hard for him to show vulnerability, when he does, it's magical. And a little heartbreaking.
 A rock star and an ER doctor are two interesting professions! What kind of research did you do into both of these careers? 
As far as the medical side of the story, I had a simple working knowledge from grad school. To fill in the blanks, I reached out to my MD friends, my critique partner who also has an arrhythmia, and actually went back to my dental school textbooks. The rock star profession was a bit more difficult because sadly, I don't know any famous singers. Google ended up being my best friend, along with Instagram. You learn a lot by sifting through star profiles. I also scanned online tabloids and articles and watched a few movies.
The last year has been an interesting time, to say the least. How have you been coping throughout the pandemic? What are some ways you've practiced self-care?  
I'm not sure I'd call it coping, but rather, surviving. My life has always felt like a juggling act as I try to be present with my kids, deal with my busy day job, be part of a demanding Iranian family, and find time to write. It's become even more complicated with the pandemic. I can honestly say that in the past year, I've had four days total in which I've gotten two or three hours alone. If I'm not at home with the husband and kids, I'm at work, struggling to function in the horrendous PPE while seeing a day full of patients. Silence is sparse in my world, to say the least. As I'm answering these questions right now, I'm also helping my 8th grader with his Algebra. I'm the poster child for multitasking. Writing used to be salvation when I'd disappear in a story of my making. Even that's been tough to do during the chaos of this pandemic. These days, my self-care comes in the form of a brisk walk in the morning on my days off. And maybe long, hot showers if no one ends up banging on my door or screaming at each other until I'm forced to intervene.
I find that authors are the best at giving out pop culture recommendations! What have you been reading/watching/listening to lately that you recommend?  
I've been doing a lot of binge-watching with my kids since there isn't much else to do right now. My 11-year-old and I are currently really into Legacies, and my 13-year-old and I are big Flash fans. I have also been listening to Kylie Scott's Stage Dive series on my drive to work. They're super sexy and fun and definitely put me in a good mood to start my workday. I'm also reading BLACK WATER MAGIC by Leslie Scott, when I actually find the time to read. It's not romance, but it's definitely a page-turner.
What can readers expect from you next?  
I'm currently working on the second book in the series, so stay tuned for that!    
Rapid Fire Random Questions
What's the best live performance you've ever seen?: Oh, that's a tough one. I'm a big country music fan so I'd have to say it would be a tie between the Old Dominion concert I went to and the Sam Hunt one. They were both equally amazing. And equally hot, in case anyone was wondering.
Biggest Pet Peeve: Loud eaters. I can't stand the sounds people make when they eat. I have the ability to hear them even if they chew with their mouths closed and it drives me over the edge.
Writing advice you live by: "Don't compare your journey to others. Everyone is different and has their own path." This isn't only advice I apply to my writing, but life in general. I have a really tough time not comparing myself to others in all things, and it definitely plays on my insecurities. But I'm trying to get better at not doing it.
If you could have a magical power, what would it be?: I want to be a witch. With all the witchy powers to manipulate the elements. I'm pretty sure I have magical powers, they just haven't been awakened yet. 😉
Gold or silver?: Silver. Most days. Or rather, white gold. I'm Persian; we like our gold in all forms. But if I'm wearing deep, warm tones like burgundy or orange, I'll go with gold because it looks better.
Favorite outdoor activity: I'm not really much of an outdoorsy person, aside from wine tasting in the sunshine. But I've been trying to get better at forcing myself outside, because, in truth, I feel better when I spend some time in the beautiful Cali weather. I've started taking walks on my days off, and when I can find a partner, I go hiking.
Do you have or have you had a nickname?  Everyone close to me calls me Neg. It's just a shortened version of my name that was given to me when I was a kid by my cousin. It just stuck after that.
Favorite holiday:  Thanksgiving all the way! It's my absolute favorite holiday of the year because it's the one day I get to gather my big, Iranian family under the same roof. I always host and I love every minute of the loud, chaotic, exhausting day. Family is a big part of my life, something that can be seen woven through my stories. Even though they are fictional, the loyalty and devotion to family that my characters have mimic that of my own.
A book you wish you could read again for the first time:  THE KITE RUNNER by Khaled Hosseini. That story was beautifully tragic and heartbreaking. It killed me in the best ways. I'd love to read that through new eyes.
You have a totally free afternoon – no deadlines, no obligations, no Twitter notifications!  What do you do?: Pre-pandemic I would have set up a lunch date with my girlfriends somewhere outdoors with a lot of good food and wine. But now, since that isn't really an option, and because I have literally zero alone time, I'd probably just stay in bed all day and watch mindless television with sporadic naps sprinkled in between. I'm that exhausted.
Dr. Darya Zameeni doesn't have time for interruptions—in her ER, or in her life. Especially not from the gorgeous man pacing in her waiting room. With mountains of student debt, an ailing single mother, and a younger sister to support, Darya can't afford to get sidetracked, even though they can't take their eyes off each other.
Disillusioned Grammy-winning rock star Anthony Castillo's night wasn't supposed to end like this—in the ER, panicked after his little brother's sudden collapse on stage. The band cannot go back on tour without Carlos, but his brother needs constant medical attention. When the beautiful, no-nonsense Dr. Zameeni treating Carlos shows no interest in their fame, he decides she is the perfect candidate for the job. If only he can convince her—and himself—that he wants nothing more.
Darya can't imagine leaving her job, even temporarily, to follow a rock star around the globe. She's expected to be the perfect Iranian daughter, after all. But Anthony's offer comes right as she needs the money and she cannot deny their attraction.
Family is everything to them both. With so much to lose, the smart thing would be to go back to their lives and forget they'd ever met. But doing the smart thing has never seemed so wrong…
Romance Contemporary [Entangled: Amara, On Sale: March 15, 2021, e-Book, ISBN: 9781649371331 / eISBN: 9781649371331]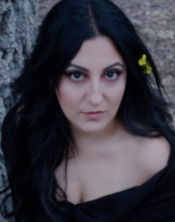 Negeen Papehn was born and raised in southern California, where she currently lives with her husband and two boys. She wasn't always a writer. A graduate of USC dental school, Negeen spends half of her week with patients and the other half in front of her laptop. In the little time she finds in between, she loves to play with her boys, go wine tasting with her friends, throw parties, and relax with her family.
***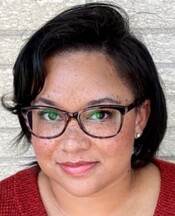 Danielle Jackson Dresser is a contemporary romance author (her debut novel with Berkley will be out in 2022!), avid reader, lackluster-yet-mighty crafter, and accomplished TV binge-watcher.
Once upon a time, she was a publisher publicist and continues to cultivate her love of books and reading by chatting with the best authors in the business as the Editorial Manager of Fresh Fiction and co-host of the Fresh Fiction podcast. Danielle is one of the Boozy Book Broads, a monthly author chat show streamed live on YouTube. She also moderates panels, interviews authors, and hosts a book club at Love's Sweet Arrow, the romance-focused independent bookstore.
Danielle lives in Chicagoland with her very own romance hero husband, darling daughter, and two tempestuous cats. Follow her on Twitter and Instagram, @dj_dresser.