It's a new year and I don't know about you but I've had to increase my book budget to handle all the cool releases coming out this year. Even with grad school I have a goal to read at least three books a month that are non-school related. For me, with my day job as a TV and Film critic, books are my last escape. And I noticed last year that I was lucky if I read a book a month. That's crazy. We have some great releases from some of my pals this month so let's get going…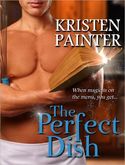 Writing THE PERFECT DISH was an exercise in rebellion for author Kristen Painter, who is one of my favorite people in the world. "At the time, the older heroine, younger man scenario just wasn't being done," Painter says. "In fact, I was told not to write it that way because it wasn't marketable, but I'm stubborn and telling me not to do something rarely works. I also felt like a heroine of forty-four wasn't in any way old – I know a lot of women who are forty and older that are amazing in every way. Why don't those women deserve to be heroines? Why don't they deserve to be swept off their feet? I think they do! And so The Perfect Dish flew off my keyboard and onto the page. And now it's available so readers can decide for themselves if a hot younger chef and an equally hot older woman can stir up a little magic in the kitchen."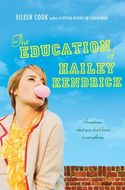 The lovely Eileen Cook has a new Young Adult book out, "THE EDUCATION OF HAILEY KENDRICK." "Part of the inspiration for this book came out of a discussion with friends," Cook says. "We were talking about how we tend to define ourselves in terms of the relationships around us. We are someone's sister, daughter, friend, girlfriend etc and how their views of us shapes how we view ourselves. I became intrigued with the idea of writing about a character who loses the relationships that define her and has to decide who she is without those, as well as, how far she would go to have those relationships back."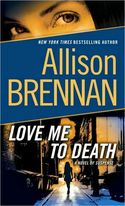 I'm beginning to wonder if the amazing Allison Brennan ever sleeps. Her latest, LOVE ME TO DEATH, is the first book of the Lucy Kincaid romantic suspense series. Lucy is a fan favorite, and is now waiting to hear whether she's been accepted into the FBI," Brennan says. "In the meantime, she works for a victim rights group. The series will follow Lucy from the very beginning of her career, along with her love interest, Sean Rogan. Sean is the first hero I've written who walked onto the page and just took over. I didn't have to work to figure him out, as soon as I was in his head I just knew him.
I don't think I've ever had as much fun writing a hero."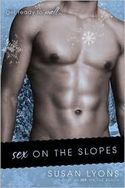 In case you missed it, Susan Lyons' December release "SEX ON THE SLOPES" is one hot read. "Everyone knows writers have to do research," Lyons says, "and usually I hate it, but not when it came to finding recipes for the four signature drinks in my Whistler-set Sex on the Slopes. I did a lot of tasting! The final recipes for sex on the slopes, fire and ice, a slippery slope, and a bad boy are in the book and on my website. Judge for yourself."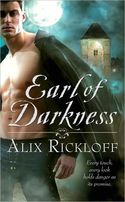 EARL OF DARKNESS is a historical-paranormal set in Regency Ireland. "My latest foray into the world of the Fey-blood Other began as a passing reference in a previous book," says author Alix Rickloff. "But it was soon clear the children of the murdered earl of Kilronan deserved a series of their own as they struggle against the fallout from the evil their father unleashed before his death. The first book in the trilogy traces Aidan Douglas, the heir to his father's title and his magic in the form of a mysterious diary, and Cat O'Connell, the beautiful woman hired to steal it. Together, lord and thief race to understand the dark secrets contained within the book even as they struggle against a passion that both know can only end in disaster."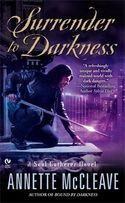 SURRENDER TO DARKNESS is Annette McCleave's new book. "From the moment Jamie Murdoch took out a bad guy in my second Soul Gatherer novel only to have the fellow tumble down the stairs with all the racket of a bag of bowling balls, I loved him," McCleave says. "He's large, impatient, unapologetic, and in a constant struggle to control his inner berserker. He's happiest when he's in the thick of battle, surrounded by enemies. In fact, he died that way, on the west coast of Scotland back in the 13th century. Yes, I said died. Murdoch is an immortal Soul Gatherer who works for Death, fending off demons to ensure the souls of the departed reach their ultimate destination."
Also don't miss the Anthology WISHING ON A BLUE STAR with stories from Lex Valentine and several others. The stories were either written for or inspired by author Patric Michael, who has cancer. And the second to the last book, WOLFE TALES 11 from Kate Douglas debuts this month. She gets downright presidential in this one.
Happy New Year!
---
Candace Havens is a columnist for FYI Television, an online news and media service, where she writes five weekly columns for an overall audience of 44 million readers. She is also an entertainment reporter for 96.3 KSCS in Fort Worth. She lives in Fort Worth, Texas. She is the author of the Charmed & Dangerous series including CHARMED & READY, CHARMED & DANGEROUS, CHARMED & DEADLY, and LIKE A CHARM as well as the Caruthers sisters: DRAGONS PREFER BLONDES and THE DEMON KING AND I. Her latest books in her "Dare" series will be in stores this spring: SHE WHO DARES, WINS (April 2011), TRUTH AND DARE (May 2011), and still available in e-book: TAKE ME IF YOU DARE.
Her non-fiction prose includes JOSS WHEDON: THE GENIUS BEHIND BUFFY, and essays in ALIAS ASSUMED: SEX, LIES AND SD-6, and FIVE SEASONS OF ANGEL.