1) What's the name of your latest release? 
Losing You.  
2) What is it about? 
A teenage girl goes missing and her mother has one short and terrifying day to find her.
3) What word best describes your heroine? 
Unstoppable.
4) What makes your hero irresistible? 
There is no hero. The heroine has to save her daughter by herself. That's what makes her irresistible: she is like a tigress.
5) Who are the people your main characters turn to when they need help? 
Nina turns to the police but the police don't believe her. One of the themes that repeats in our novels is that people have to save themselves…
6) What do you love about the setting of your book? 
Sandling Island is inspired by an island near where we live in South East England. It's swept by the wind off the north Sea, it's linked to the mainland by a causeway that is covered by the tide once a day and it produces the best oysters in the world.
7) Are you a plotter (follow an outline) or a pantster (write by the seat of your pants)?
Every book is a bit different. But this book is set in real time – imagine it as a single-take movie – and it needed to be plotted down to the last second.
8) What is an ideal writing day for you? 
We've become used to writing anywhere, on trains, planes and anywhere in between. But the ideal is in in our house in a quiet village in Suffolk: Nicci writes in the attic and Sean in a shed in the garden.
9) Do you listen to music while you write, need total silence, or do you have the TV on?
No music. But not silence: there are always ducks quacking, pigeons cooing, pheasants squawking.
10) How do you approach research? 
Research is crucial. You need to go to the place, talk to the people, learn the language. But then don't display it all in the book. It's all about what the story needs.
11) What is your publishing journey story? 
When we met, we were journalists and we always talked about one day writing something together. One day we read an article about the controversy about recovered/false memory syndrome and thought: what a good idea for a thriller. And since we had the idea together, we thought we should write it together.
12) Do you have critique partners/writing groups you want to give a shout-out to? 
We never show our books to anyone else until it is in a finished state. Of course, at that point the editing starts.
13) What're the most frustrating things about being an author? 
Douglas Adams talked about that particular feeling when it's four o'clock and you haven't got enough done. Douglas Adams was right.
14) What's your favorite scent?
A surprisingly difficult question that has different answers on different days. Today, for Nicci it's Mitsouko by Guerlain and for Sean, Black by Bulgari.
15) What movie will you watch no matter what if it's on TV? 
Rio Bravo.
16) Do you like breakfast, lunch, or dinner best? 
Dinner, because you can have wine with it.
17) What's one thing you wish you knew more about? 
It's not knowing about so much as knowing how to do. We wish we knew more languages (Russian? Chinese?) and how to play the piano.
18) What's the silliest thing you've recently done?
We recently cooked oysters on a barbecue. That turned out to be a bad idea in every possible way. (To start with, many exploded like miniature bombs.)
19) What can readers expect from you next? 
Our next book is called House of Correction: it's about a woman who has to solve a murder while in prison – accused of committing that murder.
20) How can readers reach you?
Tweet us: @FrenchNicci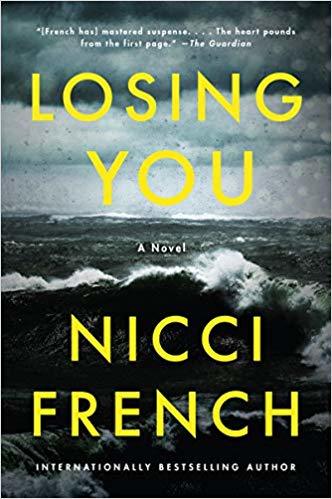 In this thrilling standalone novel from the internationally bestselling author of the Frieda Klein series, a woman's frantic search for her missing daughter unveils a nefarious web of secrets and lies.
Nina Landry awakens on her fortieth birthday, anticipating a day filled with excitement. She, her new boyfriend, and her two children are taking a trip–leaving their home on Sandling Island, off the coast of England, for a dream vacation. As soon as her fifteen-year-old daughter, Charlie, returns from a sleepover, they can get ready to leave.
But Charlie doesn't come home at the expected time. Nina can't believe of all days, Charlie has chosen this day to be late. As minutes and then hours tick by, Nina's annoyance soon changes to concern, and then to a chilling certainty that something terrible has happened.
The police insist there's no reason to worry–yet. Teenagers are unreliable, impulsive. Nina always thought she and Charlie had a solid, trusting relationship, but seeking out Charlie's friends for clues to her whereabouts makes her reconsider. How well does Nina know her daughter, really? How well can a parent ever know a child? And will everything Nina doesn't know–about Charlie, her neighbors, even the friends and family closest to them–prove fatal. . . ?
Losing You once again proves that Nicci French is at the height of their storytelling powers in a clever, mind-bending thriller that has readers guessing at every twist and turn.
Thriller Police Procedural | Thriller Psychological [William Morrow Paperbacks, On Sale: January 28, 2020, Paperback / e-Book, ISBN: 9780062876034 / eISBN: 9780062876034]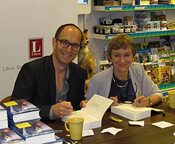 Nicci French is the pseudonym for the internationally bestselling husband-and-wife writing team of journalists Nicci Gerrard and Sean French. They are the authors of bestselling novels. They live in Suffolk, England.