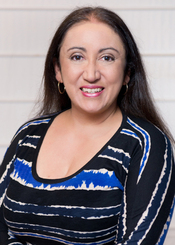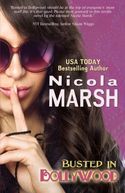 That's the great thing about fiction.  There's always something new to read.  I love fresh fiction.  I also love fresh food.  So what better way to combine my two great loves into one than write a book featuring magical, mystical Indian and its fabulous food?
BUSTED IN BOLLYWOOD is a contemporary romance/romantic comedy/chicklit/women's fiction novel.
Shari Jones needs to get a life. Preferably someone else's.
Single, homeless and jobless, Indo-American Shari agrees to her best friend's whacky scheme: travel to Mumbai, pose as Amrita, and ditch the fiancé her traditional Indian parents have chosen. Simple. Until she's mistaken for a famous Bollywood actress, stalked by a Lone Ranger wannabe, courted by an English lord, and busted by the blackmailing fiancé.
Life is less complicated in New York.
Or so she thinks, until the entourage of crazies follows her to the Big Apple and that's when the fun really begins. Shari deals with a blossoming romance, an addiction to Indian food and her first movie role, while secretly craving another trip to the mystical land responsible for sparking her new lease on life. Returning to her Indian birthplace, she has an epiphany. Maybe the happily-ever-after of her dreams isn't so far away?
Think 'Sex and the City' meets 'Eat, Pray, Love.'
With food. Loads of food!
And that's what I'm sharing during my 3 week blog tour, my love of Indian food.
I'm posting Indian recipes for dishes taken from the book in my BOLLY-BITES.
I'm hoping you'll stock up on spices and cook up a storm alongside me!
Today's BOLLY-BITE recipe is found at street food stalls.  It's a fantastic snack (a new take on potatoes for kids!) and it's a great party food. Can be served hot or cold. With a variety of dipping sauces and chutneys, your guests will be impressed.
(Like most recipes, there are many different versions. This one is a mix of mine and my mum's.)
ALOO TIKKI
Ingredients
500 g potatoes, cut in pieces
1 cup frozen peas
8 tbspns oil
1 small onion, chopped
1 green chilli, finely chopped
½ tspn grated ginger
1 tspn ground tumeric
1 tspn ground cumin
1 tspn ground coriander
½ tspn garam masala
3 tbspns besan flour
2 tspn lemon juice
Salt to taste
(Makes 20)
Method:
Cook and mash the potatoes.
Cook the peas, add to the mash.
Use 1 tbspn of the oil in small saucepan, fry the onion, ginger, spices and chilli for 1 minute. Add to potato mix.
Add the besan flour, lemon juice and salt to taste to potato and mix.
Divide potato mix into golf ball size portions, flatten into shape of patties.
Heat remaining oil in non-stick fry pan and cook patties in batches. Fry on each side until golden brown.
Tastes great served with tamarind or mint chutneys (store bought is easiest!)
For kids, I omit the chilli, unless they like it spicy.
To discover what other tasty treats are coming up in BOLLY-BITES, you'll have to follow the tour. Oh, and read the book!
Aloo tikkis make great finger food at parties. To win an E-book of BUSTED IN BOLLYWOOD, leave a comment about your favourite finger food.
USA TODAY bestseller Nicola Marsh has published 30 books with Harlequin Romance and Presents series, and BUSTED IN BOLLYWOOD is her first mainstream contemporary romance with Entangled Publishing.
She loves chatting with readers and you can find her:
Website
Blog
Facebook:
Twitter
To comment on Nicola Marsh's blog please click here.