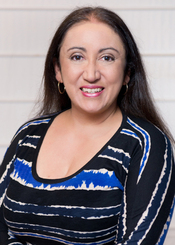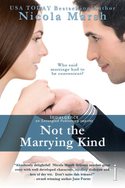 I love category romance (or series romance as some readers call it.) I love the tightness of the stories (having to pack so much into fifty thousand words), the glamorous settings and the guaranteed happily ever afters.
So imagine my excitement when I heard about Entangled Publishing's Indulgence series, featuring the type of category romances I love to write and read.  Fun. Flirty. Contemporary.
After writing 32 romances for Harlequin, I tried my hand at an Indulgence and once I started the story flew from my fingertips.
I love taking tropes (eg. Marriage of convenience) that readers love and putting a modern spin on it.
That's what I've done in NOT THE MARRYING KIND.  Matched an independent, brazen LA party planner who specializes in divorce parties with a reformed Vegas bad boy and made them marry for convenience.  Or inconvenience as I like to put it.
I hope readers have as much fun with Poppy and Beck as I did creating them!
USA TODAY bestselling author Nicola Marsh writes flirty fiction with flair.
She's had 32 books published with Harlequin Romance and Presents series, a fun, flirty contemporary mainstream romance BUSTED IN BOLLYWOOD with Entangled Publishing (nominated for Romantic Book of the Year 2012) and sold over 3 million copies worldwide.
Her first category romance for Entangled Publishing's Indulgence series, NOT THE MARRYING KIND, releases July 2012, with another category contemporary romance FALLING FOR FLYNN releasing with Crimson Romance October 2012.
Her urban fantasy young adult novel SCION OF THE SUN releases November 2013 with Month9Books.
She's also a Waldenbooks and Bookscan bestseller, has finaled in a number of awards, including the Romantic Times Reviewers' Choice Award, HOLT, Booksellers' Best, Golden Quill, Laurel Wreath,
More than Magic and has won several CataRomance Reviewers' Choice Awards.
A physiotherapist for thirteen years, she now adores writing full time, raising her two little heroes, sharing fine food with family and friends, and her favorite, curling up with a good book!
She loves interacting with readers so you can find her
Website | Blog | Facebook | Twitter | Goodreads
Who said marriage had to be convenient?
LA party planner Poppy Collins has kept her side business—planning divorce parties as the Divorce Diva—under wraps, but keeping her sister's company afloat is proving tougher by the day. When a new divorce party prospect gives Poppy the opportunity to save the day and boost her bottom line, she can't pass it up. But this time, she's about to get way more than she bargained for…
Vegas golden boy Beck Blackwood knows Poppy's secret, and he's not afraid to use it to get exactly what he wants—a wife. With his reputation and corporate expansion plans on the line, the only way he can repair the damage is by getting hitched, and fast. And if blackmail is the only way to get Poppy to the altar, then so be it…
But they're in the city of high stakes, and Poppy has a few aces up her sleeve. Now it's time to find out if they're playing to win…or if they're playing for keeps.
Buy links
Amazon
| Barnes & Noble | YouTube
To comment on Nicola Marsh's blog please click here.