Well, I hate to disappoint, but I can't say my answer is very exciting. I'm not a big 'celebration' type person. I'm more than happy to spend birthdays and anniversaries at home (as long as there's cake), and to treat most days like any other. Being the center of attention isn't exactly the most comfortable place for me—that's why I'm a writer and not, say, a singer. (Well, that and I can't carry a tune to save my life).
But, that doesn't mean release days aren't special! It's always exciting when a book you've worked so hard on is finally available for people to buy and read. So usually at least part of the day is spent sharing some excerpts and talking about the book on social media, trying not to continuously inundate people with my excitement over the book FINALLY being here. Because, by the time a book is out on shelves, it does feel like finally. I probably first came up with the book idea over a year prior, wrote it and edited at least six months before it makes its way to shelves. So, it's always kind of a miracle to get to that place where it's a real thing for other people to read!
Now, on release day, if the book is releasing in print, then I'll usually do a little bookstore hopping to see if I can't catch a glimpse of the book in the wild. There's something so surreal about seeing your name on a book in a store. I'm an internal celebrator—there's confetti and trumpets in my head—and that's all I need. And seeing it in a store somewhere is always like icing on the cake.
As for celebrations at home, I have two boys under six, so going out to dinner isn't much of a relaxing exercise, but more often than not we'll get a pizza (and quite honestly, what's more celebratory than pizza in the comfort of my own home? Okay, yes, I may be a hermit.) I'll probably follow up the kids' bedtime with a celebratory alcoholic beverage, and…that's about it.
It might not be the most exciting way to celebrate something, but it works for me! And the best part is, the next day I get to go back to writing more books! And, quite honestly, that's the best celebration for me.
Giveaway
What do you think is the best way to celebrate a BIG day? One commenter will win a copy of REBEL COWBOY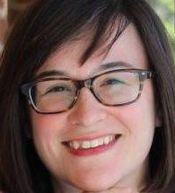 Nicole Helm writes down-to-earth contemporary romance specializing in people who don't live close enough to neighbors for them to be a problem. When she's not writing, she spends her time dreaming about someday owning a barn. She lives with her husband and two young sons in O'Fallon, Missouri.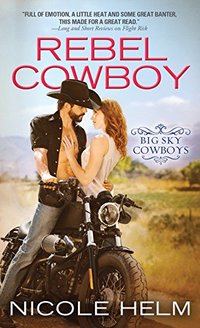 UNDER A BIG SKY
For hotshot NHL star Dan Sharpe, hockey isn't just his job—it's his everything. But when claims of cheating get him bounced from the ice, he finds himself feeling lost. Everyone thinks he's crazy for taking on his grandfather's ramshackle Montana ranch, but hey, he's Dan Sharpe: how hard can it be?
As it turns out? Plenty hard.
Mel Shaw has been fighting tooth and nail to keep her family from falling apart. The last thing she needs is a distraction, but taking a job as some city slicker's consultant may be her only chance to save the land she loves. But she never expected someone like Dan to come roaring into her life, and it doesn't take long for Mel to realize this hockey-star-turned-cowboy has the power to upend her carefully ordered world—and heart—for good.