Since very few people enjoyed the last season and most importantly, the last episode, of Game of Thrones (myself included), I started thinking of all the other shows I have watched that had equally terrible endings. These weren't as high on the ratings scale as Game of Thrones of course, but they were still good shows with multiple seasons that finished on a sour note. These are my personal top 5 shows with absolutely dreadful endings.
THE SOPRANOS
This show was six seasons of crazy—death, backstabbing, lies, violence, drama—then along comes the final episode. With the family enjoying one of a few happy together moments, the screen goes black just as a shootout starts—with no resolution on who lived or died. After dutifully following the show for the full six seasons, the ending was a major let down.
TRUE BLOOD
This show was absolutely brilliant. It was one of the few shows where it didn't matter what gender, race, or sexual orientation you were or weren't—it was equal parts vampire campiness for everyone to love. Not to mention lots of Alexander Skarsgård! After all the twists and turns through seven seasons, it wrapped everything up in a pretty little end-credits bow with Sookie happily married to some random guy we've never met.
ANGEL
I loved, loved, loved Buffy, The Vampire Slayer and Angel series. With Angel, our favourite vampire-with-a-soul continued to live on his own series once Buffy finished its run. But the final episode was definitely not a good-guys-win ending I hoped for. Sure, the story continues on in the comic books, but the on-screen ending was horrible. Wesley's death was agonizing, and then the survivors run into a battle against a hoard of terrifying creatures…and cut! It was the perfect lead in to a sixth season we never got.
STARGATE ATLANTIS
I am a huge fan of the first two Stargate shows, Stargate SG1, and Stargate Atlantis. I was extremely miffed by the decision to end Atlantis without finishing the already plotted out 6th season, that I couldn't even bring myself to watch the 3rd series, Stargate Universe, which ended before it was finished, too. And yes, that is Jason Momoa! With Atlantis, they bring the city to earth…and leave it there? The writers had the 6th and final season ready to go to wrap up the storylines, but the network left it dead. I'm still peeved.
THE GLADES
This amazing crime drama series aired on A&E for four seasons. It had action, drama, humour, romance—all the key triggers to make it a binge-worthy show. But after hitting its highest ratings of all four seasons, A&E cancelled it before the writers could finish the storyline. The main characters (Jim and Callie) were supposed to be getting married in the season 4 finale, but an unidentified man shoots Jim in the chest before the wedding, leaving him bleeding on the floor. And that was that. Not only was there no happy ending, but there was also no ending at all!
***

Entangled: Amara
June 2019
On Sale: June 24, 2019
Featuring: Emmaline Katz; Marshall Boyer
ISBN: 1640638083
EAN: 9781640638082
Kindle: B07S6J5DMR
e-Book
Romance Contemporary | Romance Western
Still angry over the death of the woman he loved, rancher Marshall Boyer wants nothing to do with women or love. But when the mysterious Emma drops into his life—barefoot, broke, and running scared—he can't let her go.
Artist Emmaline Katz has a dangerous secret. After escaping a ruthless criminal who exploited her for years, her quest for freedom crashes to a halt in rural Montana. Out of money and options, she finds an unlikely haven with a handsome cowboy. But no matter how much she wants to believe his offer of protection, he doesn't know the truth about her, her secret, or the man who will stop at nothing to get her back.
Time is running out. A cold-blooded killer has come to town, and Emma isn't the only target.
Nika Dixon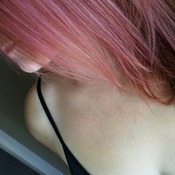 Jugging her zany schedule like a cat herding guru, Nika spends half her time at the hockey rink, the other half trying to remember where she put her tea. Nika lives in Ontario with her family, and dreams of converting her office into a library so she can spend her days trapped between her two addictions–romantic suspense and sci-fi. When she isn't overrun by the plot bunnies, Nika works as project manager and graphic designer. Her loves include road trips, cheesy action movies, summers on Georgian Bay, and cheesecake (although not necessarily in that order).